The Lord Mayor's Show in the City of London
Free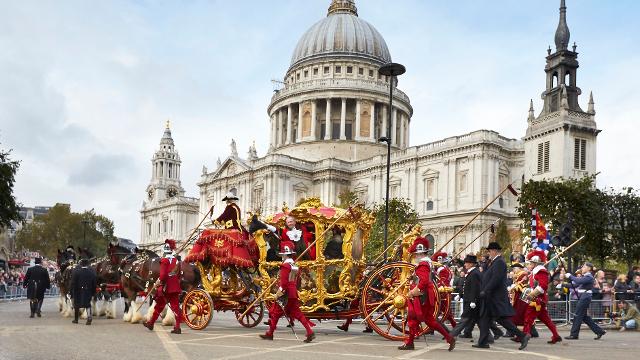 Watch an elaborate parade featuring dancers, horses, military marching bands and more at The Lord Mayor's Show.
Read More
About
Follow an 800-year old tradition at The Lord Mayor's Show in the City of London.
Celebrate the new Lord Mayor with the free celebrations which mix modern festivities with traditional pageantry, as more than 500,000 people line the route to watch the colourful parade travel across the City of London.
What happens during the Lord Mayor's Show?
Watch the Lord Mayor's State Coach travel along a 3-mile (5km) procession, with more than 140 performances and 8,000 people. Marching bands join the procession, as well as two giant wicker figures, Gog and Magog, the guardians of London since antiquity and regulars of the show since the Middle Ages.
The iconic golden Lord Mayor's Coach can be seen at the Museum of London throughout the rest of the year.
History of The Lord Mayor's Show
The Lord Mayor's Show dates back to 1215, when King John granted a charter allowing the citizens of London to elect their own mayor. King John instituted one major condition: each year the new mayor must travel from the City to Westminster to swear loyalty to the crown.
Every year since, the newly-elected Lord Mayor of the City of London has done so to pledge allegiance to the crown.
When and where is The Lord Mayor's Show 2020 taking place?
In 2020, the show is planned to take place on 14 November. The procession travels throughout the City of London.
What is the route of The Lord Mayor's Show?
The route is usually revealed closer to the election of the new Lord Mayor, at the start of October. There is no election taking place in 2020 due to the coronavirus outbreak. William Russell, the 692nd Lord Mayor of the City of London, is serving an additional year.
The procession is different every year as it highlights the interests and history of the new Lord Mayor and the creativity of the performers. In 2019, the parade started at Mansion House at 11am and finished at the Royal Courts of Justice.
How long is the parade?
The parade lasts an hour and a half. Make sure you pack comfortable shoes and warm clothes.
How can I watch the parade?
You can watch the procession for free standing anywhere along the 3-mile (5km) route. If you'd prefer to be seated, you can book a place in the grandstands on each side of the parade route by St Paul's Cathedral. Tickets are £40 each.
Prices and opening times
The procession is free to watch, but you can also buy a grandstand seated ticket to guarantee a good viewing spot.
Opening Times
The parade usually takes place from 11am to 2.30pm.
Venue Details & Map