Why do we celebrate Bonfire Night in London?
Each year, London marks the historic moment when Guy Fawkes and his motley crew attempted to blow up the Houses of Parliament and King James I in the Gunpowder Plot of 5 November 1605.
It is still customary today for the cellars in the Houses of Parliament to be searched by the Yeoman of the Guard before each State Opening of Parliament.
The day became known as Guy Fawkes Day or Guy Fawkes Night, but it's now more commonly called Bonfire Night.
When is Bonfire Night?
As follows the tradition, Bonfire Night is celebrated every year on or around 5 November. Bonfires are usually lit on which effigies known as "guys" are burned, while the skies are filled with colourful fireworks. It's also a time to enjoy traditional Bonfire Night food and drink, alongside music, funfairs and family activities.
Top tips for Fireworks Night in London
Follow these top tips to make sure your Bonfire Night goes off with a bang:
Book your tickets ahead to guarantee entry: many London fireworks events are usually ticketed and can be bought in advance.
Take cash, as some vendors at London Guy Fawkes Night fireworks displays are cash-only.
Enjoy more than just the fireworks! There are plenty of activities for all ages to enjoy, plus seasonal food and drink at most events.
Wrap up warm to enjoy a whole evening of fun.
Find what's usually on offer during London Bonfire Night below, from east to west, north to south. Or discover more things to do in London this autumn.
1. Wimbledon Park fireworks
Witness one of two breath-taking displays of pyrotechnics at the Wimbledon Park fireworks, where music and fireworks combine to create a dramatic show. A spectacular fire and light show has replaced the usual bonfire at this climate-conscious event in recent years. There are also rides and a variety of food stalls for snacks. Date TBC
2. Bonfire Night fireworks Morden Park
A similar event to the Wimbledon fireworks, this musical-themed fireworks in Morden Park take place each year. Take the kids to the earlier Disney-themed display or watch the main James-Bond themed fireworks show. Enjoy the music and funfair rides, and tuck into warming food and drink to enjoy from the street food village. Date TBC
3. Alexandra Palace Fireworks Festival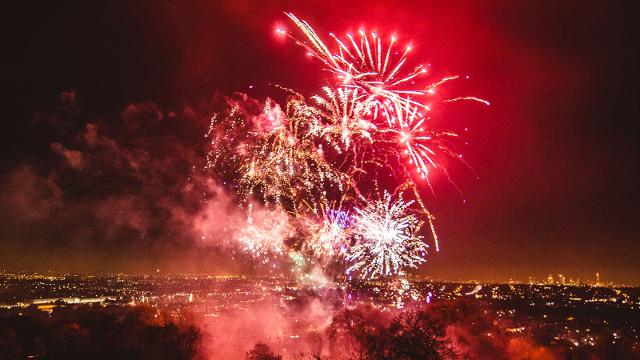 Head to one of north London's best vantage points for a night of fun at the Ally Pally's Fireworks Festival. One of the top Bonfire Night events in London, the activities on offer include a German beer festival, music from Trevor Nelson, an ice disco and a dazzling light show. Date TBC
4. Chiswick Park Fireworks Extravaganza
Head to the annual Chiswick Park Fireworks Extravaganza in west London for live music, fire performers, seasonal food and more. This spectacular fireworks display at Chiswick Business Park is set to music and is free to enter, but tickets must be booked in advance. Date TBC
5. Battersea Park Fireworks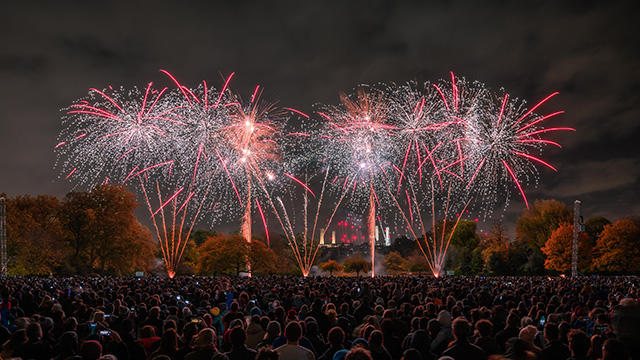 Join thousands of revellers as this pretty park is illuminated with a huge bonfire and a spectacular fireworks display every year. Tuck into food and drink from the restaurants and bars at nearby Battersea Power Station, before filling your Instagram feed with snaps of the Battersea fireworks display on the banks of the river Thames. Date TBC
6. Beckenham Fireworks in the Park
Take the kids to Beckenham Fireworks in the Park at Croydon Road Recreation Ground each year, which has plenty of family entertainment. Choose between a quiet firework show, or the big bangs of the main display later in the evening. Be sure to arrive early to enjoy Bonfire Night food and the funfair. Date TBC
7. Barnes Sports Club fireworks
Head to leafy Barnes in south-west London for the annual Bonfire Night display at Barnes Sports Club. Alongside a traditional bonfire and fireworks display, there's a "Best Guy" competition, food, drink and music from a DJ. Date TBC
If you're looking for a "Bonfire Night near me" and local firework displays, download the Visit London app.
NYE fireworks in London
Bonfire Night in London is not the only large-scale London fireworks event. At the end of the year, London's largest annual fireworks display usually takes place: London New Year's Eve Fireworks. This event is not taking place in 2021, but you can find plenty more things to do in London on New Year's Eve.
Explore by category