Whether you're celebrating a special milestone or just having a bit of quality time together, a London boutique hotel will offer you a relaxing, indulgent stay with a personal touch – whatever the occasion.
Stay at one of the many boutique hotels London has to offer for a stylish and sophisticated holiday: Book your stay in a boutique hotel, London style.
1. Hotel 41
Stay at Hotel 41 for an unforgettable experience. The hotel overlooks the Royal Mews, is infused with its own signature scent and has many perks, including a champagne trolley at arrival and homemade treats in each room.
2. The Rookery
From wood panelling and antique furniture to open fires, The Rookery in Clerkenwell is all period charm. All paintings and furnishings are 18th and 19th century; the hotel boasts a beautiful conservatory with a garden – steps away from St Paul's Cathedral.
3. Andaz Liverpool Street
Andaz Liverpool Street is a former railway hotel housed in a beautiful red brick Victorian building dating back to 1884. The hotel is heavily involved in London's design scene and has hosted installations during the annual London Design Festival. The hotel is centred around an industrial lobby and spiral staircase.
4. Artist Residence London
Artist Residence London is a rustic-style 10-bedroom boutique hotel with quirky decor and unparalleled trendiness – a dream come true for pop art and neon aficionados and shabby-chic lovers.
5. The Hari Hotel
Delve into refined elegance in Belgravia. At The Hari Hotel, the designer bedrooms and luxury suites feature plush velvet upholstery, marble bathrooms, contemporary art and chic furnishings.
6. The Prince Akatoki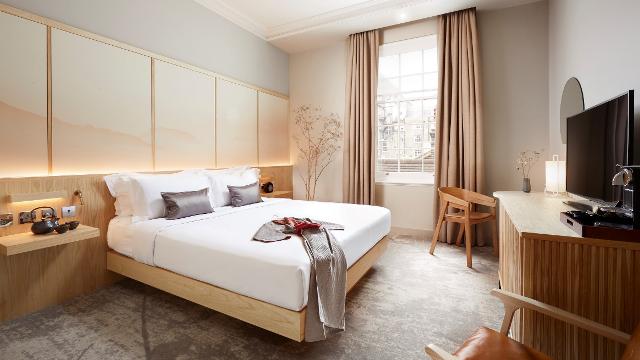 Explore the ritual and elegance of Japanese hospitality at five-star luxury hotel The Prince Akatoki. The rooms are designed in a minimalist style with natural materials and luxury fabrics, and all come with a yoga mat – a sanctuary of mindfulness and tranquility at every turn.
7. The Hoxton
Join the creative crowd in east London and stay at one of The Hoxton Shoreditch's 210 industrial-inspired rooms – plus, you're footsteps away from Shoreditch's street art and cool bars.
8. The Mandeville
Around the corner from Bond Street and Oxford Street, The West End and some of London's most iconic attractions, The Mandeville is the perfect luxury boutique hotel in Marylebone for a shopping spree and the ultimate London experience.
9. The Academy
It took the combination of five Georgian townhouses to create The Academy. Geometric wallpaper, leather chairs, soft colours and chequerboard coffee tables make each of the 50 bedrooms the perfect blend of contemporary interiors with a touch of vintage.
10. Hazlitt's
Find friendly service and old-fashioned hospitality at Hazlitt's in trendy Soho. Spread over three townhouses, each room is uniquely furnished with antiques and Victorian furniture. Keep an eye out for Sir Godfrey the cat.
11. St James's Hotel and Club
With a rich history dating back to 1857, St James's Hotel and Club is today a luxury five-star boutique hotel and members club located in a quiet side street in Mayfair. Its direct entrance to Green Park makes it a prime location for sightseeing.
12. Sloane Square Hotel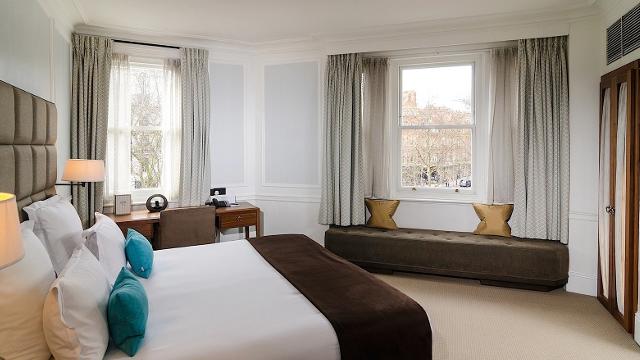 With Chelsea's legendary King's Road minutes away, the Sloane Square Hotel is ideally located for some of the best shopping in London. Bonus: bedrooms either face the quiet square or Holy Trinity Church.
13. The Ampersand Hotel
At The Ampersand Hotel in Kensington, expect themed rooms overflowing with botanical, astronomical, musical or ornithological references, from colourful cushions and elegant wallpaper to giant headboards.
14. Covent Garden Hotel
Designed by Kit Kemp in a fresh modern English style, Covent Garden Hotel is nestled in London's theatre district. Originally a 1867 French hospital, the 58-bedroom hotel benefits from high ceilings and beautiful large windows.
15. Charlotte Street Hotel
Relax in one of Charlotte Street Hotel's 52 bedrooms and suites – all equipped with state-of-the art facilities expected from a luxurious hotel, including free wifi, flat screens and iPod docking stations.
16. Eccleston Square Hotel
Enjoy the perfect mix of history, technology, hospitality and luxury at Eccleston Square Hotel, set by a beautiful square in Pimlico. Expect high-end Hästens beds that come with a massage setting and a TV-embedded mirror in the bathroom.
17. The Stafford London
Tucked away in prestigious St James's, The Stafford London's is a stylish hotel made of two houses. Stay in the Main House for a mix of Victorian ambiance and modern comfort or in the Carriage House for a countryside atmosphere. Its outside courtyard is also the ultimate spot for cocktails.
18. The Exhibitionist Hotel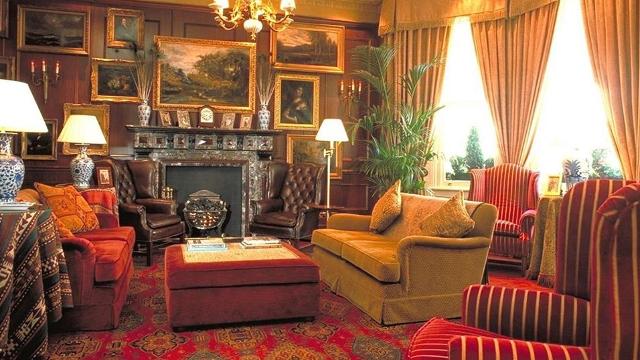 Discover one of the coolest art hotels in London, The Exhibitionist Hotel. The 37-bedroom boutique hotel features incredible art from the corridors to the rooms and is within walking distance of South Kensington Tube station, the Natural History Museum, Royal Albert Hall and Harrods.
19. Boundary London
Set within a converted Victorian warehouse, Boundary London is a small boutique hotel with 17 bedrooms, each inspired by an iconic designer or design movement of the 20th century. You'll also find onsite a rooftop, two restaurants and bar spaces, and a bakery and deli.
20. The Zetter Hotel
Discover quirky rooms and studios with state-of-the-art technology and a modern vintage look at The Zetter Hotel. Book one of the seven rooftop bedrooms for a private terrace with panoramic views across London. For a wow factor, the Rooftop Deluxe features an al fresco clawfoot bath and sunbeds.
21. The Zetter Townhouse Marylebone
Its sister property The Zetter Townhouse Marylebone feels more like you're staying at an eccentric relative's home than in a conventional hotel. The property boasts 24 bedrooms and an award-winning cocktail lounge.
22. Dukes London
Hidden away in Mayfair, Dukes London has been welcoming guests for more than 100 years. Frequented by James Bond author Ian Fleming, its legendary tiny bar is renowned for its famous martinis and cocktails – shaken, not stirred.
23. Number Sixteen
Stay in one of Number Sixteen's light and airy bedrooms, boasting high ceilings and natural light. Many of the rooms overlook the leafy courtyard garden in South Kensington.
24. W London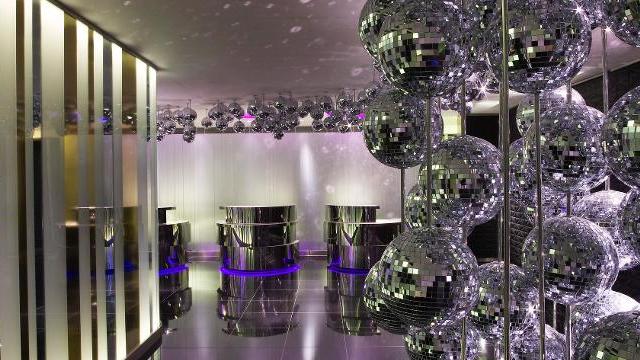 W London in Leicester Square is all about glamour and fun. The hotel is veiled in colour-changing glass and full to the brim with glitter balls inside. W London has even broken down the barrier between bedroom and bathroom – you'll find a washbasin unit in the bedroom, and the WC and shower hidden in cubicles behind mirrored glass!
25. Batty Langley's Hotel
Sister to Hazlitt's and The Rookery, Batty Langley's Hotel is the essence of Georgian elegance and timeless wit near Spitalfields. Individually named after important local figures from the 18th century, bedrooms are filled with Rococo mirrors and antiques furniture; all high-tech accessories and televisions are cleverly hidden to keep you in the period ambiance.
26. Henrietta Hotel
Relax in dusty pink and blue hues at Henrietta Hotel in Covent Garden. Each carefully curated bedroom is inspired by the area's rich history with a nod to Italian design. Book a junior suite for a private balcony overlooking rooftops and the London Eye.
27. Lime Tree Hotel
In the historic Grade-II townhouse of Lime Tree Hotel, all 25 bedrooms are different sizes, shapes and layouts. But they each provide the perfect spot to relax after a day's exploration of London. The rear pretty garden is simply the cherry on top of the cake.
28. Claridge's
Claridge's is a fashionable 1930s Art Deco hotel known for its superb service. There are plenty of modern touches among the old school glamour, including a number of rooms designed by Diane von Furstenberg. Michelin-starred Fera at Claridge's restaurant will have you drooling; the swanky bar remains one of London's hottest spots.
29. Karma Sanctum Soho
Karma Sanctum Soho is as buzzing, bohemian and artistic as its West End surroundings. Each of the individually-designed rooms falls into one of six mood schemes at the hotel, ranging from Art Deco to rococo influences. Wall-to-wall glass doors open out onto the beautiful roof garden – the place to be in the summer.
30. The Londoner Hotel
Defining itself as a "super boutique hotel", 16-storey The Londoner Hotel might not fit the small and intimate size of a typical boutique hangout, but this Leicester Square hotel's stylish interiors give it that authentic feel. Guests can make use of The Residence, a selection of three snug spots; or unwind in the underground spa.
31. Town Hall Hotel & Apartments
Town Hall Hotel & Apartments converted Bethnal Green's town hall into one of London's hippest hotels. Taking inspiration from its location in London's creative East End, the hotel is filled with pieces by local artists. The creative design retains elements of its Edwardian and Art Deco heritage and it has an equally cool restaurant, Viajante.
32. Bingham Riverhouse
Feel like you're in the countryside in London with an overnight stay at Bingham Riverhouse. The 15-bedroom riverside hotel offers breathtaking views over the Thames at Richmond, plus handmade beds with ethically sourced organic mattresses and sustainable furniture.
33. The Capital
The Capital prides itself in its high customer service, comfort and British charm. For a longer stay, reserve a serviced apartment with its own kitchen facilities – the ideal pied à terre to feel like a local in Knightsbridge.
34. Me London
Based in Marconi House, former first office of the BBC, ME London promises a cool and luxurious stay to all its guests. Designed by Norman Fosters' Foster + Partners, the hotel features 157 rooms and suites with floor to ceiling windows, two restaurants and a destination rooftop bar.
35. Sanderson London
Sanderson is London's ultimate design hotel. Designed by Philippe Starck, it will intrigue contemporary design fans with its Surrealism-inspired lobby featuring a giant lips sofa and The Purple Bar, decked out in delicate shades of purple. Sheer curtains replace walls in the guestrooms, allowing you to shape the space as you desire.
36. Dorset Square Hotel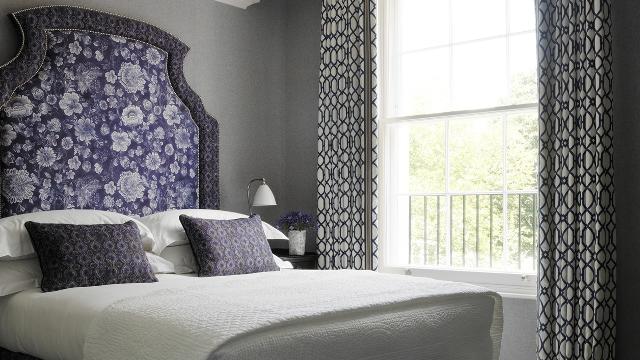 The 38-bedroom Dorset Square Hotel is established in a sumptuous Regency townhouse in Marylebone. Most bedrooms overlook the leafy, private garden square – originally the site of Thomas Lord's first cricket ground.
37. Blakes London
Discover wanderlust and unconventional luxury in Kensington at Blakes London – the world's first boutique hotel and a well-guarded address in the world of fashion, film, music and art.
38. The Halkin
Georgian-style on the outside, minimal and elegant inside, The Halkin brings understated luxury to Belgravia. Each floor of the hotel is designed with a different element in mind, using soft colours throughout the building. Rooms are individually decorated and feature white marble bathrooms.
Explore by category