Treat yourself and join in the fun on Pancake Day in London.
In the Christian calendar, Pancake Day, or Shrove Tuesday, is a traditional feast day which precedes the 40-day fasting period of Lent that lasts until Easter. Pancake Day became a great way to use the foods that were given up for Lent: milk, butter and eggs.
Pancake Day falls between 2 February and 9 March, depending on the date for Easter. In 2017, Pancake Day falls on Tuesday 28 February.
Pancake Day Races in London
As well as eating pancakes and crepes, there's a long tradition of pancake races in London which often raise money for charity.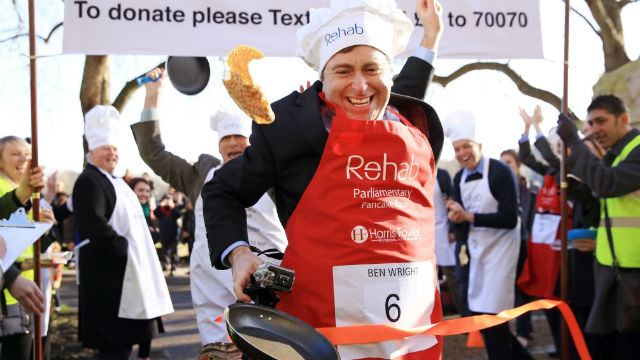 Enter your team into a race or cheer on the participants from the sidelines, as they toss pancakes in a frying pan while trying to complete the course as fast as possible – take a look below for pancake races in London on 28 February:
Pancake Day Restaurants
Tuck into a Pancake Day feast at one of London's best pancake restaurants or creperies, and look out for special Pancake Day menus in restaurants and cafes across the capital. Below are some ideas on where to celebrate Pancake Day 2017 in London:
If you can't make it to London on Pancake Day, bring a little bit of London into your pancakes instead with a Big Ben shaped crepe!