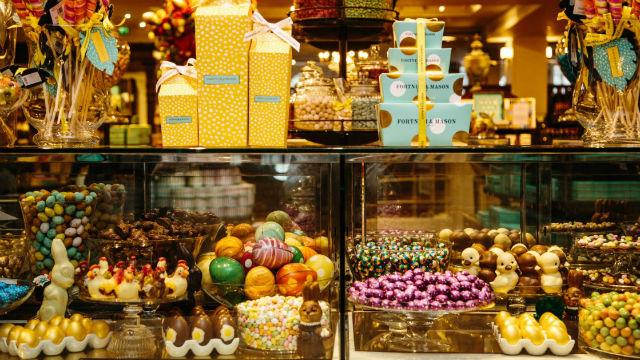 About
Keep the whole family entertained over the Easter holidays with our roundup of the best things to do at Easter 2017 in London.
From Easter egg hunts and special Easter events for kids and grownups, to the best chocolate shops and Easter opening hours in London, plan a fun-filled Easter break in the capital. Find things to do in London on Easter Sunday, Good Friday events and Easter Monday activities with our London Easter ideas below.
Easter Weekend 2017 Events in London
•See more than 30 majestic sailing vessels along the Greenwich and Woolwich riverfronts, and enjoy river-themed activities and fireworks at the Tall Ships Regatta. 13-16 Apr
•Watch a spectacular full-scale performance of The Passion of Jesus, featuring 100 performers, for free in Trafalgar Square on Good Friday. 14 Apr
•Embark on an adventure to Jurassic Kingdom, where 30 life-sized animated dinosaurs roar and screech in every corner of Osterley Park. 1-17 Apr
•From popping and locking, to parkour and skateboarding, sharpen your Urban skills with workshops, family activities, dance schools and parties at Southbank Centre. 1-17 Apr
London Easter Egg Hunts and Trails
•Search for WWT London Wetland Centre's missing giant yellow ducklings around the nature reserve, with a chance to win prizes. 1-17 Apr
•Follow Kew Gardens' interactive Moomin Adventures Easter trail among spring daffodils and crocuses. Plus, visit on Easter Sunday for some Lindt treats. 1-17 Apr
•Collect stamps and enjoy activities and storytelling along a self-guided trail around ZSL London Zoo, inspired by the classic children's book Dear Zoo. 1-17 Apr
•Go on a Lindt Gold Bunny hunt as you explore the history of Hampton Court Palace. 1-17 Apr
•Spot the Duracell, Cadbury and more branded bunnies across the Museum of Brands' displays to win chocolatey treats. 1-16 Apr
•Embark on an Easter adventure quest at English Heritage's Kenwood House in North London or Down House in South East London. 14-17 Apr
•Solve clues and meet characters along London Bridge City's Easter egg trail. 15 Apr
•Look out for celebrity tweets to join the Easter treasure hunt of Dom Pattinson's high-value artworks hidden around London. 14-15 Apr
•Use Twitter and Instagram to find golden eggs in London's West End and win prizes. 7-27 Apr
•Locate hidden gems in the British Museum on THATMuse's fun and games hunt. 14 Apr
Easter Chocolate in London
•Visit London's top chocolate shops for beautiful chocolate eggs and Easter treats.
•Pick up artisan chocolate eggs, chocolate-covered fruits and handcrafted vegan chocolate at the Duke of York Square's Easter Chocolate Market in Chelsea. 15 Apr
•Sip on indulgent Easter Choctails available at all Dirty Martini bars. 3-30 Apr
•Look out for chocolate-themed afternoon teas in London at Easter, such as chocolate scones in May Fair Kitchen's Charbonnel et Walker afternoon tea; unlimited hot chocolate in St Martins Lane's Chocolate Dreams afternoon tea; an Easter twist on Sanderson's Mad Hatter's afternoon tea; The Montagu's new Green & Black's Chocola-Tea featuring chocolate in every bite; plus, accompany your tea with homemade Easter eggs at Hotel Café Royal.
•Find Easter-inspired cupcakes and treats in London's top cake shops.
•Tuck into a Charlie and the Chocolate Factory-inspired afternoon tea at One Aldwych.
•Sample chocolates and prosecco with a tasting experience led by a Hotel Chocolat ambassador onboard the Coca-Cola London Eye.
London Easter Sunday Lunch
•Enjoy one of London's best Sunday roasts at Easter.
•Book a table in a top traditional pub for Easter Sunday lunch in London.
•Drop by a riverside pub after an Easter Sunday walk along the river.
Spring Blooms and Baby Animals
•See if you can spot some spring arrivals at a London city farm or zoo.
•Take a leisurely Easter walk through nature reserves and woodlands in London.
•Enjoy a beautiful spring day out among the flowers at a top London garden.
•Find more ways to explore London's many parks and green open spaces.
Family Attractions and Activities for Kids in London
•Marvel at Lego sculptures of Superman, The Joker and more DC characters at The Art of the Brick on the South Bank. Until 4 Sep
•Step into Harry Potter's Forbidden Forest and meet its mystical creatures in Warner Bros. Studio Tour's new expansion. From 31 Mar
•Meet a herd of mechanical animals at the Horniman's Robot Zoo and learn how different species see, move and hear in the wild. 11 Feb-29 Oct
•Explore a Magic Garden filled with mythical creatures, royal towers and secret corners at Hampton Court Palace. 1 Apr-27 Oct
•Discover your Star Wars identity and see props from the films at The O2. Until 3 Sep
•Become a pilot, doctor or TV presenter in KidZania's child-size city, plus learn how to make chocolate bunnies in the Cadbury Factory this Easter.
•Look out for Easter family fun at London's top attractions and family-friendly museums, as many put on special activities for children during the school holidays and Easter weekend.
•For more things to do with the kids at Easter in London, take a look at our guide to 101 family-friendly activities.
Easter Weekend Shows in London
•Book tickets to London's top new shows including An American in Paris, The Miser and Stepping Out.
•Take the family to see a smash-hit West End musical.
•Be amazed by acrobatic stunts, animal tricks and motorbiking spectacles with Zippos Circus' Jigit! in Blackheath. 5-18 Apr
•Or see a cast of 20 acrobats perform breathtaking stunts with It's Not Yet Midnight at The Roundhouse. 10-23 Apr
Easter Opening Hours and Transport in London
Good Friday and Easter Monday are both public holidays. Most attractions are open over the Easter bank holiday, but check with individual venues in advance; particularly to find what is open on Easter Sunday in London. Shops are closed on Easter Sunday, except small shops which may open for a few hours. Public transport services, including the London Underground, may be reduced between Good Friday and Easter Monday, so plan your journey in advance.