By April, spring is definitely in the air. The coldest months have gone in favour of more sunshine and a few rain showers.
Visit the London Wetland Centre in South West London, or another one of London's city farms, zoos or nature reserves, to spot ducklings, chicks and other spring arrivals this month. Or sit back with a boat trip on the Thames or with a meal al fresco on a sunny day.
April Events
This year, Easter falls in April. Many London attractions put on special activities over the Easter weekend for all the family, including egg hunts and interactive exhibitions. Keep an eye out for Easter-themed afternoon teas, and don't forget to treat yourself at one of London's top chocolate shops. Most shops in London do not open on Easter Sunday and there may be reduced public transport over the Easter weekend.
One of London's biggest sporting events, the London Marathon, takes place this month. Enjoy the party atmosphere and cheer on the thousands of participants from the sidelines as they run past some of London's top landmarks.
If you prefer river-based sports, watch rowing teams from the two world-famous universities battle it out on the Thames during The Oxford and Cambridge Boat Races, which take place in early April this year.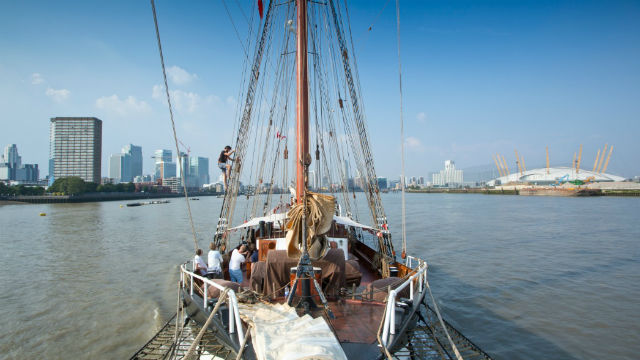 Or make your way to the Tall Ships Regatta on the Greenwich and Woolwich riverfronts over the Easter weekend, to see more than 30 magnificent ships prepare for a transatlantic race, and enjoy river-themed activities and spectacles.
Experience the traditions of some of London's diverse cultural communities in April, with free annual events open to all in Trafalgar Square. Celebrate the Sikh festival of Vaisakhi with live music performances and family activities, and mark England's national day with a huge Feast of St George, including food stalls, celebrity chef cooking demonstrations, games and performances. 
Every year on Good Friday, you can also watch a spectacular full-scale re-enactment of The Passion of Jesus for free in Trafalgar Square.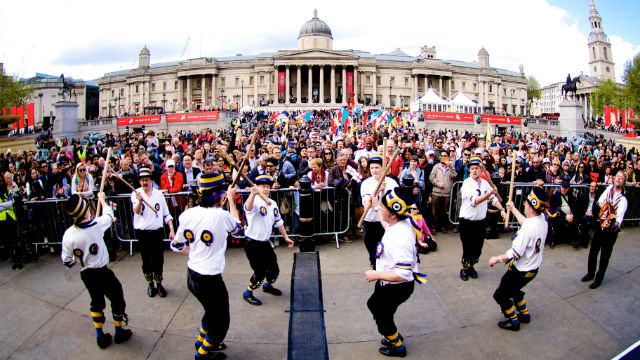 Test out new and experimental video games, board games and virtual reality entertainment at the London Games Festival, which returns in 2017 with a series of exhibitions, talks and events.
Although the Queen celebrates her official birthday in June, her actual birthday is 21 April. Listen out for gun salutes being fired in Central London to mark the occasion: one usually takes place at Hyde Park and another at the Tower of London.
For more things to do in April in London, take a look at our events calendar and guide to what's on in London, or download a free copy of the April London Planner visitor guide. And catch the best of the London stage this month with our guide to top shows in April.
WEATHER: For average seasonal temperatures and rainfall, see our London Weather page.
Sign up for our monthly enewsletter for year-round updates about what's on in London.