Take a look at these strangest of curiosities...
An over-stuffed walrus and a merman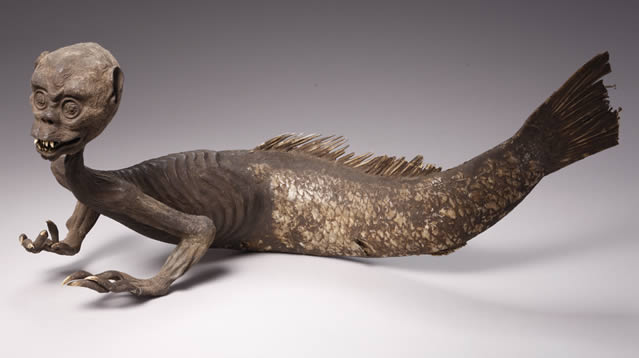 Weighing in at just under one tonne, the Horniman Museum's walrus was famously overstuffed by his Victorian taxidermist who is thought never to have seen such an animal. Highly praised by Queen Victoria when it was on display at the Colonial and Indian Exhibition in South Kensington in 1886, the walrus is one of the Horniman's most popular exhibits. Other odd displays include giant musical instruments such as a xylophone wall, and a collection of dog's heads which illustrate the domestication of dog breeds. There's also a creepy-looking merman which prompts most visitors to ask "is it real?" Visit the Horniman Museum to find out!
The Sham Bridge
At first glance it appears perfectly normal, but view it from the side and you realise the bridge by the Thousand Pound Pond in Kenwood House (within Hampstead Heath) is totally fake! Built in the mid 1700s, when the grounds belonged to the first Earl of Mansfield, it was restored in 1992.
A jar of tweeting moles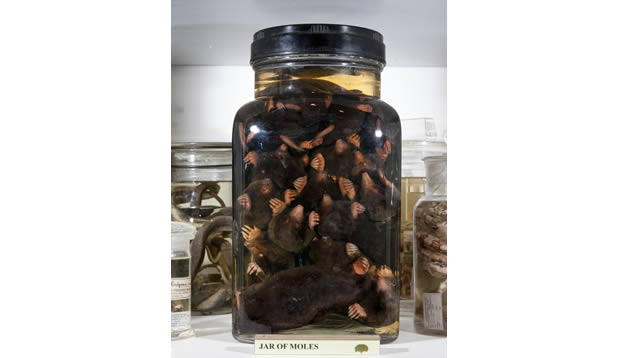 A glass jar of 18 moles is just one of the fantastically bizarre exhibits at the Grant Museum of Zoology. Amusingly, the moles even have their own Twitter account @glassjarofmoles. One of the UK's oldest natural history collections, the museum homes more than 1,000 species of rare and extinct animals. Other strange exhibits include a collection of alcohol-preserved brains and a collection of preserved mammal heads, including a chimp, a seal, a red panda and an alligator.
Napoleon's toothbrush
Hyped as a "free visitor destination for the incurably curious", the Wellcome Collection boasts a raft of weird objects, including an ancient mummy, Napoleon's toothbrush, Darwin's walking stick, a DNA sequencing robot and a Marc Quinn sculpture.
Meet the river Thames whale
A monstrous giant squid called Archie can be seen behind-the-scenes of the Natural History Museum's Zoology spirit building. Caught off the coast of the Falkland Islands in March 2004, the giant squid is 8.62m long and is preserved in a specially-made acrylic tank. The museum's spirit collection houses 450,000 glass jars of specimens, from a baby kangaroo to a baby shark. Other notable specimens include Darwin's pet tortoise and the conserved skeleton and fins of the northern bottlenose whale that swam up the River Thames on 20 January 2006. Suitable for anyone aged eight and over, tours of the Spirit Collection are free, but must be booked in advance.
The London Nose
From Trafalgar Square, walk through the right-hand side of Admiralty Arch towards The Mall. On the left-hand wall you should notice a small protrusion. This is the London Nose. According to one popular theory, it's a spare in case Nelson's one falls off.
The Old Operating Theatre

In 1956, Raymond Russell stumbled upon a 19th-century operating theatre in the roof space of an English Baroque Church. After careful restoration works, The Old Operating Theatre Museum & Herb Garrett opened in 1962 and is still open today as a weird and often gruesome reminder of what surgery was like in the pre-anaesthetics and antibiotics era. Read our feature on London's Best Medical & Science museums
The smallest police station in London
You may have walked past it a thousand times without realising it: in one corner of Trafalgar Square sits the smallest police station in London (some say, the world). Cunningly built into a lamp post, this tiny cubby was just big enough for one policeman and was designed as a way of keeping an eye on demonstrations in the square.
Want more quirky stuff? Take a look at our secret London itinerary for unusual attractions, check out 101 secret things to do in London or discover some of London's hidden gems.