The river Thames is the perfect vantage point for some of London's most iconic sites come rain or shine. Escape the crowds and experience London's beautiful scenery glide by with a Thames river sightseeing cruise by day or night.
From sightseeing trips with expert guides to fun dining experiences, find out about some of the best London boat trips and canal tours. Enjoy the capital from every angle on a Thames river cruise as you sail past some of London's top landmarks.
1. City Cruises hop-on hop-off tour
Travel to tourist hotspots including the Houses of Parliament tour, the London Eye and Tower Bridge on one of City Cruises' regular Thames river sightseeing boats. Explore the city at your own pace and hop on and hop off as often as you like with a 24-hour pass offering unlimited access.
Book a City Cruises hop-on hop-off tour now
2. City Cruises Thames cruise afternoon tea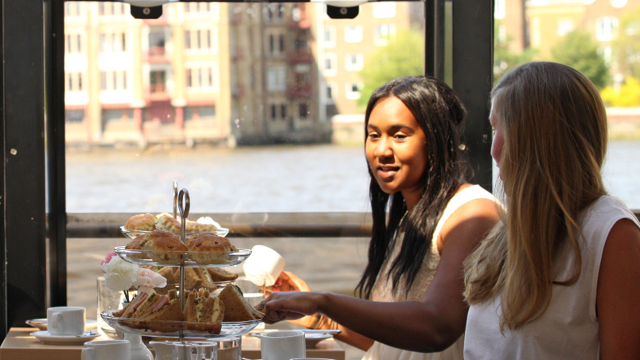 Satisfy your desire for London afternoon tea with this Thames cruise. Afternoon tea is served with jam, a generous dollop of cream, plus plenty of finger sandwiches, cakes and, of course, a side helping of stunning views! Settle back and relax aboard this river cruise, and be part of this British tradition.
Book a Thames cruise afternoon tea with City Cruises now
3. City Cruises London Dinner Cruise
One of the best nights out in the capital is aboard the London Dinner Cruise on the river Thames. Get your glad rags on and dance the night away on this "London Showboat" cruise, with top tunes from a live performer and a free glass of bubbly on arrival. Take a break from the dance floor and enjoy a delicious four-course dinner, including the likes of smoked salmon mousse to start, and roast chicken wrapped in Parma ham for the main.
Book a London Dinner Cruise now
4. One-Day River Roamer boat trip ticket with Uber Boat by Thames Clippers
River boat operators Uber Boat by Thames Clippers leave every 20 minutes from piers all along the Thames, so you're never too far away from a departure point. Purchase a river roamer boat trip ticket for unlimited river travel, and combine your ticket with entry to riverside attractions, such as Shakespeare's Globe Theatre and the Tower of London.
Book a One-Day River Roamer boat trip ticket with Thames Clippers now
5. Thames Lunch Cruise with City Cruises
Enjoy lunch on the Thames aboard this fine river cruise. Take a relaxed mini voyage through the heart of London and see Big Ben, historic London Bridge and other important London landmarks, while listening to audio commentary. Enjoy a two-course lunch that includes roast chicken supreme with creamy leek sauce or baked field mushroom stuffed with veggie delights, and a dessert of chocolate truffle cake. Stroll on the deck afterwards and take advantage of the fully stocked bar.
Book a Thames Lunch Cruise with City Cruises now
6. London Eye River Cruise with City Cruises
See spectacular views of London from above and from the water with a London Eye and river cruise package, which combines a ride on the iconic London Eye with a 40-minute London Eye river cruise. Enjoy incredible 360-degree views over the capital from the world's tallest cantilevered observation wheel, before taking to the water for a relaxing, circular sightseeing river cruise on the Thames.
Book a London Eye and River Cruise ticket with City Cruises now
7. Clipper and cable car
Travel on an Uber Boat by Thames Clippers River Roamer to North Greenwich pier before taking to the skies in an IFS Cloud Cable Car for stunning views of Queen Elizabeth Olympic Park, modern icon The O2 and the iconic city skyline.
Enjoy panoramic views on board popular Thames river boats and add this experience to your boat trips London list!
Book IFS Cloud Cable Car and Uber Boat by Thames Clipper River Roamer now.
8. Thames speedboat tours
Get the adrenaline flowing with an exciting London speedboat experience. Whizz along to the soundtrack of James Bond on a Thames RIB Experience, or feel the wind whip through your hair on a Thames Rockets or Thamesjet ride that is sure to induce FOMO among your friends! Speedboat Thames boat trips are an exhilarating way to experience the capitals iconic skyline.
Book a ride with Thamesjet now.
9. Tate Boat
If you're planning a cultural day out, take a leisurely Thames boat ride between Tate Modern and Tate Britain on the Tate Boat (also known as Uber Boat by Thames Clippers' RB2 service). It's a relaxing alternative to the Tube and a handy way to see some of London's finest classic and modern artworks in one day. Look out for other landmark buildings en route.
Book a One-Day River Roamer boat trip ticket with Thames Clippers now
10. Uber Boat by Thames Clippers to Greenwich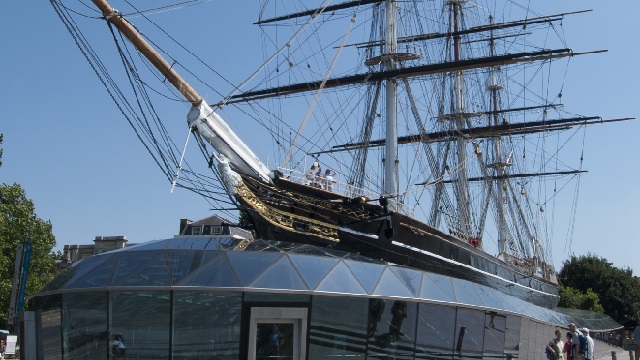 You can also venture outside of the city centre by booking a London boat tours experience. Travel to Greenwich via one of the Uber Boat by Thames Clippers and arrive in appropriately nautical style at the historic maritime area. Download its app to make use of an audio guide during the 30-minute journey from central London.
Book a One-Day River Roamer boat trip ticket with Thames Clippers now
11. Turks Launches tour
Turks Launches riverboats have been travelling the Thames for 300 years. Embark on a captivating river cruise London and sail past picturesque stretches of south-west London during a round-trip between Kingston and Richmond. Pass historic Hampton Court Palace as you meander along the river, without getting off.
12. Thames River Sightseeing
Marrying style with insight, Thames River Sightseeing provides tours along the river on spacious boats such as the 528-seat Thomas Doggett. Soak up some history with a multilingual audio system, which delivers commentary about iconic landmarks along the leisurely route from Westminster to Woolwich.
13. Canal boat tour
Canal boat trips London are a great way to explore the capital's waterways, so why not discover a different waterway route north of the Thames on a narrowboat trip along Regent's Canal. Begin at Jason's Wharf in Little Venice and find yourself in lively Camden's Lock Market by the end of the gentle 45-minute cruise each way.
14. Kayak tour
Navigate your own path and paddle on the Thames or around London's canals via kayak with the London Kayak Co. Led by qualified instructors, navigate your way between Battersea and Greenwich at day or night, embark on a round trip from Greenwich to the Thames Barrier, or take a leisurely trip between Poplar and Tower Bridge. A kayak tour is a great alternative activity to the traditional Thames river cruise.
Booking London river cruise tickets
Pre-booking tickets is the best way to guarantee a place on board your river Thames cruise, and some operators now require you to do so as part of new procedures in place following the easing of coronavirus restrictions.
You can pick up tickets at pier ticket offices for some services, while other operators require pre-booking via an app or contactless payment when boarding – if you have a Travelcard, you can get a third off some fares. Touch in and out with your pay as you go Oyster card for a discounted fare on Uber Boat by Thames Clippers services.
Browse through the London river cruises in the "All River Tours" link below, or find out how to use river bus services.
Explore by category