Brimming with beautiful 18th-century architecture and green spaces, Highgate maintains the aura of an exclusive village perched on top of a steep hill. It has many unique features that make it well worth a visit.
Where is Highgate?
Highgate is located in north London, between Hampstead and Muswell Hill.
How to get to Highgate
Highgate Tube station is on the Northern line. There are also some bus routes that go through the area.
What are the best things to see in Highgate?
Hampstead Heath is a vast expanse of green space and a great place for a leisurely walk. If the weather's good and you fancy a dip, head to Highgate Ponds. Another top spot for a wander is Highgate Wood. If you visit in May, swathes of bluebells carpet large sections of the wood, making for a spectacular sight.
The London Cemetery at Highgate is the capital's most famous graveyard. It was one of seven constructed in the 1800s to deal with London's severe shortage of burial space. Today, it continues to attract visitors and inspire artists and writers, such as Audrey Niffenegger and her book Her Fearful Symmetry. Opened on 20 May 1839, Highgate Cemetery was centred around the impressive Egyptian Avenue and included two chapels to accommodate different religious views. With its magnificent views over London, it was soon attracting hordes of wealthy clients and 20 years later the additional East Cemetery was built to meet demand.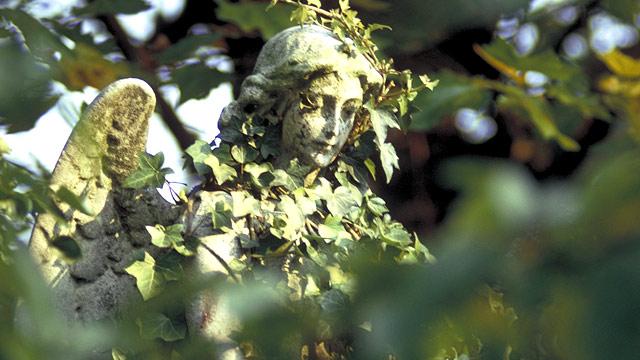 You can visit either the original West Cemetery via a guided tour or stroll around the East Cemetery at your leisure. Both contain famous residents, such as Karl Marx, Michael Faraday and George Elliot, as well as an impressive range of tombs and monuments.
If you approach Highgate Village from North Road you will pass Highgate School. Now an exclusive fee-paying public school, it was originally established in 1565 for the local poor. T.S Eliot was a master at the school, and past students include the poet John Betjeman, and Clive Sinclair, inventor of the pocket calculator.
If you take the opposite approach, in the middle of Highgate Hill you'll find the Whittington Stone statue. It commemorates the spot where Dick Whittington and his cat allegedly heard the Bow Bells chiming "turn again, Whittington, thrice Lord Mayor of London".
As well as admiring Highgate's magnificent Georgian architecture, you can head to Upstairs at the Gatehouse to see where Dickens and Byron drank.
Art buffs will enjoy the Highgate Contemporary Art Gallery and the Highgate Gallery, which both host regularly changing exhibitions. You'll also find a range of arts and concerts at Lauderdale House – combine a visit here with a walk in the scenic Waterlow Park.
Live entertainment abounds in Highgate. Jacksons Lane offers a diverse range of exhibitions, theatre, cabaret and dance. You can also catch classical concerts and theatrical performances at the Red Hedgehog, or fringe theatre at Upstairs at the Gatehouse. Head to the Boogaloo or the Charlotte Despard for quizzes, arts, comedy or just to dance the night away.
Where to eat in Highgate
For a quick snack or a scrumptious afternoon tea, try the excellent High Tea of Highgate, or stop off at the Pavilion Café in Waterlow Park.
Highgate is teeming with fantastic gastropubs. Try the Wrestlers or the Bull, where you can sample a range of the pub's own beers. If the English weather permits, you can also relax in the leafy beer gardens at the Flask or the Red Lion and Sun. Or head up by the heath to the famous Spaniards Inn.
For international flavours in Highgate, head to Abi Restaurant for delicious South Indian dishes, or Fabrizio for Italian staples and metre-long pizzas.