Rise and dine like a king at one of these exceptional London establishments.
Hearty haggis at The Wolseley
The Wolseley is renowned for its breakfasts. So much so, you actually have to reserve a table in the morning. Once settled in the grand surroundings, choose a suitably epic breakfast from the extensive menu: Grilled Kipper with Mustard Butter perhaps or Haggis with fried Duck Eggs. You won't need a mid-morning snack, that's for sure.
American pancakes at the Breakfast Club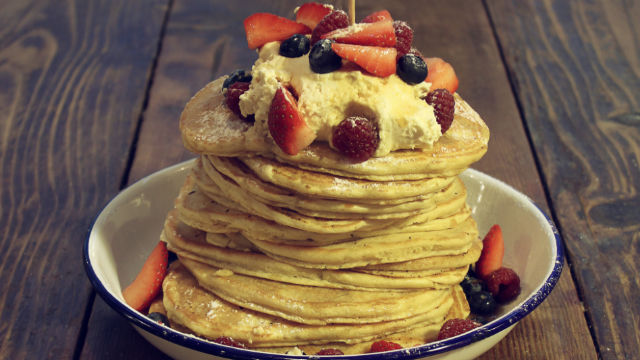 Pretend you're in the real Breakfast Club (well, the film one) at The Breakfast Club and order a stack of delicious, piping-hot pancakes. Everything comes with maple syrup – be it The All American with bacon or the positively healthy Pancakes and Berries. Pour liberally.
Weekend brunch at Percy & Founders
Make yourself comfortable in Fitzrovia eatery Percy & Founders during the weekend, which serves the likes of a full English; fontina waffles with chicken, poached egg, maple and bacon; or baked eggs with chorizo, avocado and tomato salsa. You can also enjoy two hours' worth of bottomless Prosecco or Bloody Marys. Breakfast is also available during the week.
Healthy Bircher muesli at The Modern Pantry
Modern Pantry's take on Bircher muesli includes fresh pineapple, raspberry compote and toasted seeds. You'll feel so virtuous afterwards you may be unable to resist sampling that day's fruit muffin. Well, it's practically part of your five-a-day.
A steaming cup of chai at Dishoom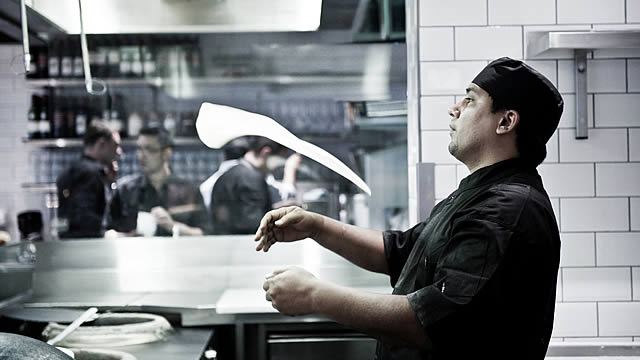 Like the old Bombay cafes it's modelled on, Dishoom is open morning to night. Do as they do in Bombay and prepare for the day with a cup of spicy chai and a Bun Maska, a toasted, buttered bun that you dip into your tea. Worth getting up for.
Freshly baked madeleines at St John Bakery
Every Saturday between 9am and 2pm, St John Bakery opens its shutters to the public. And every hour, freshly baked madeleines emerge from its oven, ready to be devoured with a cup of hot chocolate. While you're there, pick up some of the bakery's famous sourdough bread and fresh doughnuts – that's lunch sorted.
Morning cocktails at The Orange
If you're celebrating a special occasion, what more decadent way to start the day than with a breakfast cocktail? Choose from a Bloody Mary, Mimosa or British Bellini. There are plenty of edible breakfast options at The Orange too, ranging from Eggs Benedict to buttermilk pancakes with pear and pomegranate compote.
Baked eggs at Caravan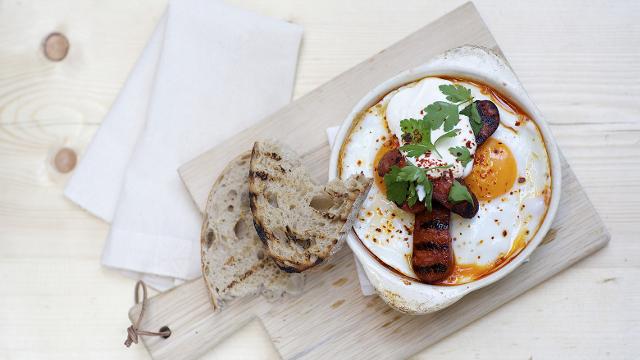 With freshly roasted coffee, pancakes and a whole host of health-conscious treats, Caravan in King's Cross is a great place for a nourishing start to the day. If you're looking for something a little bit special, opt for the baked eggs, which come with merguez sausage, tomato and pepper ragout, Greek yoghurt and toast.
Indian pancakes at the Cinnamon Club
If you want a hot breakfast with character, how about Cinnamon Club's South Indian rice pancake? The Uttappam, as it's known, comes with a choice of toppings: onion, green chilli, tomato or peppers – all served with coconut chutney and lentil broth. It's on the breakfast menu, honest!
Full English at the National Cafe
While you can find a cheap n' cheerful full English breakfast on pretty much any London high street, few have paintings by the likes of Michelangelo a few rooms down. At the National Gallery's cafe, the British Breakfast comes with all the essential ingredients – including a bottomless cup of tea or coffee. Essential.
Explore by category