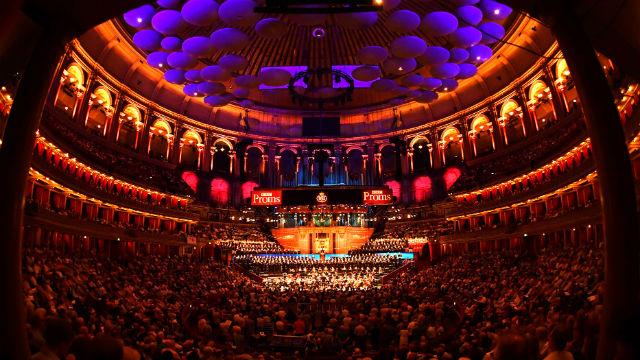 Experience the biggest classical music festival on earth, with fun and affordable concerts open to all audiences at the Royal Albert Hall and across London.
Read More
About
Hear a wide range of classical music in a season of informal concerts with the BBC Proms at the Royal Albert Hall and in venues across London.
Each year, the BBC Proms host two months of concerts over the summer, aiming to bring the finest classical music to as many people as possible at affordable prices and in an informal atmosphere.
From classical favourites to contemporary world premieres and family concerts, the BBC Proms offer a stage for leading musicians, singers, orchestras and soloists from across the world with a broad programme of music. The eight weeks of concerts culminate in the famous Last Night performances including BBC Proms in the Park, full of chanting and quirky traditions.
BBC Proms 2017 Programme
The 123rd edition of the classical music event presents more than 90 concerts including 30 premieres. Take a look at the 2017 BBC Proms highlights below:
•Celebrate the birthdays of renowned composers, including Monteverdi's 450th, John Williams' 85th, John Adams' 70th and Philip Glass' 80th, as well as the 300th anniversary of the premiere of Handel's Water Music, with special performances dedicated to their works.
•Experience the Proms in new and unusual surroundings, with a range of 'Proms at…' music concerts at Cadogan Hall, Southwark Cathedral, Wilton's Music Hall, the Tanks at Tate Modern, and Bold Tendencies' car park.
•Mark 100 years since the Russian Revolution and 500 years since the Protestant Reformation with concerts that explore the way in which composers were influenced by the politics of their day.
•Engage with the BBC Proms' first Relaxed Prom, specially designed for people with autism, sensory and communication impairments and learning disabilities.
•Enjoy a series of jazz and soul music concerts, one of the focuses of the festival this year, which celebrate the music of Ella Fitzgerald, Dizzy Gillespie, Charles Mingus and more.
•Look out for emerging stars as young musicians and singers take to the stage in the BBC Proms Youth Choir, Proms Youth Ensemble, National Youth Orchestra of Great Britain and more.
•Plus, delve deeper into the music with Proms Extra events, including free talks, film screenings and workshops.
What is Promming at the Proms?
Proms is short for Promenade Concerts: informal and inexpensive concerts which feature the popular tradition of Promming. Promenaders (Prommers) pay just £6 for a standing ticket in the central Arena or high-up Gallery of the Royal Albert Hall, with up to 1,350 standing places available. Around 500 standing (Promming) tickets are usually available to buy on the door before each concert and a limited number of tickets can be bought online on the morning of the concert.