Victorian London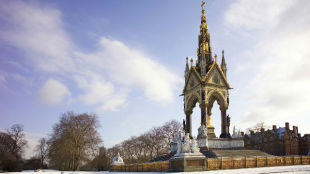 Queen Victoria reigned from 1837 to 1901, and the Victorian era certainly left its mark on London. Many London landmarks were constructed during the 19th century including Trafalgar Square, Big Ben, Houses of Parliament, and Tower Bridge, as well as other Victorian era buildings throughout the city. Victoria herself was born at Kensington Palace, where you can explore her life in a permanent exhibition.
One of the most famous events of 19th century London was the Great Exhibition of 1851, which Prince Albert helped to organise. A giant glass palace was built in Hyde Park to host the event and attracted visitors from across the world, presenting Britain at the height of its Imperial dominance.
The exhibition led directly to the founding of the Victoria and Albert Museum, The Natural History Museum and the Science Museum. The palace was moved to Crystal Palace Park in the 1850s. You can still see the remains of the site today, along with the life-size dinosaur sculptures which also date from the Victorian era.