Days out to Bath from London
Venture to the elegant city of Bath and uncover centuries of history, cultural gems and a buzzing food and drink scene.
Where is Bath and how can I get there from London?
Bath is in the English county of Somerset, in southwestern England, about 97 miles (156km) west of London. You can travel there in around three hours by road, or an hour and twenty minutes by train from Paddington to Bath Spa. You can also visit Bath as part of a day trip from London.
What can I do in Bath?
A UNESCO World Heritage Site, the first city in the UK to be declared as such, Bath holds many historical and cultural treasures perfect for couples, families and solo travellers who can enjoy a memorable day out or a short break within easy reach of London.
The Roman Baths
An impressive bathing and socialising complex where people of Roman times would unwind, the Roman Baths are where the city's reputation as a wellness destination began. While you're in the city, take a dip in the natural thermal hot springs at the Thermae Bath Spa -– a modern-day equivalent to the ancient way of relaxing in the Roman Baths.
Explore the town
Wander the cobbled streets, exploring Bath's many fine boutique shops, independent cafes and restaurants. Stop in atmuseums and galleries, from impressive artefacts at the Fashion Museum Bath and inspiring works from local artists at the Victoria Art Gallery, to a multi-sensory immersive experience at Mary Shelley's House of Frankenstein*.
Marvel at the beautiful Georgian architecture including the iconic "Sun and Moon" structures. This includes the Royal Crescent, a sweeping terraced building that has home to many famous figures throughout time; and the majestic Circus, a historic ring of townhouses with emblems of serpents, acorns and nautical symbols.
Books and films
Bath has been the setting for many iconic period films and TV shows over the years. Including The Duchess starring Keira Knightley, popular BBC drama Poldark, and Netflix drama Bridgerton. Fans of the Netflix hit can book a Bridgerton Tour and Bath City Highlights experience to discover filming locations and secrets from the show.
Bath is also known for its ties to famous author Jane Austen, being one of her greatest influences for her beloved novels. Uncover locations that inspired the books in a city that she once called home and visit the Jane Austen Centre to catch a glimpse into Regency life.
What are the best day trips and tours to Bath?
Below are several tours and day trips from London that showcase the best of Bath, along with multiple other destinations that are worth ticking off your bucket list.
Board the train from London Paddington to the historic city of Bath. First, visit the
Roman Baths
, before
exploring the city with the
hop-on-hop-off
City Tour
, which takes in 37 stops at key locations. It's then time for
The Skyline Tour
, where a guide shares the city's rich history as you venture around lesser-known areas. Choose your pre-booked departure time back to London for maximum flexibility – trains run every 30 minutes until 10pm.
Read More

: Day trip to Bath by Rail with entry to Roman Baths and Hop-on hop-off tour
Get the most out of your day trip to Bath with a
Hop-on hop-off bus tour. Enjoy two different routes as you uncover major landmarks and hidden gems. The City Tour drops you at major attractions such as the Roman Baths and Bath Abbey. The Skyline Tour takes you to the other side of the river Avon with a local guide, as you learn about Bath's history from a new perspective.
Read More

: Hop-on hop-off Bath bus tour
Combine two
UNESCO World Heritage sites
in one day trip from London with a tour of
Stonehenge
and
Bath
. Discover the secrets of the stone monoliths at Stonehenge, followed by a walking tour through the beautiful city of Bath. Here, you'll also explore the ancient
Roman Baths
that have given the city its reputation as a wellness destination.
Duration: 10 hours, 30 minutes
Read More

: Stonehenge and Bath tour with Roman Baths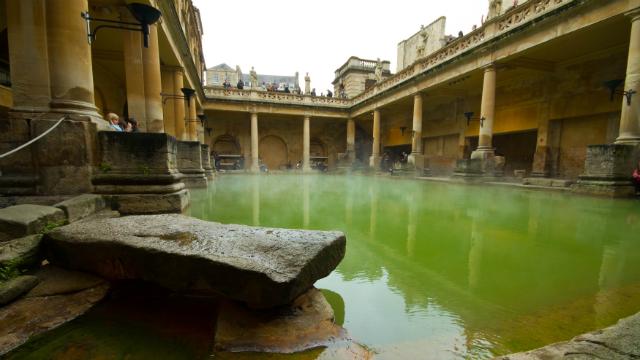 The largest occupied castle in the world and host to many royal events, there is much to be uncovered at
Windsor Castle
. Next, venture to the pretty spa town of
Bath
, ticking off the
Roman Baths
and much of its incredible architecture including the
Royal Crescent
and the
Circus
.
Duration: 12 hours
Read More

: Windsor Castle and Roman Baths day trip from London
Discover royal treasures within the walls of impressive
WIndsor Castle
, uncover the true meaning behind the mysterious
Stonehenge
, and delve into the rich history of
Bath
and its many wonderful landmarks on this action-packed day trip from London. In Bath, you'll also have chance to explore the
Roman Baths
and sip from the healing waters in the
Pump Room
.
Duration: 12 hours
Read More

: Windsor Castle, Bath and Stonehenge coach tour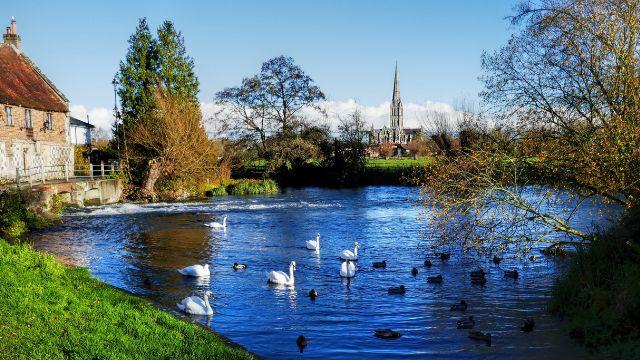 In addition to visiting the captivating Stonehenge, historic Windsor and enchanting Bath, see the wonderful city of Salisbury. Don't miss a tour of the ornate Salisbury Cathedral that sits at the very heart of the city, with its Gothic exterior and impressive spire, home to an original copy of the Magna Carta (the Great Charter) first created in 1215 A.D. Duration: 12 hours
Read More

: Salisbury, Windsor, Stonehenge and City of Bath bus tour
Combine three iconic sights:
Windsor Castle
,
Stonehenge
and
Bath
, with a trip to the quaint English village of
Lacock
to give you a taste of country life in the UK. Picture cobbled-stone streets, timber-framed houses and pretty independent shops in this chocolate-box location that's been the setting for various films.
Duration: 12 hours
Read More

: Windsor Castle, Stonehenge, Lacock and Bath