Steak & Lobster Bloomsbury
When it comes to steak, simplicity is often best. Following this ethos, Steak & Lobster has just one option: a 10oz dry-aged rib-eye (although you can upgrade to a 16oz if you're feeling extra peckish). It comes oozing with garlic and chive butter, plus unlimited fries and salad. This steak restaurant is the perfect refuelling stop after time exploring the nearby British Museum – other Steak & Lobster London venues include Warren Street and Heathrow. Book now
Boisdale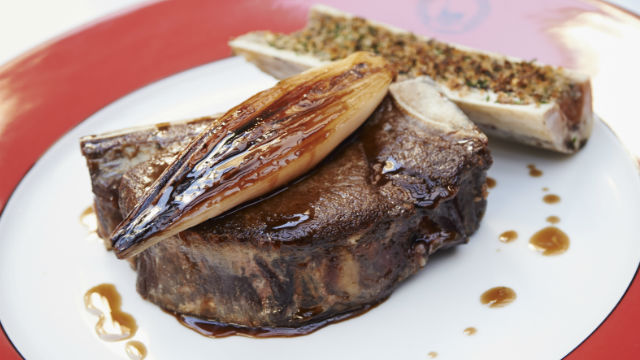 Cut into a tasty selection of Aberdeen Angus dry-aged steaks at this British restaurant, which has four locations in London: Canary Wharf, Belgravia, Bishopsgate and Mayfair. With the likes of flat iron, rib-eye, sirloin and fillet on the bone, tournedos, plus a guest steak, you'll be spoilt for choice with succulent Scottish-reared meats.
Smith & Wollensky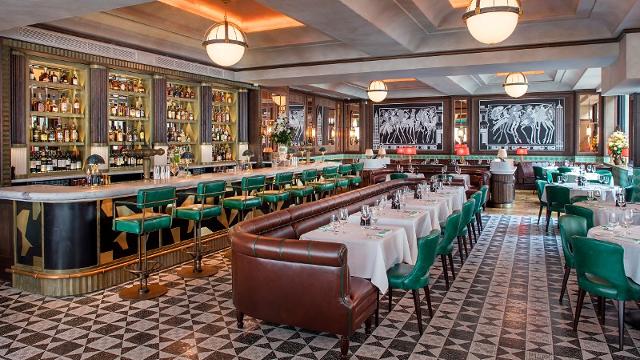 You've heard about the cow that jumped over the moon, but how about the steakhouse that jumped over "The Pond"? American favourite Smith & Wollensky has opened its first foreign outpost, just off The Strand, and brings with it USDA Prime steaks that are butchered on site and dry-aged for 28 days. It's also kept its classic sides on the menu, such as hash browns, buttermilk onion rings, and truffled mac 'n' cheese. Book now
Barbecoa
Described by owner Jamie Oliver as "the sexiest steakhouse on the planet", Barbecoa fuses age-old methods with modern creativity to produce tasty barbecued meat fitting the celebrity chef's signature style. Get your fill of T-bone, sirloin or chateaubriand amongst other cuts plucked from the fire or grill, as you take in the sweeping views of St Paul's Cathedral from your table. Book now
Gaucho Tower Bridge
One of the more high-profile pioneers of Argentinean steak in London, Gaucho now has restaurants across the city; from Canary Wharf to Richmond. At its More London site you'll be treated to Thames vistas of Tower Bridge and the Tower of London. Choose from popular cuts such as lomo (fillet), ancho (rib-eye), cuadril (rump) and chorizo (sirloin); or experiment with skirt or flank marinated in herbs and spices. If you're on a tighter budget, there's a reasonably priced set lunch to sink your teeth into. Book now
Goodman Mayfair
Enjoy prime meat at Goodman's London steak restaurants in Mayfair, the City and Canary Wharf. The chefs here dry-age the beef on site and select the best from the special ageing room each day, in what they call "The Cut" – whatever makes the cut finds its way onto the menu for the day. Thanks to its raging charcoal ovens, Goodmans' meat has a smoky flavour that makes it stand out from your average steakhouse. Book now
Hawksmoor Seven Dials
Fusing elegant 1930s-inspired interiors, classic cocktails and a low-lit ambience, Hawksmoor Seven Dials gives a sense of decorum to the caveman-like art of tucking into a hunk of beef. Thirty-five-day aged beef is the norm here, sourced from London butcher The Ginger Pig's Longhorn, Shorthorn, Aberdeen Angus and Hereford breeds reared on its Yorkshire farm. Find more Hawksmoor London venues. Book now
Heliot Steakhouse
Voted the best steakhouse in London by Bookatable users in 2016, Heliot Steakhouse overlooks the floor of Leicester Square's Hippodrome Casino and serves various cuts of 28-day aged USDA Prime beef. You can add a range of toppings such as roasted bone marrow or wild mushrooms, plus numerous sauces. If you've struck it lucky on the casino floor, add a whole lobster side dish. If not, simply get some more chips (of the triple-cooked kind). Book now
JW Steakhouse
It's all about bourbon and beef at JW Steakhouse off Park Lane. This American-style restaurant sears its cuts of USDA prime Kansas beef and British Aberdeen Angus in a high temperature broiler to pack in extra flavour. Choose from the likes of a 32oz Tomahawk rib-eye or bone-in Kansas City strip combined with a choice of toppings and sauces. You can wash it down with a pick from the 160 different bourbons in its Bourbon Bar. Book now
Mash
Adorned with red leather banquettes and restored 1930s features echoing the Soho venue's previous life as a hotel, Danish-run steakhouse Mash is the place to go if you're looking for a unusual steak. With a menu spanning cuts from Australian Tomahawk cattle, Uruguay's Hereford bulls, Japan's famous Kobe beef, and flavour-packed dry-aged cuts from its homeland, its menu takes you on a global tour where the meat is the star turn. Book now
Maze Grill Mayfair
At Gordon Ramsey's New York-style Maze Grill in Mayfair the beef is aged in Himalayan salt lockers for tenderness and flavour. You'll find native bred beef, rare breeds, plus meat from the USA and Japan, including the much-coveted Wagyu. It's a great option for families, as it has a special "kids eat free" offer when an adult buys a main course (under-12s only). Find other Maze Grills in London. Book now
Santa Maria del Sur
This convivial Argentinean steakhouse in Battersea is a little off the beaten track, but it's well worth the effort. The menu at Santa Maria del Sur is full of authentic flavours from the South American country, with empanadas, chorizo, and dulce de leche desserts all featuring. But it's the steak that has made even Gordon Ramsey sit up and take note over the past 10 years – choose from single cuts or go for an authentic "parrillada" (mixed grill). Book now
The Butcher and Grill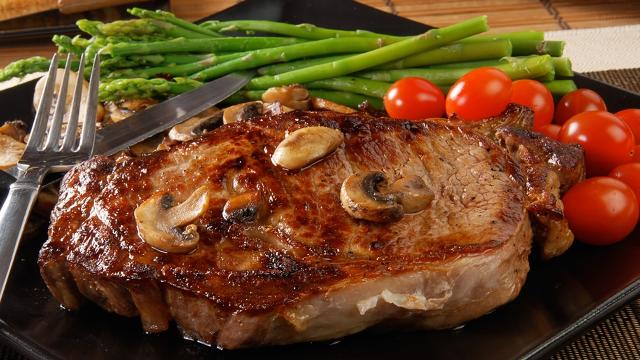 Point to your chosen steak in this Battersea butcher's shop and take a seat as it's cooked for you. This novel London steak restaurant lets you chat to the butcher and explain exactly how you like your steak done. It's served with a choice of sauces, and some moreish sides such as deep fried pickles and triple-cooked chips. What's more, at The Butcher and Grill you get 50% off most steaks on Mondays. Book now
The Guinea Grill
The Guinea Grill knows a thing or two about a good steak, having served its grass-fed beef to politicians, film stars and VIPs over the past 60 years. A founding member of the Scotch Beef Club, this traditional Mayfair pub believes British is best when it comes to beef, and relies on Aberdeen Angus from north of the border as well as the finest picks of English cattle. The meat is dry-aged by their trusted family butchers and served to your liking in the cosy dining room. Book now
The Savoy Grill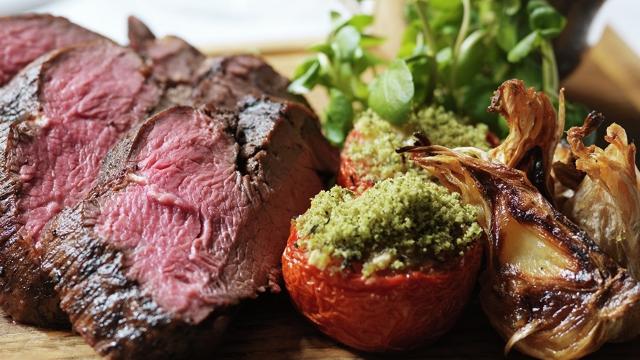 Set in one of London's most iconic hotels, this elegant restaurant has a host of steak options; each cooked to perfection in the wood charcoal oven. With 1920s décor conjuring up a sense of grill rooms of old and a menu to match, The Savoy Grill is a great option for a special occasion – you may even spot the odd celebrity, as it's hosted the likes of Sir Winston Churchill, Oscar Wilde and Frank Sinatra during its illustrious history. Book now
Tramshed
The choice is simple at Mark Hix's Tramshed: steak or chicken. If this wasn't clear enough, Damien Hirst's sculpture of a rooster on a bull stands proudly as the focal point of this Shoreditch eatery. The beef is aged in Himalayan salt chambers and comes from three breeds: Aberdeen Angus, Longhorn and Shorthorn. With its relaxed ambience, long tables and sharing cuts, such as porterhouse, "a yard of beef" (1.5kg rib of beef on the bone) and a 1kg rib, it's the perfect fit for hungry groups. Book now
34 Mayfair
This stylish meat-lovers favourite in Mayfair cooks British, USDA Prime and Wagyu beef on a parilla (grill) imported directly from Argentina. Whether you're in the mood for sharing a chateaubriand or a côte de boeuf, or simply want a steak frites or a fillet all to yourself, you can settle down in one of 34 Mayfair's burnt orange banquettes and enjoy your feast as you take in the art deco interiors.
Flat Iron
Keen to keep things simple, Flat Iron has just one regular main course: its no-nonsense flat iron steak, sprinkled with salt and served on a board, all for just £10. It's really that simple! However, there are a couple of changing specials at this trendy Soho hangout if you fancy an alternative; plus a range of sides housed in funky retro enamelware to spruce up your table.
Explore by category