Travel from central London to Greenwich by riverboat, train, Tube and DLR.
The Emirates Air Line cable car connects Greenwich Peninsula to the Royal Docks.
It takes between 20 and 35 minutes to travel from London City Airport to Greenwich by DLR and Tube.
Accessible journeys to Greenwich can be made by using step-free stations and wheelchair-accessible piers.
There are many different ways to get to Greenwich – from a quick train ride to a scenic boat trip along the river. Find out which route best suits your travel style and needs.
Getting to Greenwich from central London
Greenwich is very well connected by public transport to central London's iconic attractions.
Find out more about how to get to Greenwich's key sights with our handy map.
By river boat
With its rich naval heritage, arriving in Greenwich by boat seems somehow fitting. Riverboats sail regularly from Westminster, Embankment, London Bridge City, Canary Wharf and Tower piers.
MBNA Thames Clippers
The fastest route is on MBNA Thames Clippers' catamarans, which depart every 20 minutes:
Pass famous sights such as the Coca-Cola London Eye, Tower of London, St Paul's Cathedral and Big Ben. You can also disembark at North Greenwich pier for The O2 and the Emirates Air Line cable car or even continue on through the Thames Barrier to the Royal Arsenal at Woolwich.
City Cruises
City Cruises is ideal for sightseeing trips with its hop-on, hop-off ticket offers, live commentary (free audio guides available in other languages), and cruise experiences that include lunch, dinner or afternoon tea.
Thames River Services
Thames River Services, the oldest established passenger sightseeing company on the Thames, also offers river services to Greenwich:
From Westminster pier in one hour (two hours return).
From St Katharine Docks in 20 to 30 minutes (one hour return). Or 90 minutes (two hours return) if going via the Thames Barrier (note: this option is not available from November through to the end of March).
For further water-based fun in the area, hire a pedalo or rowing boat in Greenwich Park during the warmer months! Or, try out the Thamesjet and Thames RIB Experience for a faster-paced ride.
By train
Get to Greenwich station on a quick train journey from central London with Southeastern.
From Greenwich station it's just a five-minute walk to the heart of the village – taking you past many tempting cafes, restaurants and pubs. If you're heading directly for the Royal Observatory Greenwich, the Planetarium or the National Maritime Museum, earmark a good spot for lunch or dinner on your way.
Remember to check your journey before travelling as due to rebuilding work at London Bridge station there may be changes to existing services. For example, Southeastern services between Greenwich and Cannon Street will not call at London Bridge until further notice.
By Tube
For sightseeing on Greenwich Peninsula, or if you're going to The O2 to see your favourite musician perform live, to eat dinner, to see a film or to have a big night out, take the Jubilee line to North Greenwich Underground station on the Tube.
North Greenwich station is right next to The O2 and also the Emirates Air Line cable car. The Jubilee line from North Greenwich goes to the following destinations:
By Docklands Light Railway
Docklands Light Railway, or DLR as it is best known, has two stations in Greenwich: Greenwich station, where national trains also arrive; and Cutty Sark, located close to its namesake, the historic tea clipper. There is also Island Gardens station just across the river, which is accessible via the underwater Greenwich Foot Tunnel.
The DLR connects Greenwich and Cutty Sark stations to major London stations:
It also connects to Lewisham (5 minutes), from where you can take a train to Eltham Station and visit another jewel of the Royal Borough of Greenwich: Eltham Palace and Gardens – a favourite childhood haunt of King Henry VIII.
By cable car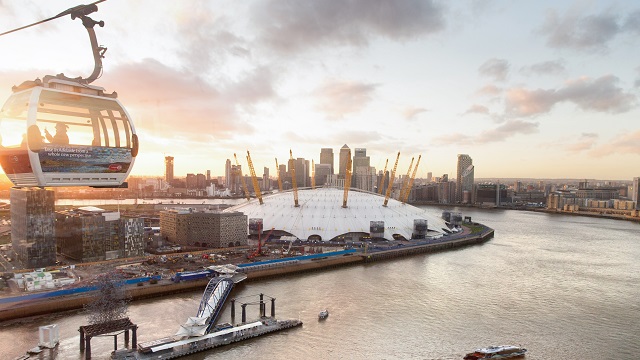 The UK's only urban cable car, the Emirates Air Line, stretches over the river Thames – connecting Greenwich Peninsula to the Royal Docks - giving you a chance to see London from a whole new angle (and height).
The journey across takes less than 10 minutes, giving you plenty of time to explore local attractions such as The O2 on the Greenwich Peninsula side, and The Crystal on the Royal Docks side.
There are also various Emirates Air Line extras on offer, from slightly longer "night flights" to the Discovery experience, which includes an on-board video tour, free entrance to Emirates Aviation Experience and a souvenir in-flight guide.
Don't forget to check the timetable beforehand – and if there are very strong winds or thunder and lightning, double check that the service is still running.
By plane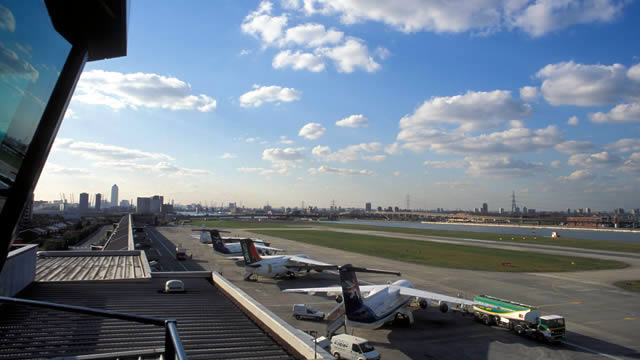 Just over the river from Greenwich sits London City Airport (LCA), with flights arriving from all over the world.
The airport is handily connected to the DLR and Tube network:
Get to Greenwich and Cutty Sark stations (changing at Westferry) in around 35 minutes.
Arrive in North Greenwich (changing at Canning Town for the Jubilee line) in under 20 minutes.
Why not stop off at Woolwich Arsenal to explore a different side of the Royal Borough of Greenwich? Visit the modern riverside development of Royal Arsenal Woolwich – home to the Greenwich Heritage Centre and some lovely new places to eat and drink.
Accessible transport
All DLR trains have a lift or ramp to the platforms, with level access onto the trains. If you're looking for a step-free route, taking a DLR train to Greenwich or Cutty Sark is a good option.
The DLR network also connects to the Jubilee line at Canary Wharf station, from where you can take the Tube to other step-free stations including North Greenwich (for The O2), Stratford, Southwark, Waterloo, Westminster and Green Park. See how easy it is in this Transport for London video, in which presenter Sophie Morgan makes the accessible journey from Waterloo to The O2.
All London piers are wheelchair accessible too. Check with individual river service providers to see how accessible their boats are before booking.
For more information about getting around Greenwich, check out our interactive map and plan your visit to this area's greatest attractions.