Valentine's Day 2021 in London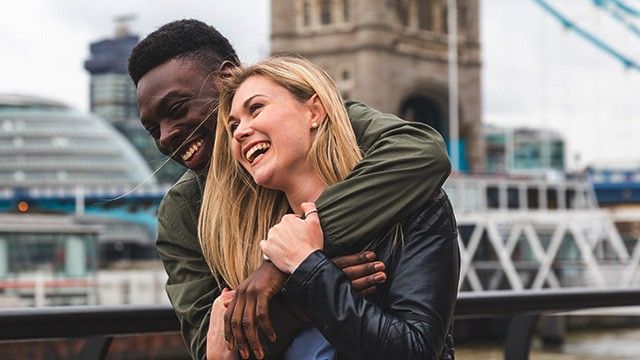 This event has finished.
Find Valentine's Day ideas for the most loved-up day of the year, from stunning panoramic views in your area, to at-home dining boxes and romantic online activities.
About
Discover London's romantic side with that special someone on and around 14 February, with our guide to romantic and quirky things to do from home on Valentine's Day 2021 in London.
From Valentine's Day dinners to online activities and adventures for two, impress your date with a romantic night at home, whether together or apart, this Valentine's Day.
Fun virtual activities for two
Close up the blinds and set the scene, it's time for a theatre night in with Derek Deane's Swan Lake, available on demand from the English National Ballet.
Explore the topic of love at the virtual Comedy for the Curious, brought to you by Laugh Train Home Comedy Club. 14 Feb
Or sing your heart out at a night full of Whitney Houston's hits, performed live by Shanay Holmes, star of the West End production, The Bodyguard. 14 Feb
Ever had a bad date? Join in on the hilarious stories of the good, the bad and the ugly of dating, with Color Me Badd Dates, the living room edition. 14 Feb
Prepare your bellies for the heaps of laughter you'll experience with the Valentine's Day Rom-Com special, part of the hilarious Mischief Movie Night In series. 14 Feb
What better way to celebrate love than by watching the famous love story of Romeo & Juliet? Filmed in times of the coronavirus lockdown, this production is surely one you'll want to keep on your radar. 13-27 Feb
Bring the fancy to your casual movie night with Celestial Cinema's Home Edition, brimming with snacks, champagne and a 72" white screen for that ultimate grand experience.
Poetry fans, the Selfridges Love Poetry Jam Session is ready to turn you into a wizard of words for your love to cherish. 14 Feb
At-home experiences for foodie lovers
Unique gifts and surprises
Outdoor spots to explore together
Close up the blinds and set the scene, it's time for a theatre night in with Derek Deane's Swan Lake, available on demand from the English National Ballet.
Explore the topic of love at the virtual Comedy for the Curious, brought to you by Laugh Train Home Comedy Club. 14 Feb
Or sing your heart out at a night full of Whitney Houston's hits, performed live by Shanay Holmes, star of the West End production, The Bodyguard. 14 Feb
Ever had a bad date? Join in on the hilarious stories of the good, the bad and the ugly of dating, with Color Me Badd Dates, the living room edition. 14 Feb
Prepare your bellies for the heaps of laughter you'll experience with the Valentine's Day Rom-Com special, part of the hilarious Mischief Movie Night In series. 14 Feb
What better way to celebrate love than by watching the famous love story of Romeo & Juliet? Filmed in times of the coronavirus lockdown, this production is surely one you'll want to keep on your radar. 13-27 Feb
Bring the fancy to your casual movie night with Celestial Cinema's Home Edition, brimming with snacks, champagne and a 72" white screen for that ultimate grand experience.
Poetry fans, the Selfridges Love Poetry Jam Session is ready to turn you into a wizard of words for your love to cherish. 14 Feb
At-home experiences for foodie lovers
Unique gifts and surprises
Outdoor spots to explore together