Toyshops in London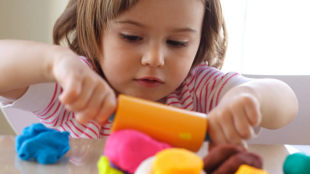 London is full of fantastic toyshops, so kids will never be bored when they're in town.
From traditional toys to the latest gadgets, you can buy any kind of toy in London.
Browse all London toyshops below, or check out our Top 10 Toyshops in London.
Toy Shop

188-196 Regent Street, London, W1B 5BT [map]

Experience the magic of Hamleys. This legendary store has seven floors brimming with the latest crazes, computer games, traditional teddies and specialist collector items.

Toy Shop

National Gallery, Trafalgar Square, WC2N 5DN [map]

There are three shops within the National Gallery, open daily from 10am to 5.

Toy Shop

44 The Piazza, Covent Garden, WC2E 8RF [map]

Benjamin Pollock's Toyshop was established in London's Hoxton back in 1856. The shop moved to Covent Garden in 1980 and today still sells the same paper toy theatres it always has. You can also find marionettes, glove puppets and other traditional toys with a theatrical theme.

Toy Shop

5 Nelson Road, Greenwich, SE10 9JB [map]

Chock-A-Block Toys specialises in toys designed to develop and stimulate your child.

Toy Shop

350 Oxford Street, London, W1C 1BY [map]

The Disney Store on Oxford Street is the largest Disney Store in Europe.

Toy Shop

Pancras Road, Regent's Park, NW1 2QL [map]

Now you can feel the buzz and excitement of Hamleys every time you visit St Pancras. Youll be amazed by the sheer choice of toys and games on offer in this fantastic location.

Toy Shop

Platform 9 3/4, Kings Cross Station, N1 9AP [map]

Step inside this magical shop, designed to look like Ollivander's wand shop from the Harry Potter books, to buy all the Harry Potter merchandise a fan could want.

Toy Shop

2 Blenheim Crescent, Notting Hill, W11 1NN [map]

Toyshop Honeyjam takes its name from those of its founders; model Jasmin "Jam" Guinness and Honey Bowdrey. The shop, based just off Portobello Road, sells quirky and traditional toys, with fairtrade and eco-friendly toys sharing shelf space with retro and vintage favourites.

Toy Shop

Market Building, Covent Garden Piazza, WC2E 8HD [map]

The Moomin family have their very own shop in Covent Garden.

Toy Shop

23 Caxton Street, SW1H 0PY [map]

Built in 1709 to provide an education for poor children; in use as a school until 1926.

Toy Shop

Paddington Station concourse, Paddington, W2 1RH [map]

The Paddington Bear shop sells a wide range of models and stuffed toys as well as key rings, mugs, T-shirts, videos and books.

Toy Shop

19 Beak Street, Soho, W1F 9RP [map]

Playlounge's distinctive design-led range has something for every member of the family. With an emphasis on the artistic as well as playful aspect of toys, their product range is very selective and individual.

Toy Shop

68 Mountgrove Road, Highbury, N5 2LT [map]

A toy shop dedicated to the Sylvanian Families little animal toys, stocking the latest ranges and special imports.

Toy Shop

31 Dulwich Village, Dulwich, SE21 7BN [map]

Toy Shop

142 Regent's Park Road, Primrose Hill, NW1 8XL [map]

Toy Shop

53 Godfrey Street, South Kensington, SW3 3SX [map]

Toy Shop

Covent Garden, Covent Garden, WC2E 8HD [map]

The Disney Store offers all that you would imagine from one of the world's most famous entertainment companies, with all your favourite characters, from Donald Duck to Mickey Mouse.

Toy Shop

Kilburn High Road, Kilburn, NW6 6JH [map]

Toy Shop

Sheen Road, Town Centre, Richmond Upon Thames, TW9 1AS [map]
You Might Also Like
Gifts and Collectables

The British Museum, Great Russell Street, Bloomsbury, WC1B 3DG [map]

Shop at the British museum. You can buy books, children's toys and gifts, souveniers, replica sculptures, jewellery, silk scarves and ties.

Toy Shop

National Gallery, Trafalgar Square, WC2N 5DN [map]

There are three shops within the National Gallery, open daily from 10am to 5.