Department Stores in London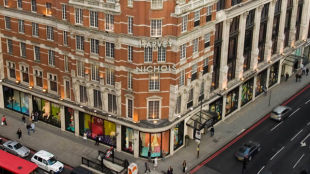 Stocking everything from cosmetics to champagne, designer clothes to caviar, most London department stores also have cafes, restaurants and bars in which to refuel. Spoilt for choice? See our list of the Top 10 London Department Stores to help you decide where to go to make the perfect purchase.
You Might Also Like
Department Store

Regent Street, W1B 5AH [map]

Liberty is one of the last great emporiums for innovative and eclectic design. Explore five floors of fashion, beauty, accessories and homewares to find a selection of beautiful and luxurious products

Department Store

300 Oxford Street, W1A 1EX [map]

John Lewis Oxford Street is an unmissable shopping destination for visitors to London, offering one of the best collections of British brands and famed for its rich heritage and Royal Warrant status.

Department Store

400 Oxford Street, W1H 6HB [map]

Selfridges is one of the world's finest department stores. From high fashion to hi-fi, wardrobe co-ordination to wedding lists, it's every shop you'll ever need.