Florists in London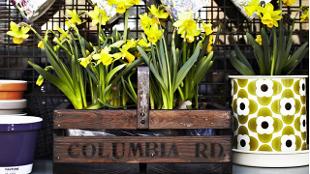 Find the best high street florists in London.
The florists listed below provide beautiful flowers, and also offer flowers for delivery.
If you're a fan of flowers or gardening, there are many things to see in London such as the many London gardens, London parks or Columbia Road Flower Market.
London is also home to many floral art events such as the RHS Chelsea Flower and the RHS Hampton Court Flower Show.
Explore attractions like the Royal Botanical Gardens, Kew and Chelsea Physic Garden as well.
Florist

788A Finchley Road, Golders Green, NW11 7TJ [map]

Moyses Stevens provide flowers and plants for a variety of occasions including Mothers day, Valentines day, birthdays and anniversaries.

Florist

E8 4PH [map]

Rebel Rebel is a design company specialising in flowers and dressing for corporate events and parties, private dinners and weddings.

Florist

222 Westbourne Grove, Notting Hill, W11 2RJ [map]

Wild At Heart is a popular florist that also provides a delivery service.

Florist

29 Great Queen Street, Holborn, WC2B 5BB [map]

Bloomsbury Flowers provide flowers for weddings, Valentine's day, Mother's day, birthdays and anniversaries which they can deliver.

Florist

302A Upper Street, Canonbury, N1 2TX [map]

Florist

6 Cathedral Walk,Cardinal Place/,Westminster,London SW1E 5JH,UK, SW1E 5JH [map]

Edward Goodyear is one of the West End's leading florists.

Florist

47A Liverpool Street Railway Station, The City, EC2M 7PY [map]

Florist

32-34 New Cavendish Street, Marylebone, W1G 8UE [map]

Jane Packer Flowers provide flowers for a variety of occasions including Mother's Day, Valentine's Day, weddings and anniversaries.

Florist

4-5 Kinnerton Place South,

The internationally-renowned Judith Blacklock Flower School and Art Gallery offers a variety of courses to suit all levels in both contemporary and classic floral design, floristry, watercolour painting and millinery in one of London's most picturesque and tranquil locations.

Florist

18 Station Parade, Kew, Richmond Upon Thames, TW9 3PZ [map]

Florist

70-72 Old Street, The City, EC1V 9AJ [map]

McQueens has been a pioneer in the new English style of floristry since 1991.

Florist

83-85 Allitsen Road, St. John's Wood, NW8 7AS [map]

Melissa Riva Flowers provides a complete luxury flower design service incorporating everything from exquisite freshly made bouquets to corporate contract vases, magnificent event design and even weekly house flowers.

Florist

11 West Halkin Street, Knightsbridge, SW1X 8JL [map]

Florist

257 Old Brompton Road, SW5 9HP [map]

Only Roses offers roses straight from Ecuador.

Florist

Brompton Road, South Kensington, SW3 1QF [map]

Florist

76-78 Chamberlayne Road, Brent Park, NW10 3JJ [map]

Florist

26 Royal Opera Arcade, London Haymarket, SW1Y 4UY [map]

Florist

30-30A Pimlico Road, Chelsea, SW1W 8LJ [map]

Wild At Heart is a popular florist that also provides a delivery service.