Piccadilly and Knightsbridge
Harrods
A London shopping trip isn't complete without a visit to Harrods. The world-famous Knightsbridge department store is an 11-minute bus ride (traffic dependant) from the closest accessible Tube station, Green Park. Cross the road from the station exit on Piccadilly to Stop H, and take the 14 towards Putney Heath Green Man – leave the bus at the Knightsbridge Station (Harrods) stop KC. You can also take bus 10 towards Hammersmith Bus Station from the same stop to Knightsbridge Station (Harrods) stop KE, but this involves a four-minute walk to the store.
There is level access into the store from Basil Street and Hans Crescent, but there are heavy double doors at these entrances. All five Harrods floors can be accessed using lifts, and there are a number of accessible toilets throughout the store.
Fortnum & Mason
Traditional fine food stockist Fortnum & Mason is a must-visit while in London. The store is a five-minute walk or three-minute bus ride from Green Park station (stop J on the same side of the road as the station exit, on buses 10, 14, 19, 22, 38 or 73). The Piccadilly entrance is step-free, and there are lifts to all floors. There are also wheelchair-accessible toilets on the second and fourth floors, and step-free access to the St James's Restaurant
Regent Street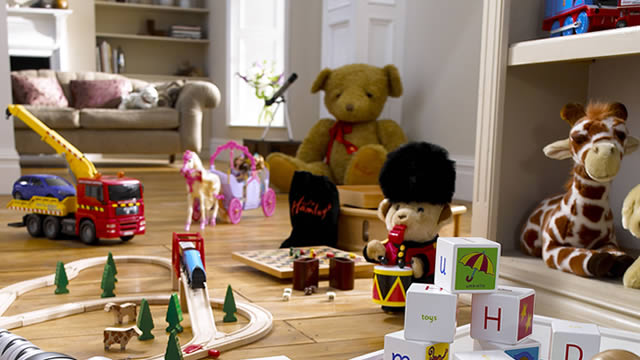 Hamleys
Hamleys is a historic toy store on Regent Street, which can be reached from Green Park by bus in around ten minutes. Jump on the number 10 bus towards King's Cross at Green Park Stop J – which is on the same side of the road as Green Park's Piccadilly entrance – and get off at Conduit Street (Hamleys) Stop M. You will have to cross Regent Street to get to the store, but all of its entrances are step free and its doors are always open.
Once you get inside, all of the toyshop's floors are accessible by lift or escalator and there is a wheelchair-accessible toilet on the fifth floor.
Liberty London
Liberty is an independent department store on Regent Street selling a wide range of luxury fashion, homeware and other goods; and is a great place to pick up special gifts. The store is a three-minute walk around the corner from Hamleys. Its main entrance on Great Marlborough Street and the entrance to the beauty hall are step free, but neither of these access points has automatic doors. There are lifts to all floors in the store with an accessible toilet on the fourth floor.
Oxford Street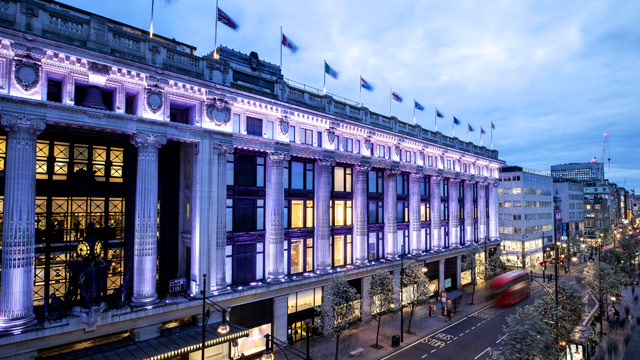 Oxford Street is only easily accessible by bus because Oxford Circus, Marble Arch and Bond Street Tube stations cannot be exited without using steps or escalators. It is a 15-minute walk from the nearest accessible station at Green Park. But the main street is served by plenty of buses, including those mentioned below.
There is no direct bus route from Green Park to Oxford Street's main department stores but you can take buses 14, 19, 22 or 73 to Piccadilly Circus past Fortnum & Mason. From Piccadilly Circus stop D, board the 94 bus towards Acton Green past Hamleys, Liberty London and the Regent Street Apple Store to Selfridges. You can also get on the 139 or 13 buses towards Golders Green from Piccadilly stop C to John Lewis or Selfridges.
Selfridges
Famous London department store Selfridges is just as popular with visitors to London as Harrods in Knightsbridge, and sells everything from designer clothing and jewellery to kitchenware.
There are step-free entrances via Duke Street, Oxford Street, Edward Mews and Orchard Street. The Orchard Street entrance leading to the store's food hall has automatic doors, and there is an accessible lift to the rest of the ground floor. From the ground floor there are lifts and escalators to all other floors.
The Edward Mews entrance is fitted with automatic doors and has a step-free access to the ground floor plus three lifts leading to all car park levels – the car park also has step-free access to the third floor.
There is a wheelchair accessible toilet on the third floor, and it is possible to book wheelchairs at the information desk.
John Lewis
All seven floors of the John Lewis Oxford Street department store are accessible by lift or escalator and its main Oxford Street entrance is step-free. There is a wheelchair-accessible toilet on the fourth floor and accessible fitting rooms are available in the store's fashion and menswear sections.
Marks and Spencer
Marks and Spencer (M&S) is a well-known British department store with a number of locations across London. The entrance to the M&S store on Oxford Street is step-free with automatic doors, and all of the store's floors can be accessed by lift. There is also a disabled lift at the rear entrance of the store on Great Marlborough Street and an accessible toilet on the ground floor.
Topshop
London's flagship Topshop store near Oxford Circus has a step-free main entrance and lifts and escalators to all four floors. There is also an accessible toilet in the basement. But this store can get incredibly busy which makes it difficult to navigate. Nearby department stores such as Selfridges and John Lewis also have a Topshop section, which might be worth trying first if you're visiting during busy times.
Alternatives: Westfield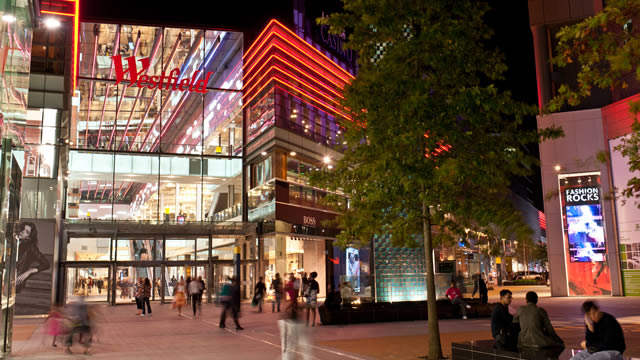 If you want to find everything under one roof, Westfield's shopping centres could fulfil all of your shopping needs. Westfield London and Westfield Stratford City both host an absolutely huge range of stores and brands all under one roof.
It is possible to hire a manual wheelchair or motorised scooter from the Shopmobility service and there are an abundance of Blue Badge parking bays.
Westfield Stratford City

The Stratford Underground station has step-free access from the Jubilee line and DLR, and Stratford International rail station can be exited using lifts. The Westfield centre links the two stations.
There is a lift to access the mall at the International Square entrance and level access with automatic doors at all other entrances to the mall. The site is wheelchair friendly with lifts between each floor and an accessible toilet at the ground floor food court, as well as several others on the first floor.
Westfield London
Shepherd's Bush Overground station is fully accessible and just across the bus bay from Westfield London. Shepherd's Bush Underground station is also close by but involves walking up some stairs and using an escalator, even if you cross through to the eastbound platform to access a shorter flight of steps.
All of the mall's entrances are step-free with automatic doors, and the site is generally wheelchair-friendly with lifts to each level. Each of the centre's toilet blocks includes accessible toilets.
DisabledGo
DisabledGo provide an online national guide to accessible buildings, venues and services. Its experts audit each business to collect the information.
Visit the DisabledGo website for comprehensive access information on shops in London.