Stocking everything from footwear to furnishings, clothes to caviar, cosmetics to bridal wear, London's department stores offer a convenient one-stop shop with a wide range of products and brands under one roof.
Most London department stores also have cafes, restaurants or bars – perfect when you need to recharge your batteries after an extended shopping session. Some even offer you the chance to unwind with a luxurious spa or beauty treatment.
For more top places to shop in London, take a look at our guide to London's best shopping destinations.
Personal shopper services are becoming ever more common for both women and men, and they're not just for clothes either. Simply contact the store directly and make an appointment if you'd like some expert help finding that perfect purchase.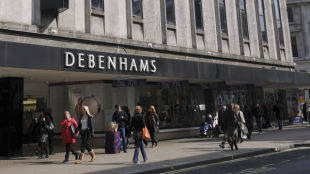 Debenhams
Recently treated to a £25m makeover, Debenhams' Oxford Street flagship stocks affordable ranges from a number of British designers, including Jasper Conran and H! by Henry Holland. The seven-floor store has a gorgeous beauty hall, a hip homeware department and a stylish menswear floor.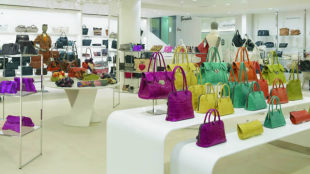 Fenwick of Bond Street
Established in 1891 as a hair accessories boutique, Fenwick is now home to five floors of luxury retail on one of London's chicest streets. Choose from designer clothing, homewares, bags, shoes, fashion, jewellery and more. The cosmetic department is an oasis of exclusive products and Carluccio's cafe is the ideal place to relax.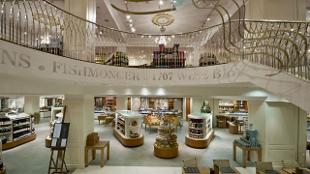 Fortnum & Mason
The quintessential English store, Fortnum & Mason has been selling food, luggage, homewares and clothes to London's finest since 1707. The official grocer to the Queen, the beautiful store has four restaurants and sells the most indulgent foodstuffs. If you want specialist teas or exquisite hampers, this is the place to go.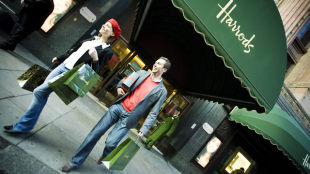 Harrods
Established in 1849 as a humble grocery store, today Harrods has seven floors and 330 departments dedicated to the finest products in food, fashion, homeware, technology and more, plus 20 restaurants and specialist services. Make sure you check out the Egyptian Hall, Salon de Parfums and the Pet Department. At night, the store is illuminated by 11,500 light bulbs.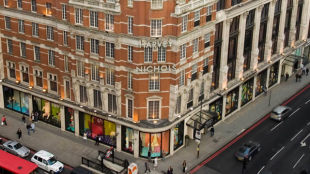 Harvey Nichols
A must for any fashionista, Harvey Nichols brings together an impressive range of designers from around the world and supplies an elite clientele with fine clothes, accessories, cosmetics, food and shoes. D&G, Space NK, Burberry and Jimmy Choo are just a few of the high-end labels you can find here.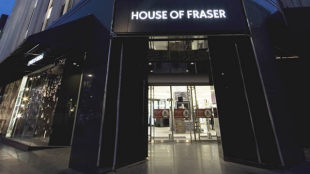 House of Fraser
One of the best-known names on Oxford Street, House of Fraser is renowned for its designer brands and exclusive collections – it's the place to go for a little bit of luxury, whatever your budget. Browse through top brands including DKNY, Max Mara and Ted Baker then indulge in various beauty treatments. And don't miss the Tea Terrace.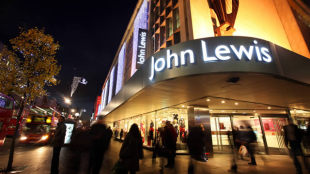 John Lewis
A much-loved chain of department stores, John Lewis has a large branch on Oxford Street, stocking nearly half a million products from buttons to beds and cushions to cufflinks. The store boasts seven floors of fashion, beauty and technology products, as well as a new interactive home section and three restaurants.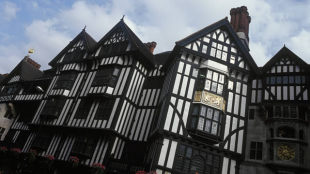 Liberty
Opened in 1875, Liberty is one of London's most traditional stores, but venture inside and you'll find a whole host of cutting-edge ranges. Designers include Vivienne Westwood, Chloé and Tod's, plus there's an impressive beauty hall and haberdashery. Celebrating fine design and craftsmanship, Liberty is a shoppers' paradise.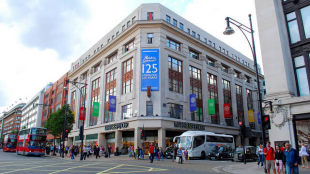 Marks & Spencer
You can't go wrong with M&S! London's flagship Marks & Spencer at Marble Arch boasts an impressive range of affordable buys. Staples like lingerie and clothing are joined by flowers, furniture and fabrics. There's also the M&S Cafe and the mouth-watering aisles of the food hall – enough to keep even the most intrepid shopper occupied.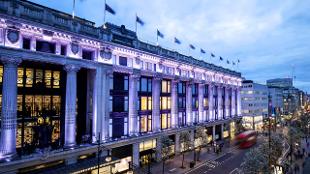 Selfridges
Whatever you're after – bags, shoes, cosmetics, soft furnishings, books, a speciality food hall or cafes – you'll find it in Selfridges, London's amazing one-stop department store! There's a budget-busting designer clothing section and The Wonder Room, home to the world's most desirable brands, from Cartier and Chopard to Bulgari and more.

Explore by category