Shopping Areas in London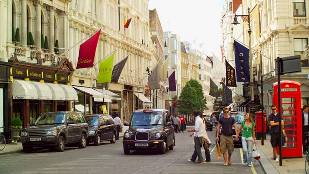 London has a great reputation as a shopping destination. Across the city, there are fantastic shops to suit all tastes.
One way to enjoy London's retail offering is to choose one shopping district and start exploring from there. From the high street names on Oxford Street to the high end brands on Bond Street, to the independent boutiques around Carnaby, each of London's shopping areas has a distinctive personality. 
Take your pick from the selection below.
You Might Also Like
Shopping Area

Carnaby Street, London, W1F 9PS [map]

13 streets including the iconic Carnaby Street, Kingly Court and Newburgh Quarter showcasing flagship stores, independent boutiques and unique restaurants offering global cuisines throughout the day.

Shopping Area

The Knightsbridge Estate, SW3 1DB [map]

The Knightsbridge Estate sits at heart of Knightsbridge, recognised globally as one of the world's top luxury shopping destinations.

Shopping Area

Brushfield Street, Spitalfields, E1 6EW [map]

Old Spitalfields Market is a premier London attraction offering an impressive array of art, fashion, gifts, antiques and food outlets via its market stalls, shops and restaurants.