Shopping Areas in London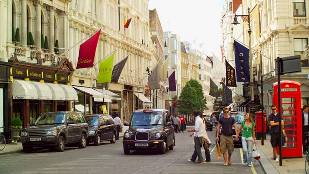 London has a great reputation as a shopping destination. Across the city, there are fantastic shops to suit all tastes.
One way to enjoy London's retail offering is to choose one shopping district and start exploring from there. From the high street names on Oxford Street to the high end brands on Bond Street, to the independent boutiques around Carnaby, each of London's shopping areas has a distinctive personality. 
Take your pick from the selection below.
Shopping Area

17 May 2014

Various venues

London shopping destinations Seven Dials and St Martin's Courtyard host a free Spring Shopping Festival that's sure to get visitors in the mood for the festival season.

Shopping Area

W1F 8SE [map]

Berwick Street is a vibrant and diverse community in the heart of London's Soho, teeming with vinyl shops, traditional London pubs, bespoke tailoring, colourful textile shops, vintage clothing, original restaurants, coffee shops and independent fashion boutiques.

Shopping Area

Regent Street, W1B 5TD [map]

Regent Street is the best shopping and lifestyle destination in the West End.

Shopping Area

St James's, SW1Y 6HL [map]

St. James's and Piccadilly has the finest of everything one might require.

Shopping Area

Mount Street, South Audley Street, W1K 2TY [map]

Mayfair, famous from the Monopoly board, is located on the Grosvenor estate and is made up of London's largest concentration of luxury hotels, world famous restaurants and fashion forward shopping.

Shopping Area

St Christopher's Place, W1U 1BF [map]

Look out for the landmark purple clock as you head down Oxford Street and you'll suddenly discover the entrance to St Christopher's Place - a true London original.

Shopping Area

Bond Street, W1S 1SR [map]

London's famous Bond Street is revered throughout the world for its wealth of elegant stores, exclusive brands, designer fashion, luxury goods, fine jewels, art and antiques.

Shopping Area

Carnaby Street, London, W1F 9PS [map]

13 streets including the iconic Carnaby Street, Kingly Court and Newburgh Quarter showcasing flagship stores, independent boutiques and unique restaurants offering global cuisines throughout the day.

Shopping Area

Kings Road, Kensington and Chelsea, SW3 4LU [map]

Duke of York Square offers an unrivalled range of international fashion, food and culture – with the iconic Saatchi Gallery at its heart.

Shopping Area

King's Road, Chelsea, Greater London, SW3 5XP [map]

Shopping is the King's Road's main obsession – here you'll find an eclectic mix of trendy boutiques, unique labels, designer shops and high-street staples, alongside a vast array of cafes and eateries.

Shopping Area

Oxford Street, W1B 3AG [map]

Oxford Street offers an unrivalled shopping experience thanks to its exciting mix of high-street fashion and international brands, accessories, childrenswear, technology and homewear.

Shopping Area

Piccadilly, W1J 9BR [map]

Characterised by Sir Christopher Wren's church on Piccadilly; iconic hotels, and the galleries which are all rich in history and culture. Three grand arcades defined by luxury can also be found.

Shopping Area

Seven Dials, Covent Garden, Covent Garden, WC2H 9HU [map]

Seven Dials, Covent Garden's village, brings you seven streets of independent boutiques, heritage brands, quality British labels and indulgent beauty and grooming salons.

Shopping Area

Long Acre, Covent Garden, WC2E 9AB [map]

St Martin's Courtyard is a new shopping destination centred around an open air courtyard in the heart of Covent Garden.

Shopping Area

64 Victoria Street, W1J 9HP [map]

London's West End offers shopping, entertainment and culture like nowhere else.

Shopping Area

Bond Street, W1S 1SR [map]

Shopping Area

Sloane Square Station, SW1W 8BB [map]

Shopping Area

Sloane Street, SW1, Royal Borough of Kensington and Chelsea, SW1X 9PJ [map]

Shopping Area

Belgravia, SW1X 8BX [map]

Over 300 thriving businesses are located in Belgravia's three main shopping streets. Chic and sophisticated, packed with luxury brands and one-off shops, the area still maintains a village-like feel.

Shopping Area

The Market, London, WC2E 8RF [map]

Covent Garden is a world famous district, unequalled in its mix of shops, restaurants, history, entertainment and culture.
You Might Also Like
Shopping Centre

Off Carnaby Street, W1B 5PJ [map]

Kingly Court is a shopping destination between Carnaby Street and Regent Street. There are three floors of fashionable shops, including designer brands and independent boutiques.

Shopping Area

A new shopping area, luxury apartment complex and community, set in the cultural heart of London - the South Bank.