You can't pay bus fares with cash; you must use an Oyster card or contactless payment.

A single London bus fare costs £1.50.

You can make unlimited bus or tram journeys for free within one hour of touching in for your first bus or tram journey (if using pay as you go).

Night buses run a

ll night

between the close of the Tube and the start of daytime bus

services

.
London's bus route network covers all the city with a 24-hour service. Check the traveller information below to find out all you need to know about bus travel in London.
How to pay a bus fare in London
You cannot pay your London bus fare with cash.
A single bus fare costs £1.50. You can pay this fare by using a Visitor Oyster card, an Oyster card, a Travelcard or with a contactless payment card.
Make a journey using pay as you go on a bus, and you can make unlimited bus journeys for free within one hour of first touching in. To take advantage of the hopper fare, you must touch in using the same card on all buses or trams. For more information, see TfL's website.
If you only use buses and trams to travel around London, you will pay a maximum of £4.50 per day, as long as you pay with the same ticket or contactless payment card every time.
For contactless payment cards issued outside the UK, please check with your card issuer as transaction fees or bank charges may apply.
To pay for your bus fare, simply touch your Visitor Oyster card, Oyster card or contactless payment card on the yellow card reader as you board the bus, or show the driver your paper Travelcard ticket. Remember to only use the card you wish to pay with and keep all other cards separate.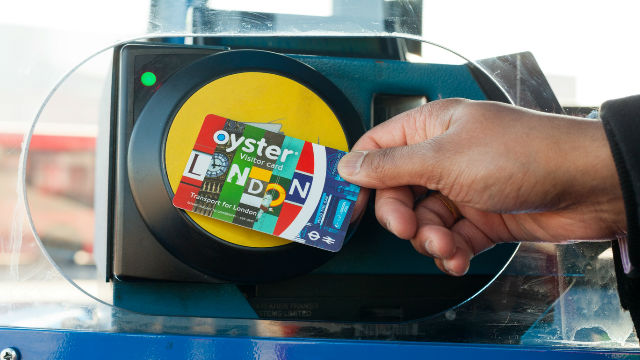 If you don't have enough credit on your Visitor Oyster card or Oyster card, you will be able to make one more journey on a bus. You must then top up your credit before you can use your card again.
For more information about London bus fares, see the Transport for London website.
Still not sure which travel ticket you need to buy? Unclear on how to use your Visitor Oyster card? Read our
Oyster FAQs section
for the answer to these and other Oyster-related questions.
London bus and tram passes
Bus and tram passes are valid for the Transport for London bus and tram network in London which do not have fare zones.
One-day bus and tram pass
With this pass you have unlimited travel for £5 on buses and trams only. You can travel for a single day, until 04:29 the following day.
2018 London bus and tram pass prices (Standard adult fares)
Seven days: £21.20
One month: £81.50
One year: £848
Find more bus fare information.
London bus fare concessions
Children under the age of 11 travel free on buses and trams. Find out about other child and student discounts and concessions.
Freedom Passes provide free travel for wheelchair users, as well as for older and disabled persons. If you're from outside London and have a bus pass issued by another English council, you can use it to travel free on buses displaying the red roundel. Find out about adult discounts and concessions.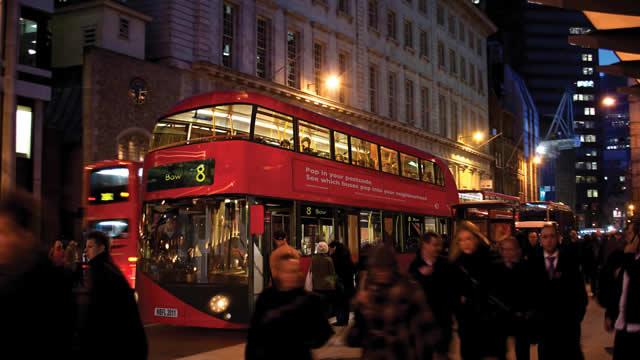 How to ask the driver to stop a London bus
In most cases, buses only stop at designated bus stops. They do not stop on request between bus stops.
To ask the driver to let you off at the next bus stop, press one of the red buttons which can be found on the upright metal posts throughout the bus. You will probably hear a bell and see a "bus stopping" light appear at the front of the bus.
On some routes in outer London, buses operate on a "hail and ride" basis, with no fixed bus stops. Press the red button to signal to the driver and you can then get off at any safe point along the route – you will be informed when a bus is in a "hail and ride" area.
Find out more about using bus services in London with TfL's guide.
London bus map and timetables
Download the Welcome to London leaflet from our Free Maps page, or pick up a copy from TfL Visitor Centres.
Chat with TfL's TravelBot on Facebook's Messenger app for live service updates on your bus route. Find your nearest bus stop or check when your bus is due to arrive by sharing your location or providing the bus stop code.
You can also plan your bus route online with Transport for London's Journey Planner.
For all London bus timetables, visit TfL's website.
Night buses in London
London's buses run throughout the night. Night bus services cover the period between the close of the Tube and the start of daytime bus services. In addition, many London bus routes run for 24 hours.
If you're not familiar with the routes, head to Trafalgar Square (the hub for night buses) or check any bus-stop information board. As you'd expect, services are less frequent during the night. Night buses stop on request only: so you'll need to indicate your stop clearly to the driver when boarding or alighting.
London bus tours
London bus tours provide a unique opportunity to appreciate the full architectural splendour of London's famous streets and monuments. Tour guides offer historical background and interesting facts, with commentaries available in several languages.
Some regular bus routes are good for sightseeing too – try routes 9, 14, 15 and 22. The New Routemaster bus featured in the James Bond film Skyfall and runs on routes 8, 9, 10, 11, 24, 38, 148 and 390.
You can also check out top sights from an iconic red London bus with these landmark-packed TfL bus itineraries, from museums and palaces to markets and pubs.
Accessibility information
All 8,500 London buses (except heritage Routemaster buses) are low-floor vehicles. Bus travel is free for wheelchair users.
Low-floor buses enable all customers, including people using wheelchairs, people with baby buggies (prams/strollers), people with assistance dogs, and people with other mobility impairments to get on and off easily. Every bus also has a retractable ramp, which must be in full working order at all times.
On all buses, there is room for one person using a wheelchair. Wheelchairs can be accommodated up to a size of 70cm wide (28 inches) by 120cm long (47 inches). Wheelchair users have priority over everyone else for use of the wheelchair space. There is no limit on the number of assistance dogs allowed on the bus, as long as there is space.
See Transport for London's accessibility guide.
Bus or coach to and from London
Coaches are a great option for cheap travel to London from almost anywhere in the UK or Europe. Read about coaches to London.
Find more traveller information.