Make memories at these unique and great value hostels in London, whether you're looking to meet fellow backpackers or cut costs on your trip. Just some of the experiences on offer include a stay inside a former prison cell, Victorian mansion or a cool converted warehouse.
Discover more cheap accommodation options in London to keep your trip to the capital low cost.
Design hostels from your Instagram dreams
Get your phone at the ready, these hostels are begging to be snapped with stunning interiors and quirky features.
1. Generator Hostel London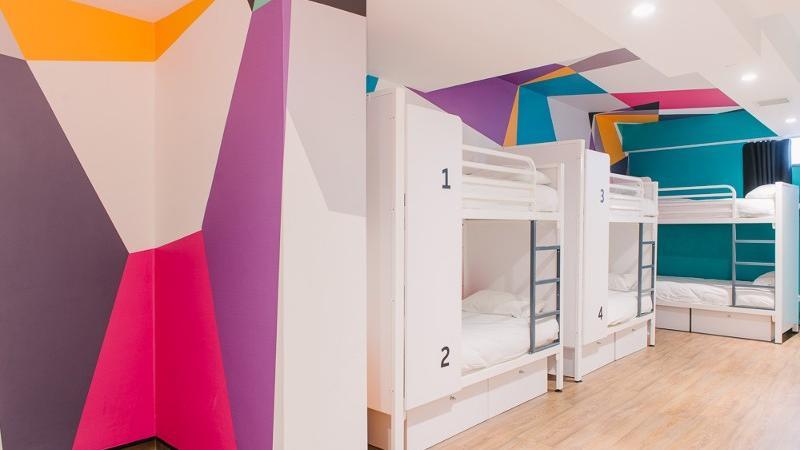 Absorb the vibrant surroundings at Generator Hostel London. This chic hostel near King's Cross features picture walls, painted pianos, big splashes of colour and a model of a Routemaster bus. Socialise over late-night drinks in the bar, relax in chill out areas or take on fellow globetrotters with a shuffleboard game. The female-only room also comes with a dressing table in addition to the usual bedside lamps and lockers.
Where: King's Cross (37 Tavistock Place, WC1H 9SE)
2. The Dictionary Hostel
Head to eccentric east London for a stay at The Dictionary Hostel in Shoreditch, a converted warehouse now scattered with endless Instagram opportunities in the form of neon signs, potted plants, bedroom swings and poster-filled walls. Step outside and explore the area's colourful street art, coffee shops and Brick Lane Market.
Where: Shoreditch (10-20 Kingsland Road, E2 8DA)
Social hostels for the solo traveller
Connect with fellow travellers at these friendly spots, ideal for those looking for a party hostel or lots of organised activities.
3. Wombat's The City Hostel London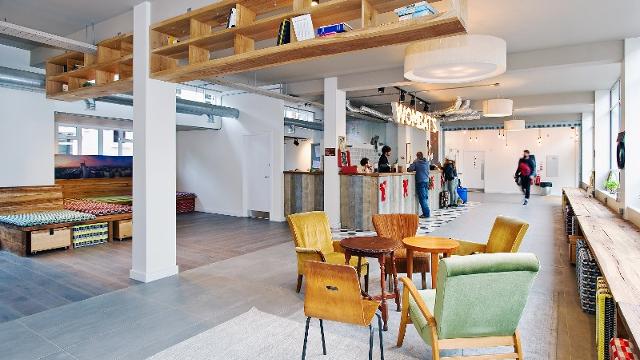 Make new friends in one the many common areas at Wombat's The City Hostel London. Have a game of table tennis in the vaulted brick bar, or relish in a spot of sightseeing during your stay with Tower Bridge, the Tower of London and The Shard just a short walk away.
Where: Aldgate (7 Dock Street, E1 8LL)
4. St Christopher's Inn at the Village, London Bridge
Party until the early hours at St Christopher's Inn at the Village, London Bridge with live music and DJ nights in the onsite nightclub. Alternatively, try out one of the many pubs and bars around London Bridge after feasting on food from nearby Borough Market. When you're ready to crash, snuggle up in your own private capsule with USB ports, curtains for privacy and mood lighting.
Where: Borough (161-165 Borough High Street, SE1 1HR)
5. The Walrus Bar and Hostel
Hunker down at The Walrus Bar and Hostel in its prime location near Big Ben and South Bank, just a stone's throw from Waterloo station with transport links to London's top attractions. Invite roommates for a drink or two in the bar of the same name, conveniently located downstairs.
Where: Waterloo (172 Westminster Bridge Road, SE1 7RW)
6. Onefam Notting Hill by Hostel One
Feel right at home during a visit to Onefam Notting Hill by Hostel One*, a 19th-century townhouse where solo backpackers gather for dinner in the dining room or flock to socialise in the communal areas. Spend sunny evenings on the private terrace, before exploring nearby Hyde Park with new friends.
Where: Notting Hill (63 Prince's Square, W2 4PW)
7. YHA London Central
Check in to YHA London Central, just around the corner from Oxford Street, one of the chain's five London locations. Rest in the clean, cosy rooms and socialise with other solo travellers in the large cafe and bar area. Speak to the friendly staff for advice about what's on or take a stroll just moments from the hotel to explore one of London's key hubs when it comes to food, sights and shopping.
Where: Fitzrovia (104 Bolsover Street, W1W 5NU)
Charming hostels with a sense of history
Look no further for a taste of old London charm, where Victorian mansions, shining suits of armour and beautiful original features can be spotted in some of London's most culture rich destinations.
8. Astor Museum Hostel
Choose from one of the many room options at Astor Museum Hostel, situated on the doorstep of some of London's most iconic and historic sites, including the British Museum, National Gallery, Piccadilly Circus and Covent Garden. Relax on the terrace or watch TV in the homely lounge following a long day of sightseeing.
Where: Holborn (27 Montague Street, WC1B 5BH)
9. Clink 78
Experience a slice of British history at Clink 78, a former Victorian courthouse near King's Cross where Charles Dickens once worked and The Clash stood trial. Sleep in a real former cell, watch a movie in one of the original courtrooms or explore the local area, with buzzy Coal Drop's Yard or the British Museum about 20 minutes' walk away.
Where: King's Cross (78 King's Cross Road, WC1X 9QG)
10. Astor Hyde Park
Get close to history and nature during a stay at Astor Hyde Park*, situated just one-minute from Hyde Park, a short walk from the Royal Albert Hall and surrounded by some of London's best museums. Take your pick from one of the mixed or female-only dorms, or book a private room if you prefer, before cosying up by the fireplace in the grand Victorian lounge.
Where: South Kensington (191 Queen's Gate, SW7 5EU)
11. Destinations Hostels at The Gallery
Guarantee yourself a memorable stay in the city at Destinations Hostels at The Gallery, where attentive staff and a welcoming atmosphere will make you feel right at home. Fuel up on free breakfast before taking the Tube from Pimlico to one of the many close by museums, galleries or parks, including the historic Buckingham Palace.
Where: Pimlico (1 Lupus Street, SW1V 3DY)
Check out more cheap places to stay in London, including the top cheap hotels, bed and breakfast accommodation and camping.
Explore by category