Celebrating the release of the Paddington 2 movie in UK cinemas on 10 November 2017, Paddington's Pop-Up London saw five pop-up book installations appear across the capital from 23 October to 3 December 2017.
Visitors took to the streets on a marmalade-fuelled adventure to spot Michael Bond's much-loved Paddington at iconic locations across London. The magnificent pop-up books were inspired by some of Paddington's favourite landmarks, including Tower Bridge, Buckingham Palace and Trafalgar Square.
Adventurers were asked to collect the letters hidden on each installation to enter an amazing competition, and share their best snaps with Paddington using #PaddingtonsPopUp for the chance to win even more prizes.
What were the Paddington's Pop-Up London books?
Buckingham Palace Pop-Up Book at Paddington Station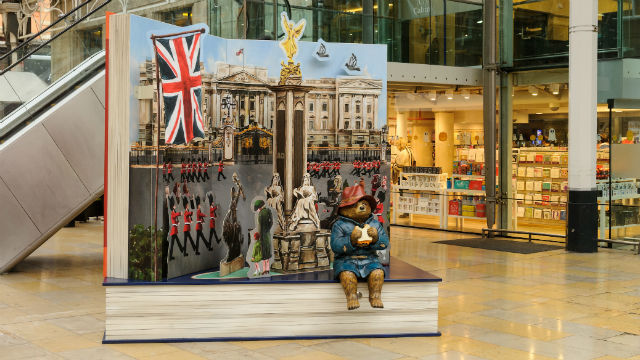 The Buckingham Palace Pop-Up Book was located inside Paddington Station. The installation celebrated the Queen's official royal residence, featuring marching guards, the Victoria Memorial and British flags outside Buckingham Palace.
Piccadilly Circus Pop-Up Book at Peter's Hill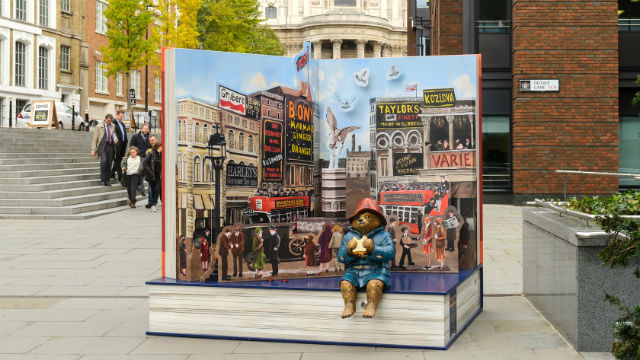 You could find the Piccadilly Circus Pop-Up Book at Peter's Hill, near St Paul's Cathedral. The pop-up book featured some of Piccadilly Circus' most iconic sights, including red Routemaster buses, The Statue of Eros and London's pigeons. There was even a sign for Mr Gruber's shop!
Tower Bridge Pop-Up Book at Bankside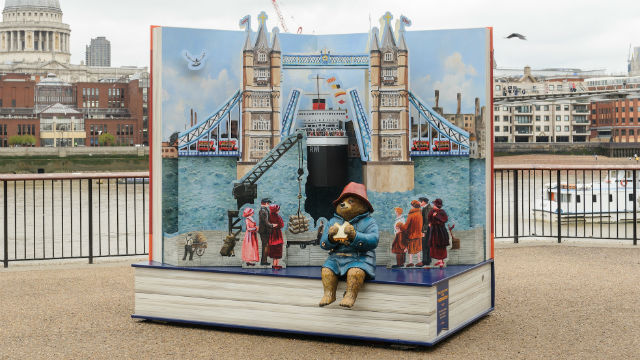 The Tower Bridge Pop-Up Book was situated close to Tate Modern in Bankside. Little ones could pose for a picture with Paddington and witness a magnificent ship passing through the world-famous Tower Bridge, which inspired the design of this pop-up book.
Westminster Pop-Up Book at More London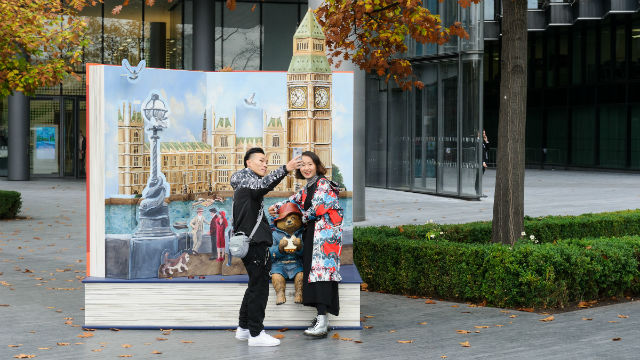 The Westminster Pop-Up Book could be found at More London, close to City Hall and Tower Bridge. Inspired by the area of Westminster, the pop-up book featured the Houses of Parliament and Big Ben behind Paddington.
Trafalgar Square Pop-Up Book at Greenwich Peninsula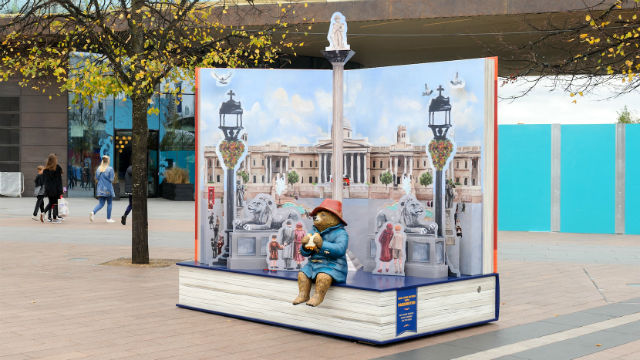 You could find the Trafalgar Square Pop-Up Book at Peninsula Square in Greenwich. Celebrating the iconic Trafalgar Square, the installation featured the stone lions, the National Gallery and London's famous red telephone boxes.
Paddington also popped up across the capital in 2014 for The Paddington Trail, which welcomed the arrival of 50 Paddington Bear statues designed by artists, designers and celebrities. It was visited by more than 350,000 Paddington fans, and helped raise thousands of pounds for the NSPCC.
You can continue the adventure around the capital during a Paddington Bear day out, or discover more fun-filled things to do in London.