Celebrate the Year of the Dog in London, with the biggest Chinese New Year celebrations outside Asia.
Every year, hundreds of thousands of people descend on the West End to enjoy a colourful parade, free stage performances and traditional Chinese food, and to wish each other "Xin Nian Kuai Le" (Happy New Year in Mandarin) or "San Nin Faai Lok" (in Cantonese).
When is Chinese New Year celebrated in London?
Chinese New Year always falls between late January and mid-February, and the Chinese New Year festivities in central London, which are organised by the London Chinatown Chinese Association (LCCA), usually take place close to the actual date of the new year.
In 2018, the London celebrations are taking place on 18 February, which is the Sunday following the date of the Chinese New Year (16 February).

Where do London's Chinese New Year celebrations take place?
The central London festivities take place across the West End, from Shaftesbury Avenue in the north down to Trafalgar Square.
There are lively activities and foodie treats in Chinatown; Leicester Square offers family-friendly entertainment; and while Trafalgar Square hosts the main stage performances, more stages can be found on Shaftesbury Avenue and Charing Cross Road.
Chinese New Year 2018 in London event programme
Watch colourful floats and more than 30 teams take part in the vibrant Chinese New Year parade, which kicks off at 10am with a dragon and lion dance in Charing Cross Road, before snaking its way through Chinatown.
Walk down to Trafalgar Square from 12pm for the main stage performances, featuring traditional Chinese dance and music shows, contemporary hip-hop acts and an exciting line-up of artists from China.
Get a taste of the Far East at one of the two food zones: tuck into street food in Trafalgar Square, or sit down for a traditional Chinese New Year menu and special festive treats in a Chinatown restaurant.
Take the kids to the Leicester Square family zone for cultural activities and family-friendly performances, including calligraphy, Chinese music, dressing up in traditional outfits and more.
See thrilling martial art performances, including tai chi chuan and traditional flag display, in the Shaftesbury Avenue martial arts and culture zone.
Spot up-and-coming British-Chinese artists on the New Talent stage, hosted by Spectrum Chinese radio, in the Charing Cross Road community zone.
Enjoy more cultural activities with lion dances and craft stalls in Chinatown.
Don't miss the pyrotechnic display which lights up Trafalgar Square to mark the end of the festivities.
Keep up to date with the latest news for the 2018 Chinese New Year celebrations and follow our 10 tips for Chinese New Year in London to make the most of your time at the event.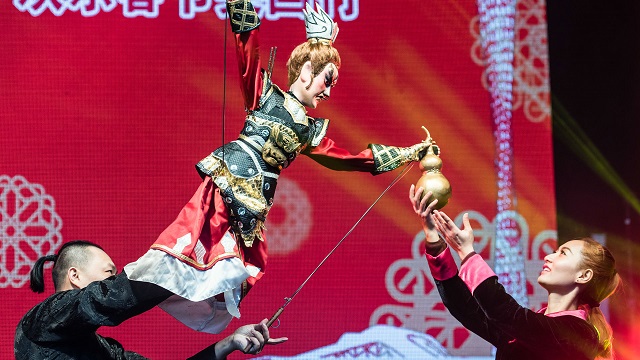 How to get to the Chinese New Year event
The area around Chinatown and Trafalgar Square gets very busy during London's Chinese New Year celebrations, so be sure to plan your route in advance using our travel guide and read our tips on how to stay safe in London. 
Alternatively, book a hotel near Chinatown to stay near the heart of the action.
About Chinese New Year
Chinese New Year is a huge festival among Chinese communities in London and across the world.
Based on the lunar and solar calendars, the actual date of Chinese New Year varies and each year in the Chinese calendar is represented by one of the 12 animals of the Chinese zodiac. Chinese New Year 2018, the Year of the Dog, falls on 16 February. Learn more about the traditions of Chinese New Year.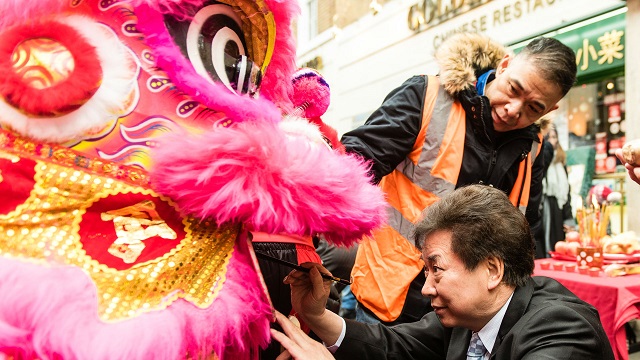 Find more things to do during Chinese New Year in London, including special Chinese New Year events throughout the city.