Shopping Areas in London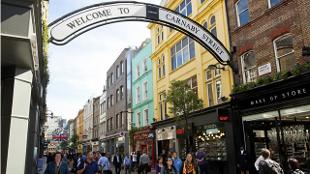 London has a great reputation as a shopping destination. Across the city, there are fantastic shops to suit all tastes.
One way to enjoy London's retail offering is to choose one shopping district and start exploring from there. From the high street names on Oxford Street to the high end brands on Bond Street, to the independent boutiques around Carnaby, each of London's shopping areas has a distinctive personality. 
Take your pick from the selection below.
You Might Also Like
Shopping Area

St Christopher's Place, W1U 1BF [map]

Look out for the landmark purple clock as you head down Oxford Street and you'll suddenly discover the entrance to St Christopher's Place - a true London original.

Shopping Area

Mount Street, South Audley Street, W1K 2TY [map]

Mayfair, famous from the Monopoly board, is located on the Grosvenor estate and is made up of London's largest concentration of luxury hotels, world famous restaurants and fashion forward shopping.

Shopping Area

The Market, WC2E 8RF [map]

Buzzing with the excitement of opera and theatre land, world famous Covent Garden is a destination for food lovers and fashionistas alike.