Locations across London pulsate with the sound of music in July, dance takes over the city's streets and squares and comedy comes to Greenwich.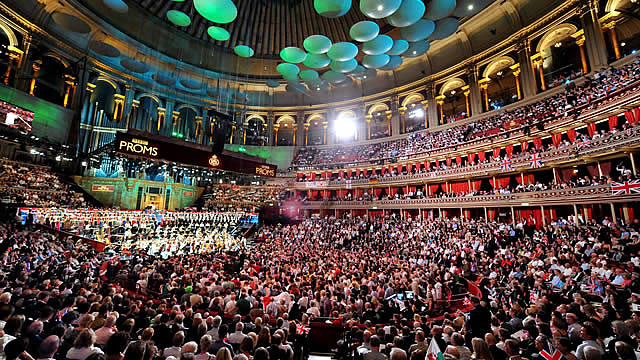 The world's greatest classical music event, the BBC Proms, presents daily concerts and recitals for eight weeks. Predominantly held at the magnificent Royal Albert Hall, the finest composers and musicians congregate for more than 100 separate events in total. Meanwhile, live contemporary music can be found at Hyde Park's concerts. The biggest names in pop, rap, rock and dance music play to crowds of 30,000 revellers. Fun and dance is also the theme at the Pride Parade, a vibrant annual celebration of London's lesbian, gay, bisexual and transgender communities. It attracts thousands to Soho with musical floats, dance stages and performance areas. Or sit back and watch the Aviva London Grand Prix. This athletics meet promises some of the fastest sprints, highest jumps and biggest throws from athletics' biggest stars. Meanwhile, laughs are guaranteed at the Greenwich Comedy Festival. Exceptional comedic talent is on the agenda of this eight-day bill, which is held in the stunning surrounds of Old Royal Naval College.
London boasts a network of canals which are perfect for cruising on a summer's day. There are a number of canal boat tours available, which meander through the city at a leisurely pace, passing pretty neighbourhoods. Or pack a picnic and enjoy the fact that London is one of the greenest cities in the world, with more than 3,000 parks and open spaces.  You can also enjoy the city's verdant landscapes from above at one of London's rooftop bars. From landscaped terraces to lush oases with tropical birds, the city's open-air bars come in all shapes and sizes. More birds, plus deer, snakes, penguins, and in fact, many types of native and non-native animals, can be seen in the city thanks to its great animal attractions. London's zoos, city farms, and nature reserves cover the gamut of the animal kingdom. It may also come as surprise to discover that the capital boasts great camping options. Many suburbs across the city offer this great-value accommodation option in leafy locations, just don't forget your tent!
WEATHER: For average seasonal temperatures and rainfall, see our London Weather page.