Food Markets in London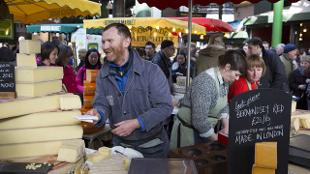 Whether you're looking for bargains or gourmet ingredients, London food markets cater to all tastes.
There are many local and specialist food markets in London selling everything from organic produce to homemade jams and chutneys. So, whether you're searching for fresh ingredients at London farmers' markets, or just fancy treating yourself to some home-made delicacies or dishes from London street food vendors, take a look at the capital's varied food markets below.
You Might Also Like
Food Market

Leadenhall Market, EC3V 1LR [map]

Leadenhall Market is a beautiful covered market in the City of London. Under the elegant Victorian roof there are stalls, restaurants,shops and pubs to enjoy.