How do I get to the Chinese New Year events?
Chinatown
London's Chinatown is one of the main areas for the city's annual Chinese New Year celebrations. This Central London area to the north of Leicester Square and to the south of Shaftesbury Avenue is easy to get to via Tube, bus or rail services. It's also within walking distance of other key attractions such as Leicester Square, Soho, Theatreland, Covent Garden and Trafalgar Square.
The nearest Underground stations to Chinatown are Leicester Square (one-minute walk) and Piccadilly Circus (three minutes' walk). The nearest train station is Charing Cross, which is an eight-minute walk or one stop on the Underground Northern Line via Leicester Square.
Numerous bus routes connect Chinatown to other Central London areas and beyond from Shaftesbury Avenue and Charing Cross Road; while taxis are readily available in the area.
Trafalgar Square
The free Chinese New Year event usually takes place on the same day in Trafalgar Square, which is around six minutes' walk from Chinatown. It features a spectacular stage show with lion dances and cultural performances. 
Home to Nelson's Column, four bronze lions and the National Gallery, this famous square is a couple of minutes' walk from Charing Cross Station, which has Underground and train services. Leicester Square (five minutes' walk), Embankment (eight minutes' walk) and Piccadilly Circus (eight minutes' walk) Tube stations are also a short distance away.
Bus services are readily available to other London locations from the bus stops surrounding the square.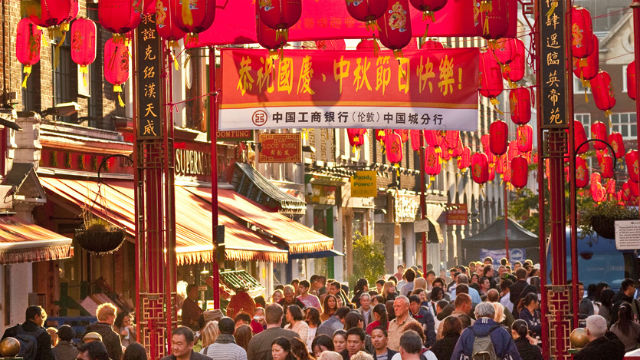 Important Chinese New Year travel information
Central London is generally very busy during the annual Chinese New Year celebrations. Some Tube station entrances might operate on a temporary entry or exit only basis due to the volume of visitors. Check the Transport for London website for the latest information.
Chinatown London will be busier than normal so it will take longer to explore the mainly pedestrianised area – see our top tips for Chinese New Year to make the most of the day. Read our guide to staying safe in London and be aware during the festivities.
Do I need an Oyster Card?
If you live abroad but will be in London for more than a day, it's worth buying a Visitor Oyster card in advance. The Visitor Oyster Card is delivered to your home before you arrive in London. It is one of the easiest ways to get around London.
If you live in the UK, use your contactless payment card, or buy an Oyster card at one of the TfL Visitor and Travel Information Centres, stations, Oyster ticket stops or The Tramlink Shop in Croydon.