Hoxton and Shoreditch are a short walk from Old Street Tube station, which is a five-minute Tube ride from London Bridge on the Northern line. Shoreditch is also easily accessible by an overground trip to Shoreditch High Street station. Here are a few of my favourite haunts:
1. The Brick Lane Beigel
There's no debating that the best salt beef bagel in London is served up on Brick Lane. There is, however, a debate on which shop serves them up the best one: the "white shop" Beigel Bake or the "yellow shop" Beigel Shop? We just can't decide which is best so get down there and try them both! Both shops are open 24 hours a day, so are perfect for a post-clubbing bite to eat.
2. Queen of Hoxton
There aren't many better places to spend a night out with the guys and girls than Queen of Hoxton on Curtain Road. There's a bit of something for everybody, be it ping pong, a retro arcade machine, its mini club in the basement or its restaurant on the roof. Queen of Hoxton is the place to be.
3. Hoxton Square
It is entirely possible to visit three different places in one night, have a great time and not even leave Hoxton Square. With Red Dog Saloon serving up some crazily juicy burgers, The Breakfast Club dishing out fluffy pancakes topped with crispy bacon, and Zigfrid von Underbelly sliding out cool beverages in one of the most unique interiors in the city, Hoxton Square has all the ingredients for a perfect night out.
4. The Orange Buffalo
You won't find better buffalo wings in London than the ones on offer at The Orange Buffalo in the Truman Brewery Car Park. With its four levels of sauces starting at the sensible Original and ending with the regret-inducing Viper, The Orange Buffalo is one place that people keep coming back to for more.
5. Rough Trade
A literal stone's throw away from the Truman Brewery Car Park is the musical paradise that is Rough Trade. If you're a lover of good music and coffee then this is an absolute must. Seriously.
6. This Shop Rocks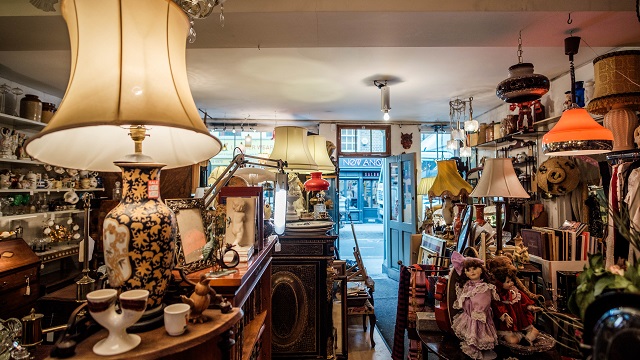 Skip straight past this store if you like your shops all neat and tidy as this antique shop literally lays everything out in what can only be referred to as a beautiful mess. With teddy bears propped up in between books and tea cups, This Shop Rocks has more character than any other shop on Brick Lane.
7. Columbia Road Flower Market
Columbia Road Flower Market is an experience to say the least. Whether you're there to amble into one of the many shops and boutiques, try your hand at some street photography or… you know, buy some flowers, you'll enjoy every single second of it.
8. Boxpark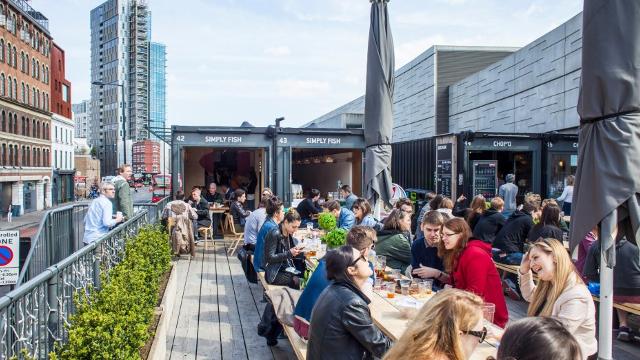 Ever heard of the saying, jack of all trades, but master of none? Well, Boxpark takes that saying and throws it out of the window as it's absolutely littered with great shops, such as Kiehl's, Gap and Decorum, yet also hosts the best food stops including NYC-style pizza spot Voodoo Ray's, Porky's BBQ and the amazing donut shop Dum Dum Donutterie. It's like a smaller, cooler Westfield… kind of.
9. Street art
Shoreditch is world famous for the sheer amount of street art that it has on display, with colourful pieces ranging from wacky all the way to down right beautiful. It's what keeps the area continually evolving and makes every visit unique as you'll stumble across new pieces every time.
10. Old Spitalfields Market
With a whole host of stalls offering up an incredible array of goods ranging from classic cameras to stuffed animals, Old Spitalfields Market is the essence of what makes these two areas a must-visit. It doesn't hurt that there's also a whole bunch of food places to chow down in, including the best burger joint in all of London, Bleecker Street.
Explore more London areas with Seymour the Penguin