Homestay London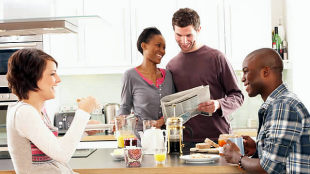 Try homestay London accommodation for a home away from home in London.
Homestays are a great alternative to a hostel or hotel. You get to feel like a local, staying in your own apartment or with a host who will welcome you into their home for your visit.
What is a homestay?
Homestays involve staying with a local person or a family in their own home. This may be a room in their house or apartment, a dedicated space attached to the home, or a space in a separate building. You will feel at home during your stay in London.
How are homestays different from self-catering and serviced apartments?
Unlike self-catering and serviced apartments, homestays involve a host, who is on hand to provide additional services such as cooking meals or introducing you to the local area.
How do homestays work?
The homestay experience can vary, depending on the accommodation. Some homestays include meals cooked by and with your hosts, while others provide accommodation only.
Hosts are usually happy to share their knowledge of London. In some cases, for instance at an Airbnb property, hosts often share information with you before you arrive or leave guides in the apartment to help you explore.
Who are homestays best for?
Homestays are best for those who are keen to explore London like a local – even if it's just for a few days. They're also a great option for those on a budget as an alternative to hostels or cheap hotels, people travelling alone, or students.
Browse the various options for homestay in London below.