Book tickets online to save on West End shows.

The TKTS booth in Leicester Square offers half-price and discounted theatre tickets.

Go directly to a theatre's box office on the day for standby tickets and returns.

Theatres such as Shakespeare's Globe and the National Theatre sell a range of cheap tickets for every performance.

Make sure you buy from reputable sources such as STAR members (The Society of Ticket Agents & Retailers).
1. Book tickets online
Are you planning to see a top show on your next trip to London? Then save on London theatre tickets and make sure you get the best seat by booking tickets online in advance. From some of the longest-running West End shows to hit musicals and classic plays, take your pick from the best shows in London.

2. Find the latest theatre deals
Buy the latest theatre tickets straight from your smart phone or tablet using the Visit London app. Save money and skip queues by buying tickets for all the best West End theatre shows.
3. Visit the London TKTS booth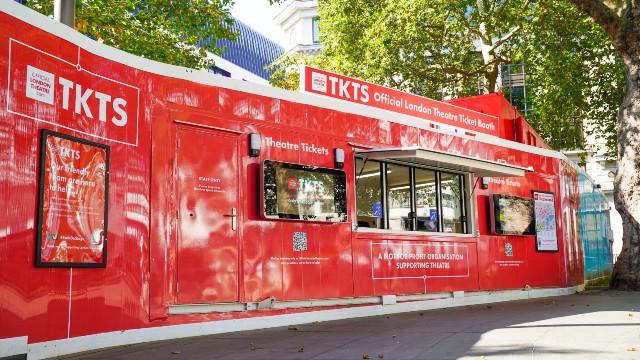 If you're looking to book last-minute London theatre tickets, visit the TKTS booth in Leicester Square. It offers half-price and discounted theatre tickets on the day of the show, and up to a week in advance.
4. Try for standby tickets and returns
You can also go directly to the theatre's box office for the chance to buy standby tickets (returns and unsold tickets for that evening's performance). Pick a show you want to see and line up at the theatre box office, but be prepared to race around for your second or third choice!
5. Be a groundling at Shakespeare's Globe
Shakespeare's Globe sells 700 standing tickets to each performance for just £5. These offer the best view of the stage, and let you experience the show as a groundling – people who used to pay just a penny to watch a play at the famous theatre in Shakespeare's day.
6. Go with a group
Most theatres offer discounts for groups of 10 or more – so grab a few family members or friends and make a night of it in London's West End.
7. Try fringe theatre
Fringe theatres (smaller theatres, pub theatres or those that aren't in central London) often host local celebrities before they start their UK tours or perform at the Edinburgh Fringe Festival, as well as showcasing new writing.
Pleasance Theatre in Islington is great for stand-up, and lots of big names in comedy have graced the stage including Russell Brand, Micky Flanagan and Michael McIntyre.
8. Win the ticket lottery
Get a ticket to the Book of Mormon London for just £20 by taking part in the daily lottery which offers a limited number of cheap tickets (entries are accepted 2 hours and 30 minutes prior to each performance at the theatre), or enter the weekly Twitter lottery for another chance to grab a pair of seats for each performance.
Be in with the chance of winning a pair of tickets to the record-breaking Hamilton with the daily £10 ticket lottery, which closes at 2pm the day before the performance.
Bag Harry Potter and the Cursed Child tickets in The Friday Forty ticket lottery for £40 (£20 per part). Get the chance to purchase up to two tickets for both Part One and Part Two, for performances the following week.
9. Book a cheaper performance
Matinee and weeknight performances are generally cheaper, as are preview performances for some of London's top theatre shows.
10. Buy from a reputable source
Ask to see a seating plan and make sure you check whether the seats have a restricted view as these seats should be cheaper. This information should be made available to you before you buy, as these are your legal consumer rights. You should also read any forms carefully to ensure you don't sign away your legal rights.
Many reputable agents have websites offering online booking and this can be a good way to buy theatre tickets, but be careful as touts also operate over the internet. Make sure you buy your tickets from legitimate agents, such as STAR members (The Society of Ticket Agents & Retailers).
Always ask to see the "face value" of the ticket – in other words, the price printed on the ticket – as ticket agents always charge a booking fee which should be no more than 25% of the face value.
If you have any complaints or queries about tickets sold to you, contact the Official London Theatre.
If you're looking to discover more of London's spectacular theatre shows, check out the latest productions or be dazzled by one of the top musicals in London.
Explore by category