Whatever you're looking for, London is packed with luxury shops just waiting to be explored.
Browse your way through large designer shops and department stores, explore exclusive shopping streets and wander around world-famous jewellery shops.
For more things to do to treat yourself and your loved ones, check out these top luxury gifts and experiences in London.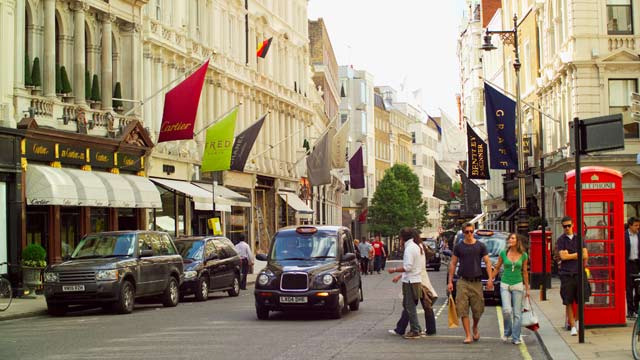 London's famous Bond Street is renowned for its exclusive brands, designer fashion, fine jewels, art and antiques. Home to some of the world's most prestigious retailers including Burberry, Chanel, Dolce & Gabbana, Jimmy Choo, Louis Vuitton and Tiffany & Co, the street also boasts an impressive number of Royal Warrant Holders.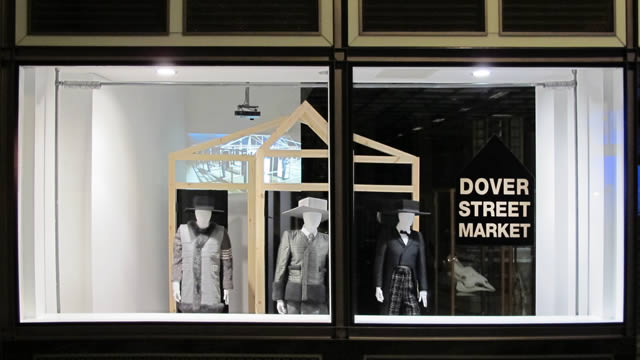 Mayfair's six-storey fashion store is awash with luxury labels, from Alexander McQueen to Saint Laurent. Created by Rei Kawakubo of Comme des Garcons, Dover Street Market's stripped industrial space has concrete floors and reconfigured Portaloo dressing rooms. Refuel at Rose Bakery on the top floor.
Established in 1849 as a humble grocery store, today Harrods has seven floors and 330 departments dedicated to the finest products in food, fashion, homeware, technology and more, plus 20 restaurants and specialist services. Make sure you check out the Halcyon Gallery, Salon de Parfums and the Toy Kingdom. At night, the store is illuminated by 11,500 light bulbs.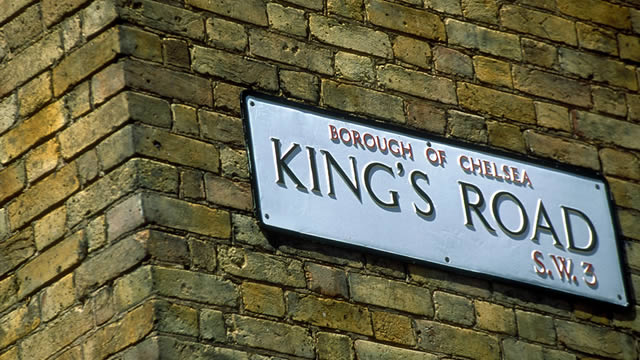 Shopping is the King's Road's main obsession - here you'll find an eclectic mix of trendy boutiques, unique labels and designer shops. It's also a great place for inspirational interior design, with Peter Jones, Cath Kidston and Habitat all vying for attention. Don't miss the treasure trove of antiques at the Chelsea Antiques Market.
Opened in 1875, Liberty is one of London's most traditional department stores, but venture inside and you'll find a whole host of cutting-edge ranges. Designers include Vivienne Westwood, Chloé and Tod's, plus there's an impressive beauty hall and haberdashery. Celebrating fine design and craftsmanship, Liberty is a shoppers' paradise.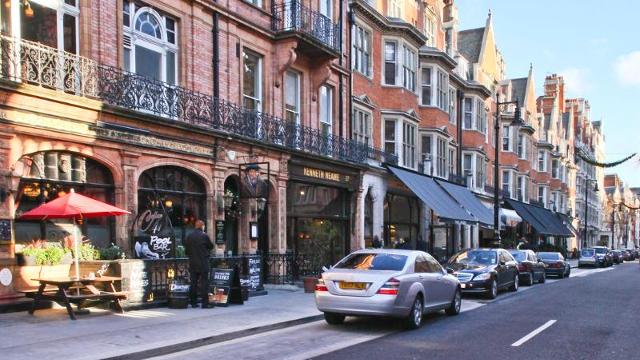 Mount Street in London's Mayfair has become one of London's most fashionable destinations. An inspiring mix of niche, luxury fashion and beauty brands, art and antiques dealers and exclusive restaurants, it is not to be missed when visiting London. Prestigious retail brands that call Mayfair home include Marc Jacobs and Balenciaga.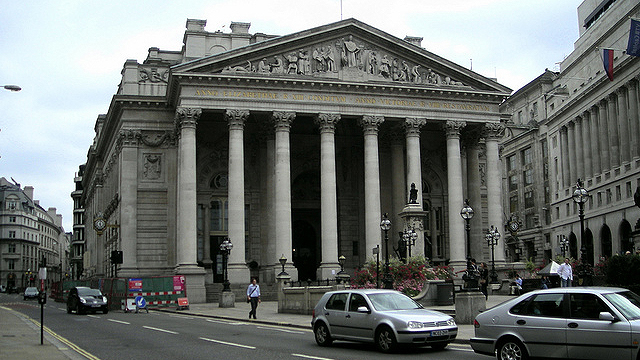 Dating back to the 16th century, The Royal Exchange is a luxury shopping arcade in the heart of The City and is home to many high-end brands, including Gucci, Tiffany & Co and Watches of Switzerland. The Royal Exchange Grand Cafe and Bar is a stunning setting for a meal with its beautiful columns and arches.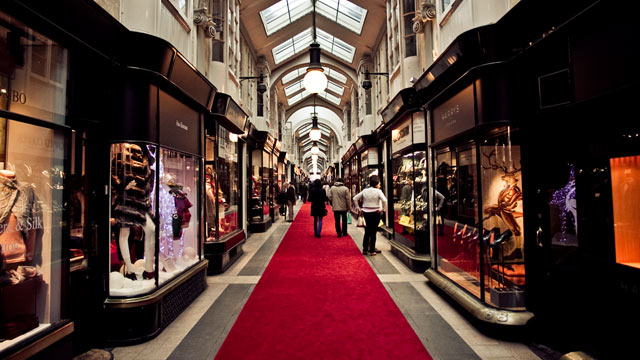 St James's is characterised by its beautiful shop fronts and crafted goods, the masterpieces hanging in its leading galleries and an unmatched reputation for personal service. Defined by its four corners – Trafalgar Square, Piccadilly Circus, Green Park and Buckingham Palace – St James's is a luxury quarter in the centre of London.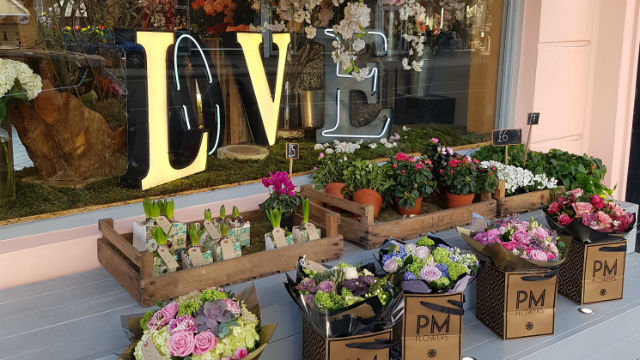 Connaught Village is a haven for exclusive shops and premier brands. The quiet, leafy enclave was made for leisurely afternoons exploring the picture-perfect streets of Hyde Park Estate. Behind colourful shop windows, you'll find artisan food and drink, beautiful homewares, quality art and luxury fashion, as well as stylish eateries and a traditional London pub.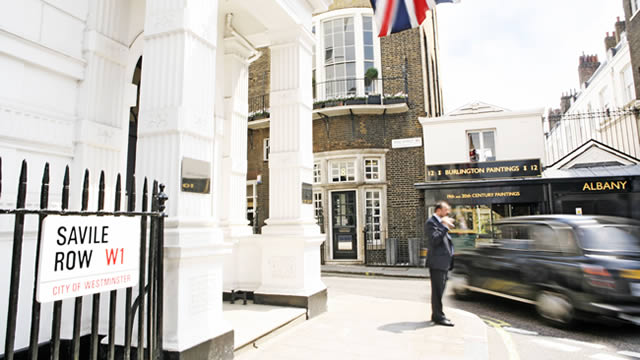 Savile Row's reputation is built on bespoke tailoring. With a heritage that stretches back to the late 18th century, this has been the home of notable companies including Anderson & Sheppard, Bernard Wetherill, Huntsman, Kilgour, Norton & Sons, Richard Anderson, Richard James, and Timothy Everest.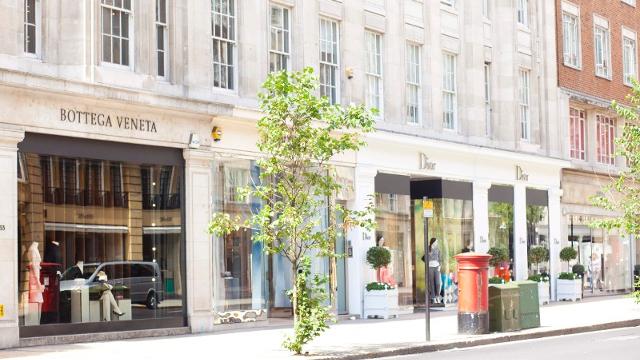 Sloane Street is internationally recognised as one of the world's most exclusive and luxurious shopping destinations. Renowned for its elegant catwalk of iconic luxury brands, unparalleled service and exclusive products, its impressive list of flagship stores includes Tom Ford, Chloe, Roberto Cavalli, Valentino and Giorgio.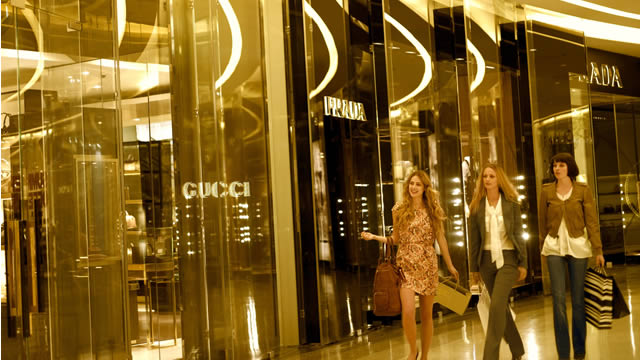 Westfield London's exclusive shopping enclave boasts more than 40 luxury brands under one roof, including Louis Vuitton, Burberry, Mulberry, Prada, Jimmy Choo and Tiffany. High-end jewellery shops include Omega and Tiffany & Co. The sophisticated Searcys Champagne Bar is the perfect pit stop after a hard day's shopping.