Browse through the best seafood restaurants in London to find the ideal spot to drop your anchor for dinner. In fact, with so much choice, you could have a seafood lunch, snack and celebration feast too and still enjoy the fruits of the sea in a different way each time.
Seek out street food pop-ups for oysters, lobster rolls and more; find affordable restaurants in London serving up the latest catch; or dine in Michelin-starred eateries focused on top-quality crustaceans.
1. Bentley's Oyster Bar & Grill
Feast on oysters, fish and seafood at one of the longest-running and best seafood restaurants in London, Bentley's Oyster Bar & Grill, which opened in 1916 in the same beautiful old Victorian building it occupies today.
2. Bubba Gump Shrimp Co.
Tuck into comfort food from America's Deep South at Bubba Gump Shrimp Co. in London's West End. Capturing the essence of hit movie Forrest Gump, the family-friendly restaurant serves up food that reflects the film's setting in Alabama.
3. Cornerstone
Share mouthwatering plates of seafood in an elegant and relaxed atmosphere at Michelin-starred Cornerstone in Hackney Wick. The daily changing menu uses the freshest items in season, from fishermen and producers across the UK.
4. Estiatorio Milos
Be transported to the luxurious coasts of Greece and pick from oysters, ceviche and show-stopping mains such as fish baked in salt, at Estiatorio Milos, which specialises in fresh fish delivered from trusted fishermen in the Mediterranean.
5. J Sheekey
Drop in for a wide variety of seafood dishes or the famous Sheekey's fish pie at J Sheekey. Originally a small oyster bar, it has become one of the best and most beloved seafood spots in London.
6. The Oystermen Seafood Bar & Kitchen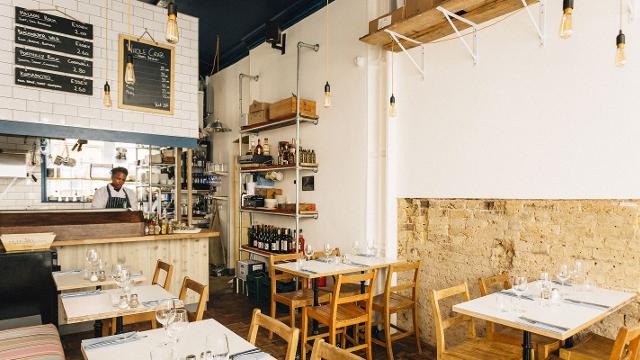 Sample some of the best seafood from the British Isles at The Oystermen Seafood Bar & Kitchen in Covent Garden. Alongside the oyster bar, you can also feast on steamy bowls of mussels, try the catch of the day, or treat yourself to a whole Devon brown crab.
7. Prawn on the Lawn
Enjoy small plates of the freshest seafood at Prawn on the Lawn, a beloved family-run fishmonger in Islington. Highlight dishes include scallop ceviche, monkfish and chorizo stew, and Padstow crab with homemade soda bread.
8. Scott's
Treat yourself to some of the finest fish and knockout seafood in London, with an indulgent meal at Scott's in Mayfair. The plush venue is supposedly the second oldest restaurant in London.
9. Westerns Laundry
Dine on seafood specials or enjoy the likes of cuttlefish ink croquettes at Westerns Laundry, a former launderette in Islington, which specialises in sustainable, seasonal seafood and natural wines.
10. Wright Brothers
A list of the best seafood restaurants in London wouldn't be complete without Wright Brothers, an institution led by head chef Philip Coulter. The menu features some of the finest sourced and locally cultivated oysters and fruits de mer.
Explore by category