Mad Hatter's Afternoon Tea at Sanderson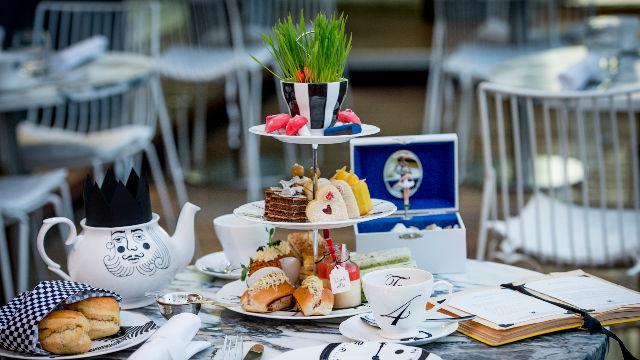 Step into the world of Lewis Carroll with this delectable Alice in Wonderland afternoon tea at Sanderson.
About
Sanderson invites you to tumble down the rabbit hole and discover the Mad Hatters Afternoon Tea, a tea party beyond your wildest imagination. Expect to be reminded of familiar characters and recall childhood tales along the way.
Where is the Mad Hatters Afternoon Tea?
The Mad Hatters Afternoon Tea is located in Sanderson in Fitzrovia.
Goodge Street Tube Station is a six-minute walk away and is served by Northern underground line.
What can I eat at the Mad Hatters Afternoon Tea?
Discover menus hidden inside vintage books, teapots adorned with kings and queens, and sandwich plates decorated with zebras, birdcages and ticking clocks.
Enjoy exquisite savoury bites, from Tweedle Brothers choux filled with egg and avacado, and Mad Hatter on charcoal and beetroot bun with smoked bacon. Complete your afternoon tea experience with legendary cakes, like the White Rabbit Carrot and Plant Pot cake and mousse, and the blueberry and hazlenut Caterpillar eclair.
There are plenty of Alice-themed bespoke teas and cocktails to pick from, and for the traditionalists, warm scones clotted cream and fruit preserves.
How much does the Mad Hatters Afternoon Tea cost?
The Mad Hatters Afternoon Tea starts from £48 per person. Tea infusions are an additional £15 and a glass of bubbles is £10.