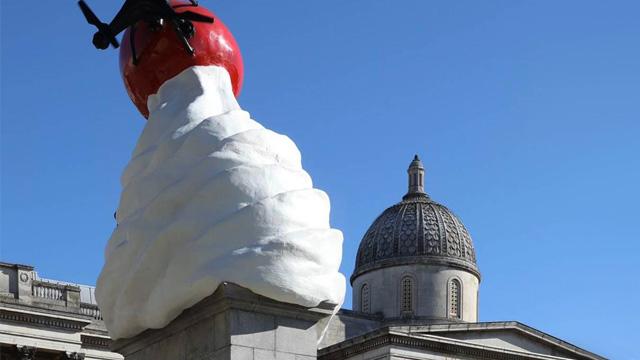 Head to Trafalgar Square to marvel at the latest commissioned artwork overlooking this spectacular London landmark.
About
The fourth plinth in Trafalgar Square is one of the highest profile pieces of public artwork in the UK.
The current resident is "THE END" by Heather Philipson, unveiled on Thursday 30 July 2020. Measuring 9.4 metres and weighing 9 tonnes, the 13th fourth plinth commission is also the tallest to date. The public installation depicts a giant squirt of whipped cream, along with a cherry on top, a fly and a drone that transmits a live feed showing Trafalgar Square. You can view the drone's footage on theend.today, which gives a sculpture's eye perspective.
The previous resident was The Invisible Enemy Should Not Exist by Michael Rakowitz.