Crystal Palace has so much to offer as it boasts independent shops, exciting new eateries and a Victorian park full of life-size dinosaur sculptures. Transport links into Central London are excellent with London Bridge and Victoria National Rail stations just under 30 minutes away by train.
1. Crystal Palace Park
Roam among the oldest life-size dinosaur sculptures in the world at Crystal Palace Park. This Victorian park also homes its own maze, a giant chess board, the Crystal Palace National Sports Centre, beautiful flower gardens and the remains of the glass palace walls.
2. Vintage delights
Vintage lovers now have a reason to cross the river and head south. Haynes Lane Market is an indoor Aladdin's cave literally crammed full of stuff, including books, vinyl, antiques, clothes, toys, tarot card reading and more. Tucked away off main drag Westow Street, the market can be a little tricky to find but it's definitely worth a good rummage when you do.
3. Foodie paradise
Dine with a view at Joanna's Brasserie, which boasts sweeping vistas over London. The Exhibition Rooms offers modern British food in a classic dining room, while veggies can visit the friendly Domali Cafe which serves home-cooked vegetarian food. Of course, if you fancy a bag of piping hot chips, I highly recommend Crystal Fish Bar.
4. Crystal Palace Food Market
Taking place every Saturday, this food market is perfect for foodies. It's a community not-for-profit farmers' market, which brings you the best organic produce and locally-prepared food.
5. Great bars
There's a swish cocktail lounge downstairs in The Exhibition Rooms, but you can also enjoy delicious cocktails at the Cocktail Embassy and the delightful wine bar at Numidie, decked out with traditional Algerian decor.
6. Cake at Brown and Green
Close to Crystal Palace Park, trendy cafe Brown and Green is a great local spot to grab a coffee or brunch – and the cakes here are divine! Well worth a visit.
7. Crystal Palace transmitter
Standing at 219-metres tall, this TV transmitter serves many homes in London. You can see the transmitter from the other side of London, but seeing it up close is something else.
8. Crystal Palace subway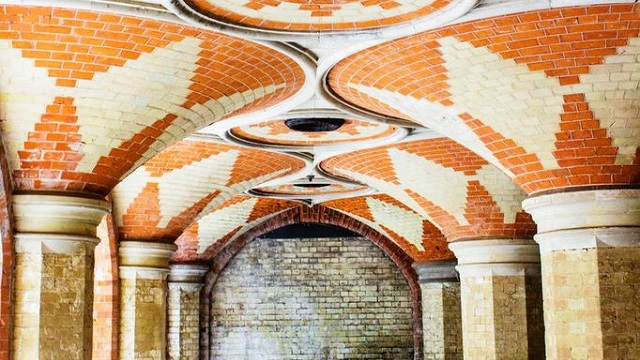 With a colourful past, this Victorian subway is spectacular and hidden under the A212 road at Crystal Palace Parade. You can visit the subway during the many open days throughout the year.
9. Bookseller Crow Bookshop
This independent bookshop beats a high street chain anytime. The store stocks the latest books and old classics, as well as quirky and unusual books - so there really is something for everyone. If you're looking for inspiration, the friendly owner, John, is very knowledgable.
10. Crystal Palace Overground Festival
Crystal Palace Overground Festival is a must-attend, free community-run arts and culture festival featuring live music, film, food and tons of entertainment and activities for all ages. Don't miss it!