On my Chiswick Mum blog, I refer to Chiswick as the Leafy Edge of the Big Smoke, and I hope this list of top things to do in the area helps you to see why:
1. People-watch with a coffee
If Chiswick was a country then going for coffee would be its national sport. You're spoilt for choice for cafes here and can't go wrong with any of them.
Get off at Turnham Green Tube, meander down Turnham Green Terrace, then stroll down the High Road, checking out Devonshire Road on the other side, stopping for coffees as often as your time and budget allows.
2. Enjoy a drink on the Strand
Strand-on-the-Green is quite possibly the most beautiful street in London. Gorgeous envy-inducing houses line this river walkway, but anyone can enjoy the beautiful view.
There are a few lovely pubs here, but my favourite is the Bell and Crown. In winter, grab a seat by the blazing log fire. And in summer, perch on the wall with your feet dangling over the edge of the river, sup a locally-brewed bitter, munch a few packets of crisps and enjoy.
At low tide, the Strand is the closest thing to a beach that you'll find in London. If you've got kids in tow, head down the steps and practice skimming stones. But note that it's a tidal river that comes in quickly. Don't wander up the river and stay with your children at all times.
3. Have a picnic
You don't need to spend much money to have a good time in Chiswick. Head to Turnham Green (the actual Green, with the big church in it - not to be confused with Turnham Green Tube station at the other end of the High Road).
On a sunny day, you'll see families and couples laid out on blankets as far as the eye can see. Nip into Waitrose supermarket across the road and buy the ingredients for a picnic, then spend a pleasant afternoon here.
History buffs will be interested to know that this is the site of a famous English Civil War battle where the Parliamentarians blocked King Charles I's advance into London on 13 November 1642. For a slice of modern history, walk over to the town hall where you'll find a gold painted post box from the London 2012 Olympic Games.
4. Indulge your inner bookworm
There are some great bookshops in Chiswick, and you could spend a whole morning happily mooching around them all.
But my favourite is Bookcase, an independent bargain bookshop with friendly staff and an ever-changing stock. It's impossible to leave without buying something.
6. Treat yourself to an all-day breakfast
Cafe Luna was the first place I checked out in Chiswick when I moved to the area, stumbling in after the removal van had gone. We were starving and knew nothing about the area.
It's still my go-to place for a good no-frills weekend brunch. You can buy a full English breakfast with a strong cappuccino for less than £5, and there's also freshly-squeezed juice if you want to wash it all down with something healthy. Grab a newspaper from the newsagents across the road and enjoy.
7. Take a stroll in the woods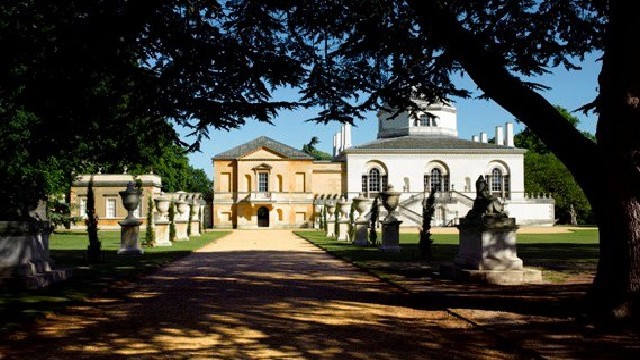 Sometimes you just want to escape the hustle and bustle, and a few hours of rambling along the woody paths and restored 18th-century gardens of Chiswick House are just the ticket.
If you're visiting with children, there are plenty of trees to climb, and there's also a cafe with a good outdoor play area with a sand pit.
Neo-Palladian villa Chiswick House is worth a visit to see its sumptuous interiors and amazing collection of old Master paintings.
8. Travel back in time
Stroll down the cobbled street to St Nicholas Church and it will seem as though you've stepped back in time. Which in a sense you have. This is old Chiswick, where the village sprung up around the church in the 11th century. Keep your eyes peeled for painter William Hogarth's grave.
9. Try some handmade Italian ice cream
On a hot day, it's not rare to see a queue stretching down the road from Foubert's ice cream parlour, where the ice cream is lovingly handmade on the premises. Try the blue banana flavour or the zesty lemon sorbet! This place is not so much an ice cream cafe as a Chiswick institution.