Thai Restaurants in London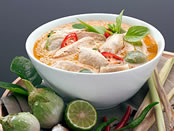 Thai food can be easily recognised by its colourful dishes, fresh ingredients and distinctive flavours such as peanut, coconut and lemongrass.
Peanut-infused pad thai, green and red curries and spicy seafood soups are just some of the favourite dishes that can be found in Thailand – from the street food stall to the smartest restaurant. And thankfully you can also find them right here in London!
Search by price, name or our favourites in the listings below to find a Thai restaurant in London.
Thai Restaurant

87 Lavender Hill, Battersea, SW11 5QL [map]

Thai Restaurant

The Boulevard, Imperial Wharf, Townmead Road, SW6 2UB [map]

Thai Restaurant

22 Store Street, WC1E 7DF [map]

Thai Restaurant

44A Floral Street, Covent Garden, WC2E 9DA [map]

Thai Restaurant

222-224 Fulham Road, Earl's Court, SW10 9NB [map]

Impossible to miss, the Cha Plu restaurant is located on the busy and bustling Fulham Road immediately opposite the entrance to the Chelsea and Westminster Hospital.

Thai Restaurant

461-465 North End Road, Fulham, SW6 1NZ [map]

Fulhamites love a good designer restaurant, and Chaam is a hit with foodies who love the style-conscious interior and tasty, authentic Thai dishes.

Thai Restaurant

22 St. Christophers Place, Mayfair, W1U 1NP [map]

Thai Restaurant

Westferry Road, Millwall, E14 3AN [map]

Thai Restaurant

579-581 Cranbrook Road, Town Centre, Ilford, IG2 6JZ [map]

Thai Restaurant

176 Brick Lane, Shadwell, E1 6RU [map]

We aim to offer the most complete authentic Thai dining experience available anywhere outside of Thailand.

Thai Restaurant

48 Grosvonor Place, SW1X 7EQ [map]

Thai Restaurant

616 Fulham Road, Fulham, SW6 5RP [map]

For anybody who knows and loves Thai food Nuntee Thai Cuisine restaurant on London's Fulham Road is a new and unusual treat.

Thai Restaurant

10 Topsfield Parade, Tottenham, N8 8PR [map]

O's Thai Café (listed as one of the top 100 restaurants in London) produces great authentically Thai food, served without fuss and hidden extras with inexpensive drinks in a lively environment.

Thai Restaurant

209A Kensington High Street, Kensington, W8 6BD [map]

Thai Restaurant

3-7 Maddox Street, Mayfair, W1S 2QB [map]

Thai Restaurant

36 Highgate Hill, Archway, N19 5NL [map]

RRC was opened in September 2006 by Khun Chay who seels to establish a healthy way of eating Thai food which we aim to use no artifical colours or preservatives, while introducing more vegtables into the meals.