Whether you're desiring dim sum, in search of street-food dishes or are craving a full-on Cantonese feast, head to one of London's best Chinese restaurants - and there's not a Chinese buffet in sight!
Min Jiang
Bringing traditional Chinese cookery into the modern age, Min Jiang is a great place to try diverse dishes from China's various provinces; but many come simply for its wood-fired duck, which is served over two courses. Perched on the 10th floor of the Royal Garden Hotel, this stylish restaurant boasts far-reaching views of Hyde Park and Kensington Gardens.
Hutong
You can also savour spectacular views of London from this plush Northern Chinese restaurant on level 33 of The Shard. Opt for dim sum such as Shanghai-style xiaolongbao or specialities ranging from sliced scallops with pomelo to aromatic beef rib braised in lotus leaf. Red lanterns, chunky wooden dividers and a Chinese wishing tree make the visuals in Hutong almost as impressive inside as through the full-height windows.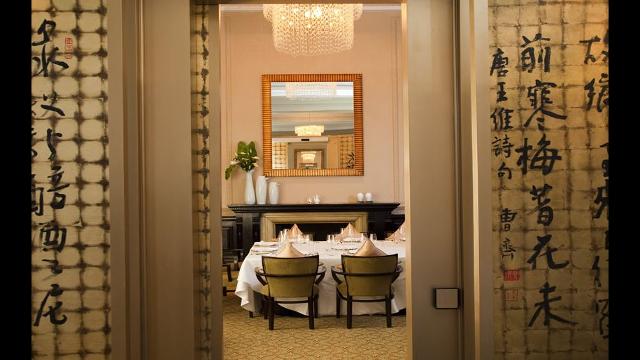 Grand Imperial
Savour Chinese delicacies surrounded by original artwork, calligraphy and traditional artefacts at this elegant Cantonese restaurant within The Grosvenor hotel in Victoria. Handily adjacent to the station, the upscale Grand Imperial offers a contemporary twist on authentic food from the Guangdong province.
Baozi Inn
Tuck into traditional street food from Northern China at this small, cash-only diner in Chinatown. Choose from light-as-air baozi (steamed buns), dumplings speckled with chilli oil or hearty noodle broths; all at an affordable price. The décor in Baozi Inn may be a little austere, but that's part of its charm.
Bar Shu
Specialising in Szechuan cuisine – noted for its use of fiery chilli and zingy Szechuan pepper – this Soho eatery will have your lips tingling with dishes such as dan dan noodles and fragrant chicken. However, there are also more delicate options on offer at Bar Shu, showcasing the best of the region's food in an ornate setting.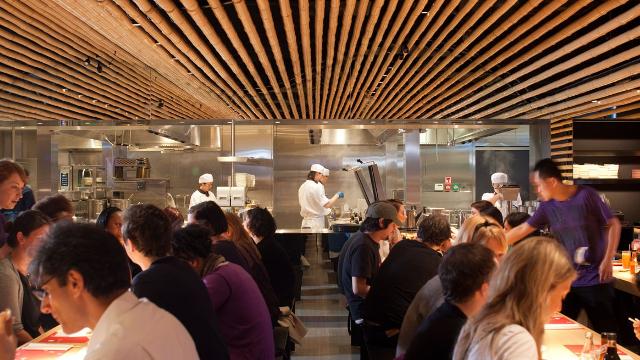 Cha Cha Moon
This noodle house in foodie haven Kingly Court is a great place for a quick bite between shopping in Carnaby and Regent Street. Try a warming noodle soup, lao mein (wonton noodles) or wok-fried noodle dishes from Cha Cha Moon's open kitchen, where chefs draw on inspiration from various regions.
Hakkasan Hanway Place
The original restaurant of what is now a global brand (there is another in Mayfair), Hakkasan Hanway Place stands out with its sleek, dimly lit interiors with dark oak bar and latticed screens. You'll discover a menu full of first-rate modern Cantonese fare from chef Tong Chee Hwee at this Michelin-starred venue – don't miss the signature crispy duck salad with pomelo, pine nut and shallot.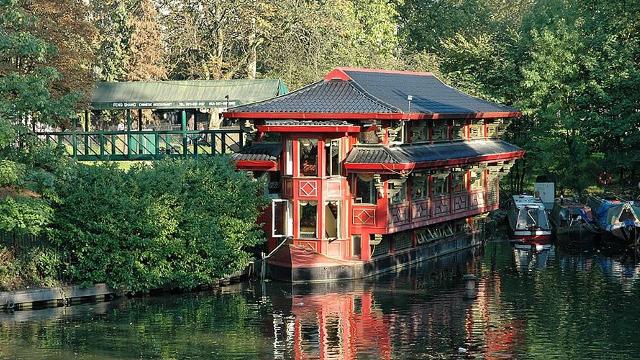 Feng Shang Princess
You could almost be lazing in a quiet backwater of Guangdong's Pearl River in this handcrafted floating restaurant in leafy Regent's Park, that's attracted a host of celebrity diners over its 30 years. Cantonese flavours dominate at Feng Shang Princess, with traditional favourites such as soft shell crab, crispy shredded beef and sweet and sour pork on offer.
Mr. Kong
A fixture of Chinatown's food offering for the past 30 years, the bustling Mr. Kong has a wide-ranging menu encompassing everything from the omnipresent Cantonese sweet and sour to more unusual delicacies such as jellyfish and sea urchin. This mix attracts Chinese regulars, locals and visitors who can be found queuing out the door – don't worry, though; the turnaround is pretty quick.
Yauatcha
This dim sum specialist from Alan Yau's increasingly impressive stable is nestled in the heart of Soho. Alongside numerous dumplings and cheung fun (rice noodle rolls), you'll find more substantial dishes at the relaxed all-day "tea house". Yauatcha's Michelin-star may suggest formality, but that's far from the case; making it a great place for grazing over a relaxing lunch or dinner with family or friends.