Japanese Restaurants in London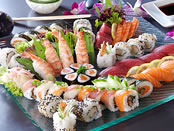 Japanese food isn't just about raw fish. With a huge variety of sushi, plus noodle soups, deep-fried bites and more, there's something for everyone.
Looking to try your top Japanese dishes or discover some new favourites? Then our handy listings of Japanese restauarnts in London will help.
You Might Also Like
Oriental Restaurant

4-12 Regent Street, SW1Y 4PE [map]

Take control of your dining experience at inamo st james, with the world's 1st interactive ordering system beamed to your table; order a meal, pick a virtual tablecloth, watch 'Chef Cam', & much more!