Serviced Apartments in London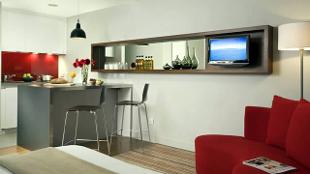 Enjoy the luxury of a hotel with the convenience of your own apartment at a serviced apartment in London.
Serviced apartments usually include a kitchen and you'll have the freedom to come and go as you please. However, there is also a housekeeping service, reception and may be other extras such as a concierge and room service available.
You Might Also Like
Serviced Apartment

Palace Gate, Kensington, W8 5NJ [map]

Regarded as providing some of the largest apartments in London, the 5 star property comprises of exceptionally spacious two and three bedroom apartments.

Serviced Apartment

577 Commercial Road, E1 0HJ [map]

Marlin Limehouse offers guests a welcome juxtaposition between the comfortable, contemporary designs of the serviced apartments and the traditional environment of the 19th century docks.

Serviced Apartment

30 Queen Street, EC4R 1BR [map]

Marlin Queen Street is a premier serviced apartment development situated in the heart of The City, providing direct access to major London attractions such as St Paul's Cathedral and Oxford Street.