History of the London Underground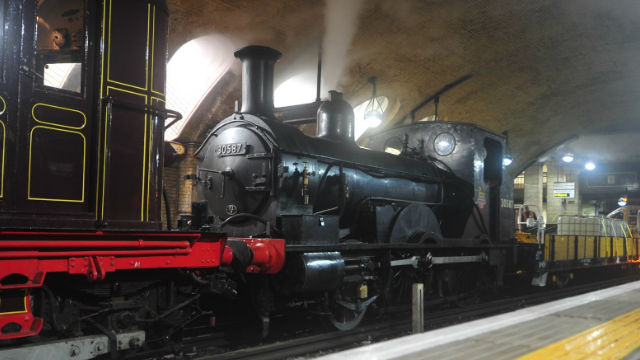 The London Underground, or the Tube, was the world's first underground railway. It opened in 1863 with the first journey taking place on 9 January between Paddington and Farringdon on the Metropolitan Railway. The general public were admitted the next day.
In 1863, London's new railway proved extremely popular, with 11.8 million passengers in the first year. It was extended in the next few years – west to Hammersmith and east to Moorgate Street – while rival companies built their own lines. The Metropolitan District line (the District Line) between Westminster and South Kensington opened in December 1868. By 1884 the two lines were joined to complete today's Circle line.
The early lines were built using the "cut and cover" method: basically hollowing out a trench, laying the train tracks, then covering over it with a road. While this method was quick and effective, it was also quite disruptive to traffic and only allowed relatively shallow tunnels to be built. By the beginning of the 20th century, deep-level tunnelling methods meant new lines could be built with minimal disruption to the surface and the network expanded rapidly, with 40 new stations opening between 1906 and 1907.
London Underground was also the first system in the world to use electric trains, which were launched on what is now the Northern line in 1890. However, on some parts of the network, steam passenger trains continued to be used up until 1961.
In 1900 the Central London Railway (now the Central line) opened between Bank and Shepherd's Bush and was dubbed the "Twopenny tube" due to its fare prices and "coin-shaped" tunnels. The name stuck and eventually the whole network was being called the Tube.
Harry Beck's famous, non-geographical Tube map was first issued in 1933. Now regarded as a design classic, today's Tube map is an updated version of Beck's original. Download a free version from our free travel maps page.
During WWII, the London Underground played a role in the Blitz with many stations used as air raid shelters and for makeshift accommodation.
The newest Tube lines to be built are the Victoria Line, which took about 20 years to complete and opened in stages from 1968 to 1971. And the Jubilee Line, which opened in 1979.
Today, London's Tube is a huge network with 3 million passenger journeys made per day from 275 stations, on more than 408km of railway track.