Before you book your ticket, find about which London theatres have the best accessibility and facilities for disabled people.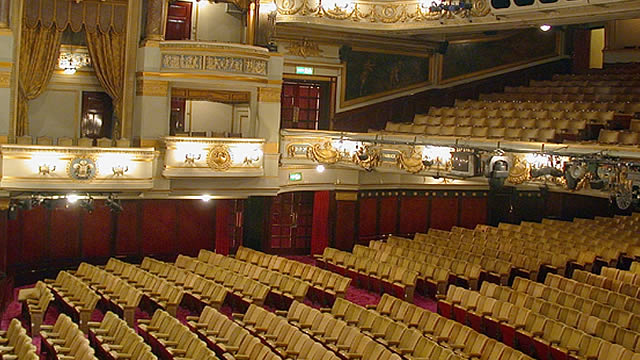 Many of London's theatres are historic buildings with varying floor levels, staircases and narrow aisles. Their status as listed buildings restricts any improvements in accessibility at these older venues. Newer venues like the National Theatre tend to have good access for wheelchair users.
Access Facilities
The Society of London Theatre has compiled extensive information on access facilities at London's theatres as well as access maps for major theatres. This information includes wheelchair accessibility, adapted lavatory and bar facilities, sound amplification systems, admission policy on guide dogs, public transport and parking. For more details, as well as access maps of London theatres, go to www.officiallondontheatre.co.uk
Inclusive London is the best way to find information on accessible entertainment in the city. See the website details below.
Assisted Performances
The Society also has current listings of assisted performances (audio-described, captioned and sign language-interpreted performances) in London. The different types are explained below.
For information on upcoming assisted performances, visit: www.officiallondontheatre.co.uk
Audio Described Performances

Audio description is a live description of the characters, their expressions, actions, costumes and the sets, which is relayed to patrons over personal headsets. This happens unobtrusively between the lines and offers patrons who cannot see the stage assistance in sharing the visual aspects of the programme. Touch tours are also sometimes available for people with visual impairments.
Captioned Performances

At a captioned performance words are displayed on a screen at the same time as they are spoken or sung by an actor, thus enabling people with a hearing loss to understand everything. The process is similar to subtitling. It aims to offer deaf and hard of hearing people the same experience, as far as possible, as a hearing audience.
Sign Language Interpreted Performances

A British Sign Language (BSL) theatre interpreter will stand on or at the side of the stage, in a place clearly visible to the audience, and interpret the spoken and heard aspects of the show for deaf and hard of hearing patrons who are British Sign Language users.
Theatre Access Facilities Contacts
Society of London Theatre, tel: +44 (0)20 7557 6700, or email access@solttma.co.uk.
Shape Arts
Shape Arts offers a fully accessible ticket booking service, and organises Access Assistants for those who need help getting to and from the venue. 
For more information visit the Shape Arts website: www.shapearts.org.uk
Inclusive London
Some theatres offer concessions to disabled patrons. Visit their websites for further details. 
Inclusive London is an online nationwide access register to buildings, venues and services.  Inclusive London's listings are compiled from Access Audits, guided telephone access assessments, information supplied by the businesses listed and user-contributed information.
Visit the Inclusive London website for comprehensive access information on entertainment in London.