Treat the kids to a festive treat this Christmas with a trip to the theatre. There are lots of traditional pantomimes to enjoy across the capital, as well as cutting-edge, immersive theatre and epic productions of family favourites.
1. The Snowman at The Peacock Theatre
Head to the Peacock Theatre for a magical live version of evergreen festive favourite The Snowman, now in its 17th year at the venue. Based on the much-loved children's book by Raymond Briggs, the story of a young boy whose snowman comes to life on Christmas Eve is a story for all ages. Even the biggest Scrooge won't be able to resist a live rendition of Walking in the Air! 26 Nov-4 Jan. Book Tickets
2. Beauty and the Beast at Theatre Royal Stratford East
This Christmas Theatre Royal Stratford East is bringing the classic tale of Beauty and the Beast to the stage in pantomime form. The musical tale of Belle is suitable for all ages and features great sets, costumes and songs. 29 Nov-17 Jan
3. Robin Hood at Winterville
London's newest Christmas village, Winterville in Victoria Park, is putting on a pantomime performance of Robin Hood inside the Spiegeltent. The show will be full of all the typical slapstick, live music and comedy, from the much-loved cast of characters, including Friar Tuck, Maid Marian and Robin Hood himself. The show is recommended for children aged four and over. 6-31 Dec
4. Treasure Island at the National Theatre
The National Theatre is going on a journey this Christmas, with an adaptation of Robert Louis Stevenson's classic nautical tale Treasure Island. The National's massive Olivier stage will host this epic family show of treasure and treachery for those aged ten and over. 22 Dec-19 Feb. Book Tickets
5. Slava's Snowshow at Royal Festival Hall
Having delighted theatregoers for 20 years now, Slava's Snowshow returns to London's Royal Festival Hall this winter. The dream-like show combines theatrical clowning and unique spectacle, culminating in a dazzling finale which needs to be experienced first-hand. 17 Dec-5 Jan. Book Tickets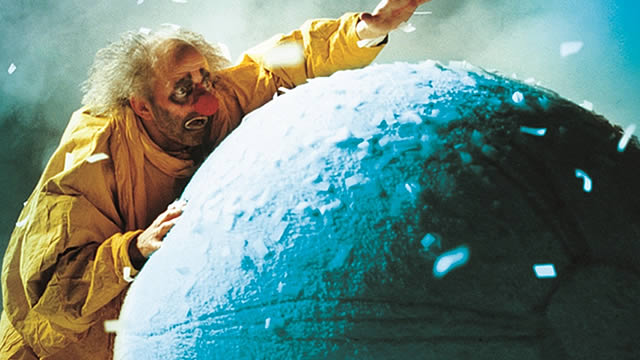 6. Phillip Pullman's Grimm Tales at the Bargehouse
After a successful run at Shoreditch Town Hall, Phillip Pullman's unique take on the Grimm Tales for Young and Old has been given the immersive theatre treatment at the Bargehouse, Oxo Tower Wharf. These twisted fairy tales are brought to life in a labyrinthine set, where you'll encounter a cast of characters ranging from the Frog King to Hansel and Gretel. This is a show the family won't forget in a hurry. 21 Nov-15 Feb.
7. Snow White and the Seven Dwarfs at Richmond Theatre
In an impeccable piece of casting, Richmond Theatre patron Jerry Hall will star in the theatre's production of Snow White and the Seven Dwarfs. The model and former Strictly Come Dancing contestant will bring some glamour to the role of the Wicked Queen. 5 Dec-11 Jan
8. The Railway Children at King's Cross Theatre
Having already delighted audiences at London's Waterloo Station, York National Railway Museum and the CN Tower in Toronto, the stunning adaptation of E Nesbit's classic novel The Railway Children pulls into a purpose-built 1,000-seat venue at London's King's Cross Theatre for a blockbuster Christmas treat. The play is staged around a real train track, and a beautiful 60-tonne locomotive that steams into the theatre to delight all ages, as Bobbie, Peter and Phyllis recount the adventure of a lifetime. 16 Dec-1 Mar. Book Tickets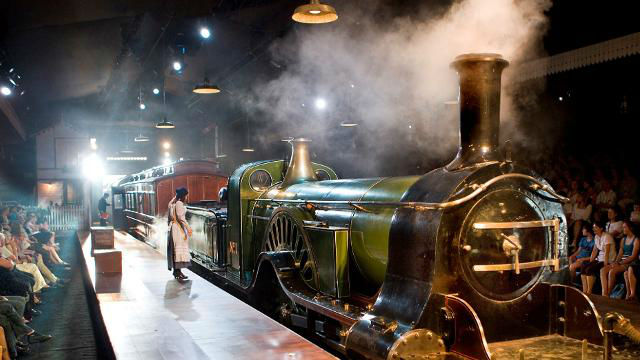 9. Mother Goose at Hackney Empire
See what happens when Mother Goose acquires Princess Priscilla, a magic goose with a golden talent, at the Hackney Empire's festive pantomime this year. Expect the East London theatre to put on a show with larger-than-life characters, lots of laughs, outrageous costumes and plenty of song and dance numbers for the family to enjoy. 22 Nov – 4 Jan
10. Jack and the Beanstalk at Greenwich Theatre
Greenwich Theatre's festive pantomime is Jack and the Beanstalk this year. With Giant Bonecrunch raising taxes yet again, and his wicked Henchman making sure everyone pays up, times are hard for Jack and his Fairy. Can Jack save the village from the tyranny of Bonecrunch with the help of an old cow, a bag of beans and a visit from a mysterious fairy? 20 Nov-11 Jan.