1. The Roof Gardens
Flamingos, fruit trees, fish in a stream... on a rooftop! Seven floors up from the crowds of Kensington High Street, this hidden oasis has not one but three incredible gardens. Visit for free or admire while sipping a delicious cocktail on the terrace of the Babylon restaurant.
2. Dalston Roof Park
The height of coolness in London's hip East, Dalston Roof Park is a social hub. Budding creatives put on special events during the summer, from film nights to live gigs – all powered by the giant solar panels. All you need to do is pick up a beverage from the pop-up bar... and relax.

3. The Boundary
With design mogul Terence Conran overseeing its creation, it's no wonder The Boundary looks so good. The rooftop garden of this converted Victorian warehouse has a kitchen garden, olive trees and, best of all, a fantastic Bar & Grill. Soak up the sun or find shade under the pergola for food, drink and a cheeky habano cigar.
4. Frank's
Despite the most inauspicious of locations – atop a multi-storey car park in Peckham – Frank's is worth hunting out during the summer. Watch the sun set over South East London with a Dark & Stormy in hand, cool company and amazing sculptures close by. Parking, obviously, isn't a problem.
5. Skylounge
What's a rooftop bar without an impressive view? Just an ordinary bar really. It's a good job this expansive hidden gem has beautiful vistas in abundance then. From the vantage point of Skylounge's alfresco terrace, twelve floors above London, you can gaze romantically across at Tower Bridge, the Tower of London, St Paul's Cathedral, The Shard and The Gherkin, sipping in life and cocktails.
6. Vista
Soak up the tranquility of the secret Vista roof garden bar, safe in the knowledge that the nobody in London's famous Trafalgar Square down below is as lucky as you. Oh look, is that Big Ben you see from up here as well! Grab a premium cocktail, settle back into the cosy seating, and feel a satisfying smile creap across your face. Vista opens in April for the summer months and is closed during winter.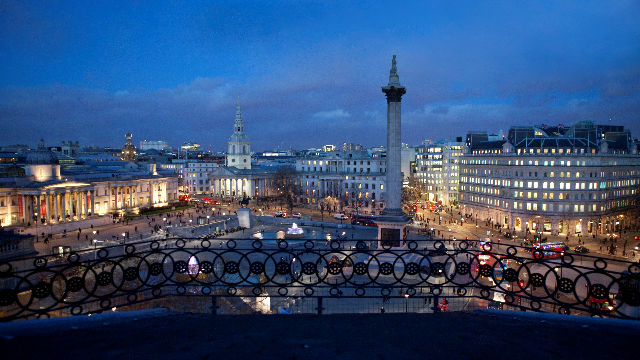 7. Queen of Hoxton
The queen of live music and off-beat events (hip hop and R&B quiz anyone?), this East London bar/club/arts space has it going on upstairs as well as down. Find a spot in the Queen of Hoxton roof garden to enjoy the BBQ, chilled cocktails and top view.
8. Radio Rooftop Bar
The dress code to enter the luxurious rooftop bar of ME London Hotel is formal. But when the view includes Tower Bridge, The Shard, St Paul's Cathedral and the Houses of Parliament, jeans somehow don't seem appropriate anyway. Soak up the view with a table of tapas and cocktails.   
9. Aqua Spirit
Overlooking Regent Street, Aqua Spirit serves up a stunning view and, as its name suggests, the finest water around: sparkling, mineral, tap... Wait, they do delicious cocktails too? Amazing. Signatures include Rose & Li (with Veuve Clicquot champagne and rose liqueur) and Ginger Collins (with Tanqueray gin and fresh ginger).
10. Queen Elizabeth Hall Roof Garden
You could walk along the South Bank for years without noticing there's a bar on top of the Queen Elizabeth Hall. Climb the yellow staircase to discover the amazing Eden Project-designed Roof Garden and Cafe/ Bar. Open now until September 2014.