Cocktail Bars in London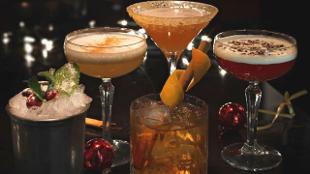 Fancy a relaxing cocktail or two after a day exploring the city? There are plenty of cocktail bars in London offering a large choice, from the classics to unusual concoctions dreamt up by local mixologists. 
If you want to indulge, head to some of London's luxury cocktail bars; but a pre- or post-dinner drink need not empty the wallet – make the most of two-for-one and happy hour early evening promotions at many London cocktail bars.
You Might Also Like
Oriental Restaurant

4-12 Regent Street, SW1Y 4PE [map]

Take control of your dining experience at inamo st james, with the world's 1st interactive ordering system beamed to your table; order a meal, pick a virtual tablecloth, watch 'Chef Cam', & much more!

European Restaurant

Harvey Nichols, 109-125 Knightsbridge, Westminster, SW1X 7RJ [map]

The Fifth Floor Restaurant, situated in London's leading fashion and lifestyle emporium Harvey Nichols, is the perfect place for a stylish meal.