Experience live opera and ballet in the centre of London with the Royal Opera House's BP Big Screens 2017.
On 7 June, 4 July and 14 July, two operas and one ballet, together with exclusive backstage footage and competitions, are broadcasted directly from Covent Garden's Royal Opera House to locations across the UK.
Big screens will once again be set up in Trafalgar Square, where you can watch all three performances, while some of the shows will this year also be relayed to The Scoop, Hammersmith Lyric Square (outside the Lyric Hammersmith) and Alexandra Palace for more chances to catch all the action.
Get together with friends and family, bring a picnic and a blanket, and enjoy these free live screenings suitable for newcomers and fans alike. Make sure to arrive early to secure a space and to enjoy the full pre-show screenings.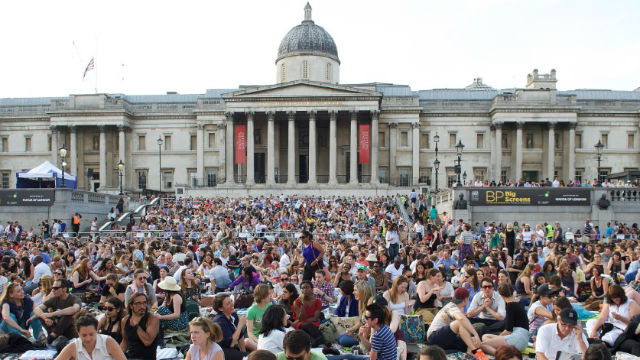 The Royal Ballet's The Dream, Symphonic Variations, and Marguerite and Armand
Wednesday 7 June at Trafalgar Square and The Scoop
Enjoy a range of works by The Royal Ballet's founder choreographer Frederick Ashton, including an adaptation of Shakespeare's A Midsummer Night's Dream, Ashton's first masterpiece focusing on the beauty of pure movement, and a tragic love story inspired by the partnership between dancers Margot Fonteyn and Rudolf Nureyev. The main performance starts at 7.30pm.
The Royal Opera's La traviata
Tuesday 4 July at Trafalgar Square and Hammersmith Lyric Square
Catch one of Verdi's best-loved operas, which tells the impassioned story of a Parisian courtesan ready to make the ultimate sacrifice for love. The opera is sung in Italian with English surtitles. The main performance starts at 7pm. 
The Royal Opera's Turandot
Friday 14 July at Trafalgar Square, Hammersmith Lyric Square, Alexandra Palace and The Scoop
See The Royal Opera's spectacular production of Puccini's masterpiece, in which a Chinese princess sets her suitors cryptic puzzles with perilous consequences. The opera is sung in Italian with English surtitles. The main performance starts at 7.30pm.