London Walking Tours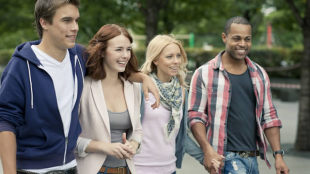 Discover Shakespeare's haunts, get spooked by Jack the Ripper, or follow in the footsteps of your favourite celebrity on a London walking tour.
Guided walking tours take place all year round in London. For many, you can just turn up, pay the tour guide and join in – there's often no need to book unless you are in a large group.
Walking Tour

Recurring event

Tower Hill Station EC3N 4DJ [map]

A walk through Jack the Ripper's London.

Walking Tour

Kemp House, 152 – 160 City Road, EC1V 2NX [map]

Walking Tour

From to

West Ham Station E15 3BN [map]

Take an exhilarating walking tour and marvel at some of the major sites associated with the Olympics.

Walking Tour

Brushfield Street, E1 6AN [map]

Discover the London you won't find in the guidebooks with London's original off-the-beaten-track tour provider! Come with us to explore the past and present of the capital's cultural and creative hub.

Walking Tour

PO Box 1708 London, NW6 4LW [map]

Walking Tour

PO Box 53131, E18 1UW [map]

Offers a range of London Walking Tours that help visitors and Londoners to discover the past and present of one of the world's greatest cities.

Walking Tour

Dept. of Theatre & Performance, Victoria & Albert Museum,, Cromwell Road,, Kensington and Chelsea, SW7 2RL [map]

Walking Tour

Recurring event

Bromley-by-Bow Station E3 3BT [map]

This walk is offered by Blue Badge Tourist Guides and starts at 11am at Bromley by Bow station on Saturdays and during school holidays.

Walking Tour

Departing from Barbican Station, EC1A 4JA [map]

Walking Tour

Trafalgar Square, [map]

The trails are suitable for beginner to intermediate level photographers and group sizes, so you get plenty of tailored tuition.

Walking Tour

PO Box 3474, Barnet, Herts, EN5 9HH [map]

Transform your ipod into a personal tour guide as our high quality audio tours blend music, interviews and city sounds with professional commentary.

Walking Tour

Take a City Highlights tour. Meet our qualified City of London guides, friendly and deeply enthusiastic about the Square Mile. Discover hidden gardens, secluded churchyards, all with stories to tell.

Walking Tour

Take a City Sidewalks tour and explore the City of London, Westminster, Camden, Docklands. Tours include literary walks, Roman Londinium and the darker side of London.

Walking Tour

Meet at 1 North End, Croydon, CR9 1SX [map]

Croydon is a historic town in South London. Croydon Tours offer historical walking tours, ghost tours and themed tours, including Peep Show locations.

Walking Tour

Green London is the UK's 1st ever urban eco tour. It provides crash course in environmental issues in just two and a half hours, as well as taking a delightful look at London's most famous landmarks.

Walking Tour

5 Torrens Street, EC1V 1NQ [map]

HiddenCity is a mobile game that transforms a city into a trail of clues. Each clue takes you to a hidden location, where you are challenged to look around and find the answer.

Walking Tour

For a great day out, the award-winning Live The City Guide to Covent Garden offers step-by-step sightseeing trails with clues to solve en route.